Certero for Enterprise SAM automates complex software asset management processes to help businesses ensure vendor compliance and maximize license optimization values.
Provisioned in public or private Cloud, on-premise or any hybrid combination, with full functionality and no compromise
Cloud deployments can be implemented in minutes – not months – helping you meet your objectives quicker and deliver value faster than you can with any rival solutions
Manage, control and optimize software assets across all platforms, from mobile to mainframe to cloud
Automate the manual processes and data entry tasks commonly associated with other solutions on the market
Works holistically and optimally with all Certero products via the Certero Management Platform, comprising one single data source, one UI and one UX
Powerful, interactive and customizable reporting functionality
Complimented by Certero's range of world-class services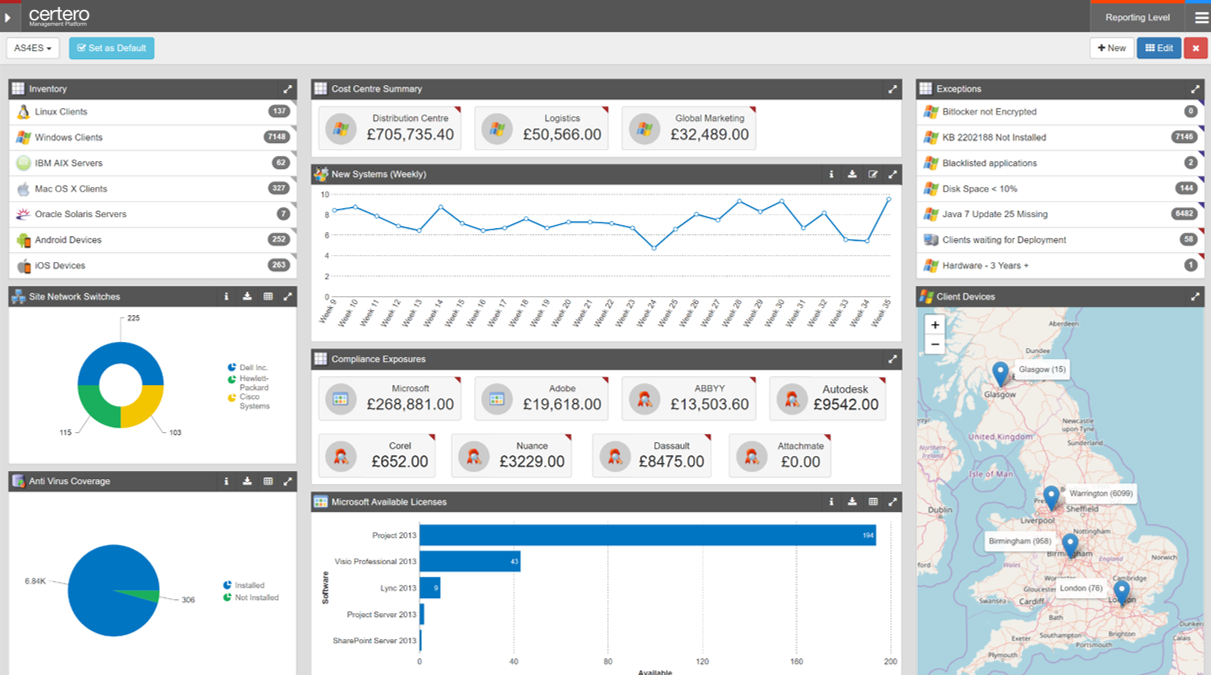 Licensing Optimization
Certero for Enterprise SAM, which includes 3 individual modules for Microsoft, Adobe and Generic vendors, automates the manual processes of software discovery, recognition and categorization and, the reconciliation and optimization of volume licence entitlement.
Microsoft and Adobe Modules:
100% automated recognition and categorization of discovered software into licensable, manageable products
'One Click' import of licence entitlement data in seconds
Built-in intelligence automatically applies the maximum benefit from your volume licence agreements, such as upgrade/downgrade rights and software assurance
Sustains an accurate view of under/over licensing and the compliance position, dynamically maintained as the IT estate changes
Facilitates licensing optimization via highly automated intelligence
Minimizes manual intervention to maximize value
Removes the need for additional costly Licensing Experts
Generic Module:
Optimizes licenses for any vendor
Delivers built-in major and common licensing metrics
Provides the ability to add in associated usage rights and metrics for the vendor in question
Automates the application of usage rights and metrics for management and optimization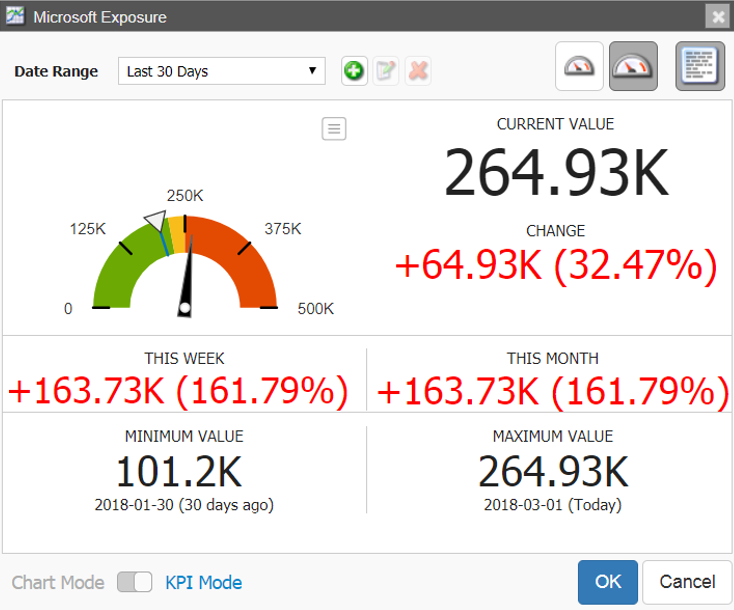 Access Control and Policy Enforcement
Certero for Enterprise SAM gives you the capability to establish 'white' and 'blacklists' to define which applications can and cannot be accessed and by whom, ensuring policy enforcement can be easily automated.
Automates the enforcement of corporate governance and licensing rules
Defines application access against factors such as user, location, device name, IP address, firewall settings and more
Provides complete control over what can be accessed, from what device and by whom
Certero for Enterprise SAM includes must-have features for organizations that use Microsoft RDS/TS/VDI or Citrix environments.
Facilitates rules that can be used to place both device and user restrictions on the software users are able to launch, aiding compliance and minimizing cost
Enforces access at the device level to comply with device-based licensing models
Provides the required evidence of control to satisfy vendors such as Microsoft and others

Flexible Deployment
Ensuring alignment with your existing infrastructure strategy, Certero for Enterprise SAM can be deployed in public or private Cloud, on-premise or any combination of the two, with full functionality and zero compromise, enabling IT teams to minimize disruption and optimize investments. For those who want Certero for Enterprise SAM to be provisioned in the Cloud, deployments can be implemented in minutes – not months.
Life Cycle Management
With Certero for Enterprise SAM you can track asset ownership by manually or automatically associating software assets to their owner, which can be used in conjunction with organizational unit and location based data to understand asset ownership by region or business function.
Reporting and Business Intelligence
Certero for Enterprise SAM includes a comprehensive parameter-driven, business intelligence and reporting engine to provide valuable insight in just a few clicks.
Cut and dice a vast array of highly granular, dynamic data
Limitless report generation possibilities
Share dashboards with key stakeholders in the business
Schedule reports and alerts
Facilitates improved planning, management and control
Supports the management and optimization of business critical services
Helps to control and optimize software licensing costs
Connectors
Class-leading connectors are available as part of Certero for Enterprise SAM.
Enables continued use of incumbent inventory tool
New connectors can be built quickly on-demand for any existing inventory solution
Supports collection of data from all major virtualization technologies, such as HP, Microsoft Hyper-V, VMware ESX, Citrix
XenServer, IBM, Linux, Unix, Oracle and more
Supporting Broader IT Management
Certero for Enterprise SAM extends beyond software asset management to support broader IT management requirements:
Uses multiple methods to gather software data as accurately as possible
Provides the highest levels of data granularity
Learns your entire IT network structure
Offers fingertip access to valuable information
Minimizes time and costs associated with IMACs (installs, moves, adds and changes) projects
Optimizes Service Desk and end-user support resources
Financial Management and Cost Controls
Certero for Enterprise SAM helps you keep on top of software asset license expenditure through cost recovery and cross charging. It enables you to create rules to automatically set known costs for common items based on a range of available criteria. Alternatively, you can elect to manually define costs for exceptional items.
Improves overall visibility of the true cost of software asset ownership
Automates your internal cost charging and/or recovery policies
Supports financial and commercial business functions by providing the ability to see the costs associated to licensing risk within the business
Reports on organizational units, locations and a wide range of other criteria
Control Costs
Reduce under licensing and over-deployment
Combine with Certero for Enterprise ITAM for policy based SAM
Automate unused software re-harvesting
Minimize total cost of ownership
Improve your negotiating position and purchasing arrangements
Enhance Compliance
Minimize the impact of vendor audits
Limit impact on resources and operations
Limit legal and financial exposure
Keep your reputation intact
Achieve continuous compliance
Minimize Security Risks
Identify and locate malware
Identify unauthorized applications
Manage and control application access and usage
Reveal unpatched software applications
Management and Productivity Improvements
Support transformation programs
Better quality decision-making and planning
Improve end-to-end processes
Enhance user experience
Ideal Standard International
See how one of our customers implemented Certero for Enterprise SAM to overcome their Software Asset Management challenges across their international IT estate.
"In our view, Certero has a really strong solution … and provides a brilliant alternative to the big players in the SAM tool market.
Certero for Enterprise SAM provides users with a customizable, tailored experience for its customers, something only a few high-end tools currently do. It also provides excellent reports that seem to be easy to create and manipulate."
David Foxen
Want To Know More?
Book a demo with one of our experts to see how Certero for Enterprise SAM can overcome your software asset management challenges.
Discover the World's Most Advanced and Modern
IT Hardware and Software Asset Management Solutions