Verified Oracle Solution
The Certero for Oracle product is verified by Oracle LMS/GLAS for Oracle Database, Database Options & Management Packs and Oracle Fusion Middleware.
The Certero for Oracle product is verified by Oracle as an alternative to installing Oracle License Management measurement tools. This means Oracle's audit team will accept data from Certero for Oracle during an official audit, so you do not have to download and run a separate set of scripts.  It also means you can have constant visibility of your Oracle estate, giving you clarity and understanding before you submit any audit data.
How does this benefit you?
Complete Visibility 
The Certero for Oracle product provides clear, concise evidence for your Oracle database usage, including options and management packs.
Understand your Data
Never feel unsure during an official audit again, everything your auditor sees in complex script form, you can see first, in clear, easy to manage, graphical data.
License Rules
Remove the complexity of licensing rule and policy interpretations and let Certero for Oracle apply them for you. We support Oracle-specific licensing rules, automatically applying criteria such as core factors and product minimums.
Be Prepared
Because you have complete visibility, understand your data and the license rules have already been applied, you have the information you need to work with an official audit team to review or defend any audit queries.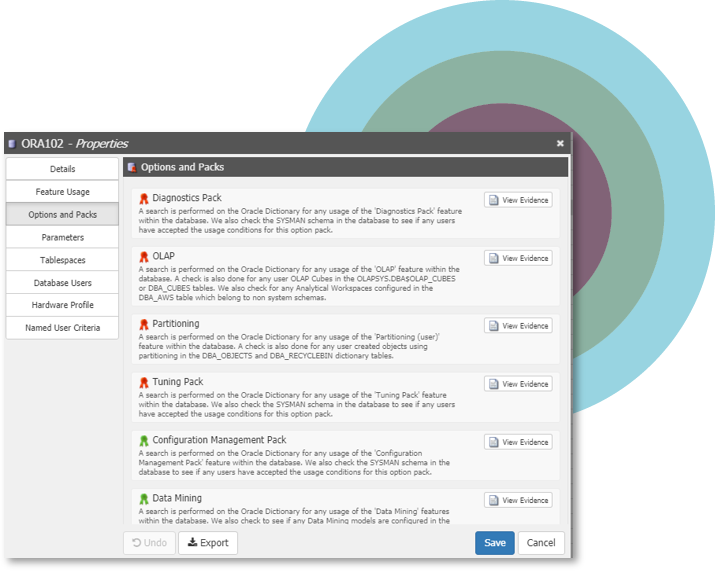 Review 
Your auditor has a query about one specific database? Use Certero for Oracle's powerful filtering capability to search and find the correct target.
One more click brings up the information about that particular database ready for you to discuss with the audit team.
Defend
If one or more options or packs usage is in question, the Certero for Oracle product provides a comprehensive summary screen to list every single occurrence of usage. Click for deeper dive information, including the evidence that the auditor sees.


Instant Output
Two button clicks and Certero for Oracle generates the appropriate LMS output and the Oracle Server Worksheet. It takes seconds to run and it's that simple.
No Resource Overhead 
Running scripts manually across your Oracle estate can be time and resource intensive. It doesn't stop there either, if the auditors have queries, your DBA team will need to be on hand to answer them. Certero for Oracle not only provides you with data clarity, it also removes the need to have your colleagues on standby – because the information you need is readily accessible for you to work with.
Certero for Oracle – simplifying the Audit process
The Certero for Oracle product has no dependencies on third-party tools or data sources. It has everything you need to find and manage Oracle Databases, Middleware and E-Business Suite environments. For the full-service experience, Certero for Oracle can be used by Certero's consultants to deliver a comprehensive Oracle Effective License Position & Optimization program.
Discover The Power of Certero for Oracle