Certero for Enterprise SAM
The only enterprise-scale Software Asset Management solution purpose-built for SaaS delivery models.
Certero for Enterprise SAM is built for today and tomorrow, not yesterday
Whether that's the need to address new software licensing challenges, to meet digital transformation goals or manage changing technology consumption habits, Certero for Enterprise SAM has been built from the ground-up to be delivered in the cloud as SaaS with no compromise.
The result is that Certero for Enterprise SAM makes for happy users. Just take a look at the five-star reviews on Gartner Peer Insights.
ISO 27001 Certified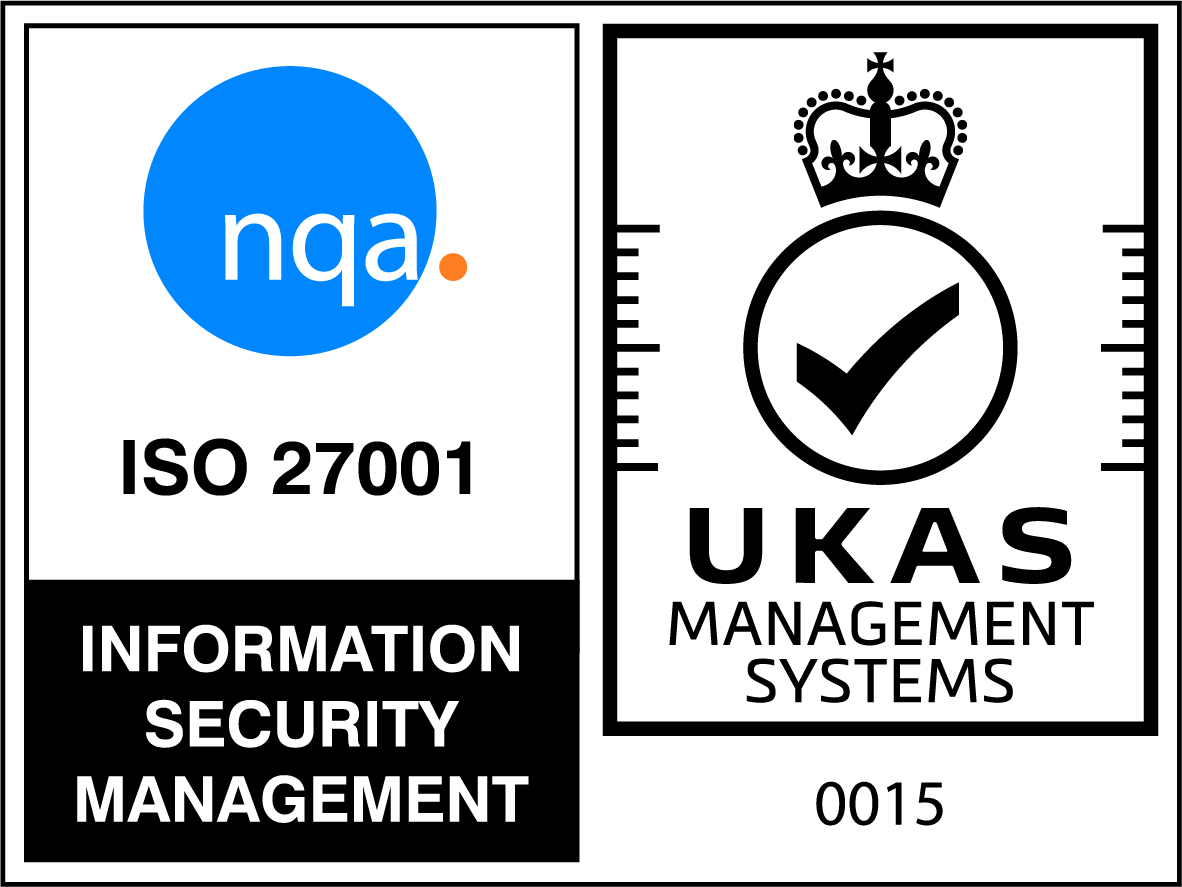 Certero is committed to providing customers with the highest levels of security,  which is why Information Security is embedded as part of our culture. From the board down, our Information Management Processes have helped customers have a safer, more reliable IT hardware, Software, SaaS and Cloud solutions and Services throughout the year.
What makes Certero for Enterprise SAM different?
Certero for Enterprise SAM is anything but just another SAM tool. It stands apart from the competition in many ways, from its use of hyper-scalable cloud architecture to deliver an unrivalled implementation and onboarding experience, to advanced inventory and licensing capabilities to support your most complex and expensive software publishers.  
Our Software Asset Management customers say it best: "With Certero… it's just a better experience."
| | | |
| --- | --- | --- |
| Full hardware and software inventory |   | No data gets thrown away or hidden |
| Lightning-fast data collection and processing |   | No system lock-outs or processing delays |
| Dynamic Effective License Positions |   | No need to continually monitor and recalculate |
| In-built analytics and custom dashboards |   | No expensive third-party BI tools |
| SaaS, on-prem and hybrid deployment options |   | No complex setup, no waiting for provisioning |
| Part of the Certero Unified Platform |   | No multiple installs or complex integrations |
Ready to address your SAM challenges?
A Software Asset Management solution with everything you need today – and tomorrow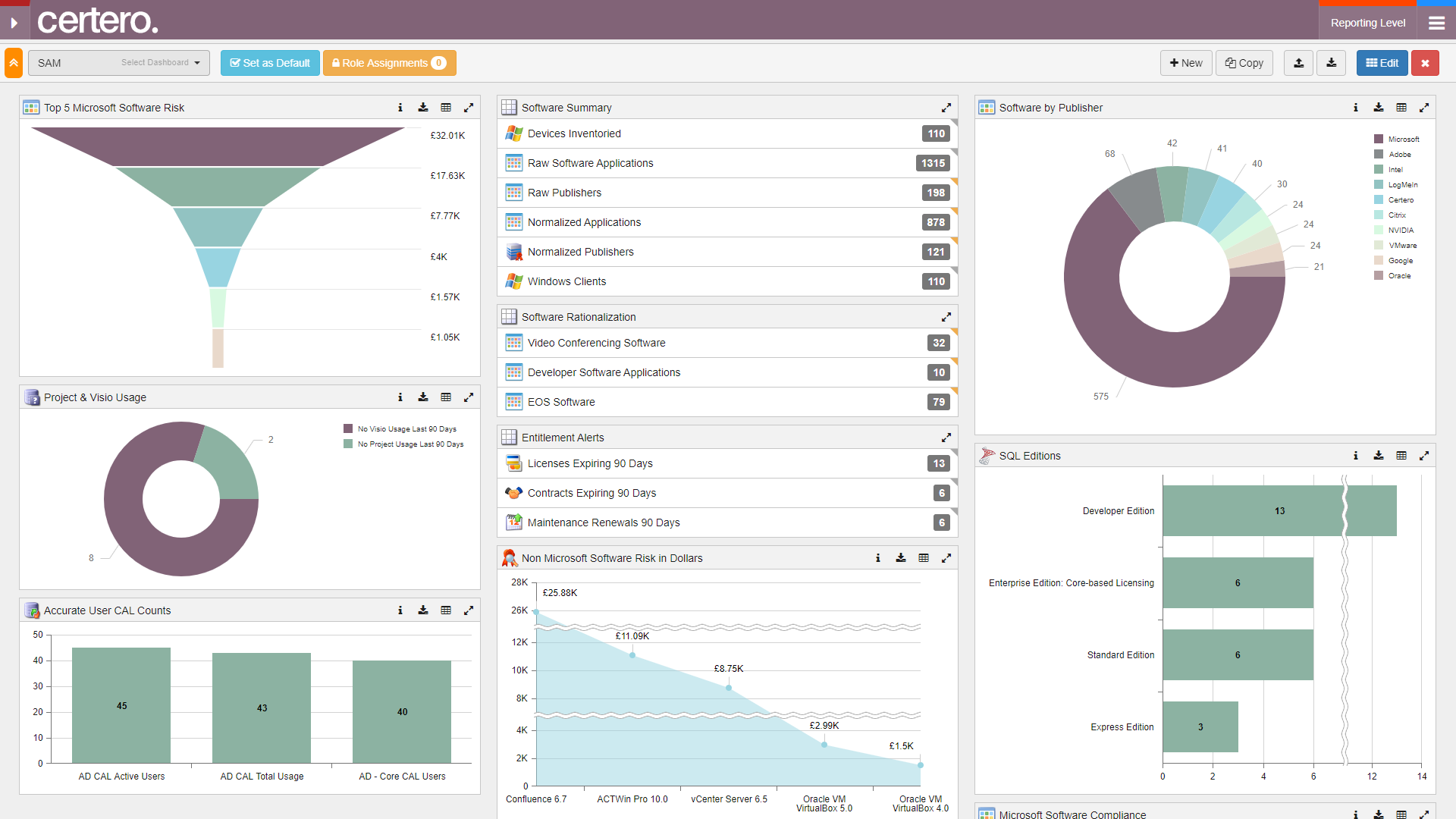 Optimize your software & licensing position for all key publishers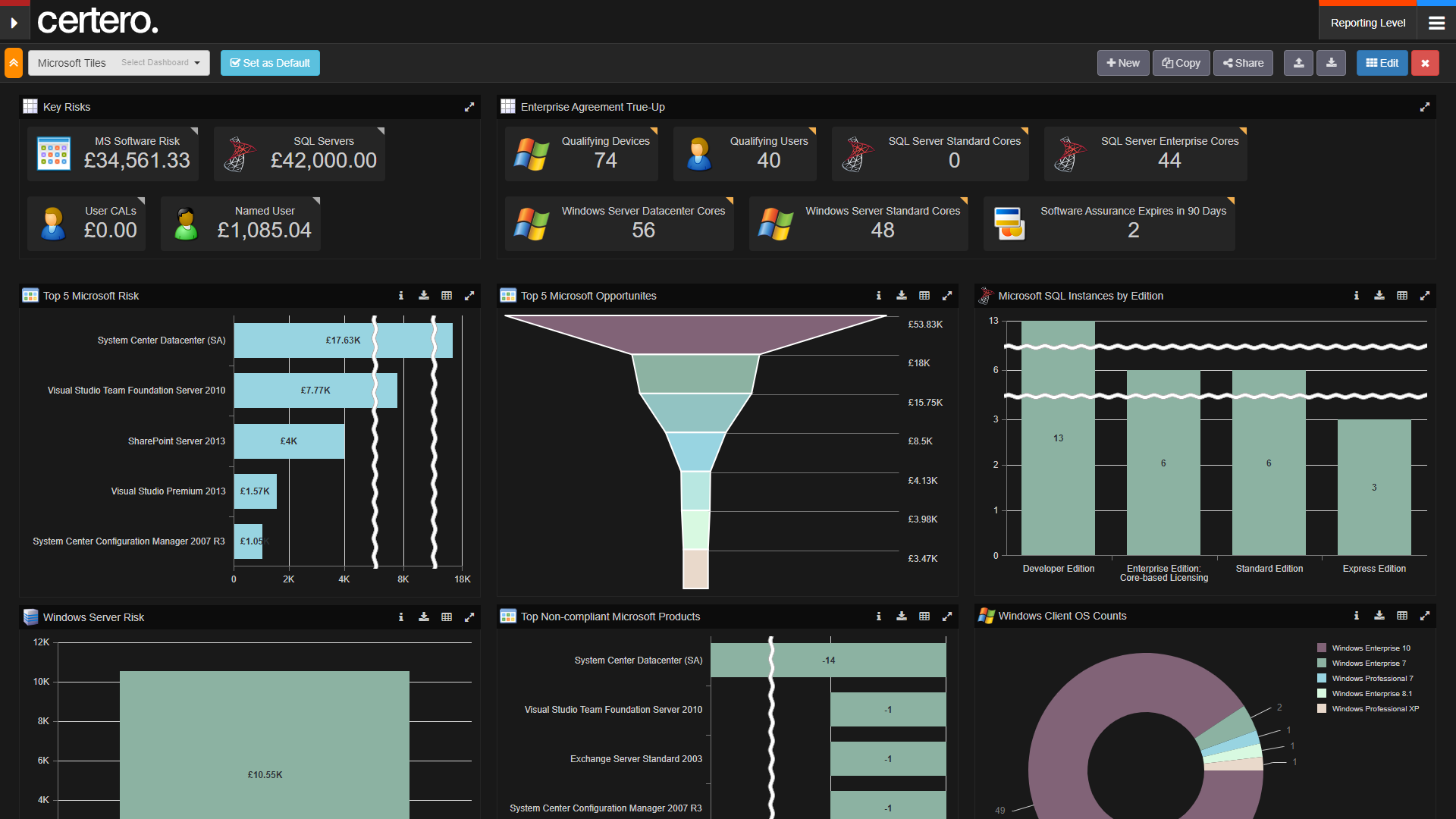 Dynamic effective license positions for all key vendors including Microsoft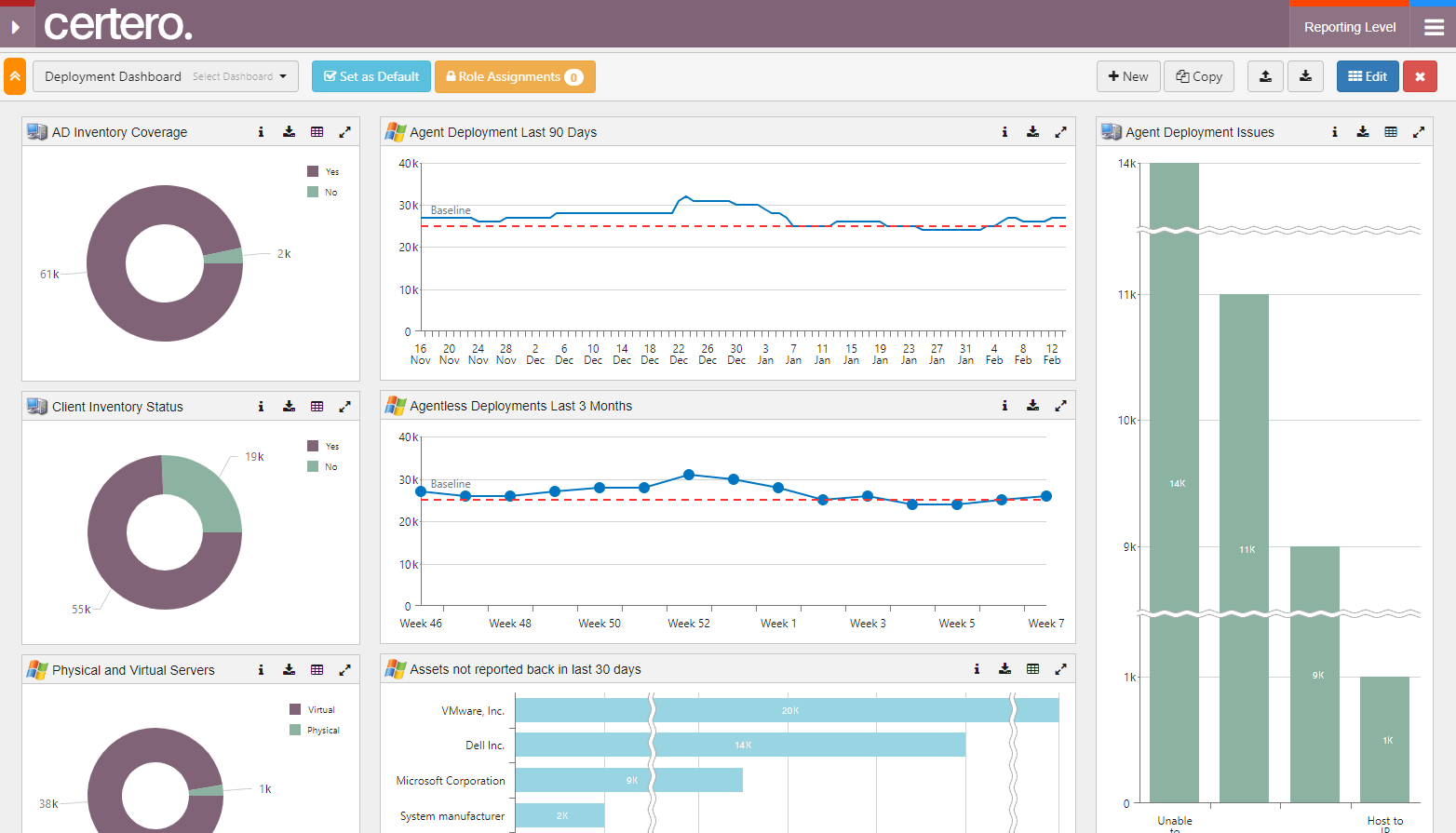 Unrivalled speed and coverage for discovering and inventorying all hardware & software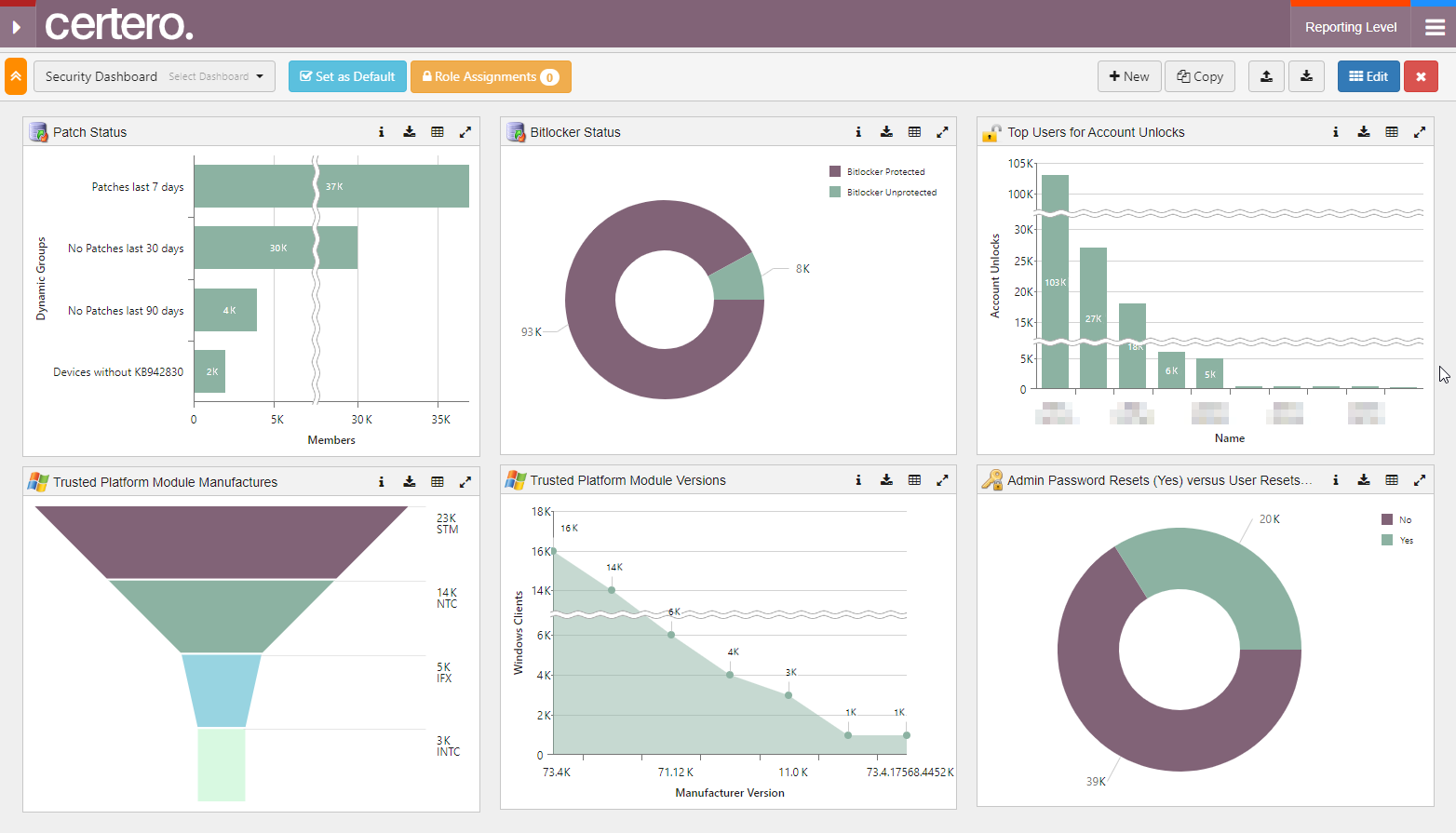 Detailed security information to control any risk in your IT estate
More than on-premises implementation:
Certero for Enterprise SAM was built to be hosted and delivered in the cloud. No dodgy adaptations of on-premises tools disguised as
'SaaS-ready' solutions.
test
+ SaaS Delivery Checklist:
Supports your cloud-first technology strategy
Implemented in minutes and hours, not weeks and months
Maintenance-free and hassle-free (no need to maintain on-prem installs)
NO LOSS OF ENTERPRISE ITAM OR SAM FUNCTIONALITY!
More than Windows: Full Platform Coverage
test
+ Platform Support Checklist:
Windows Desktop and Server, physical and virtual (agent and agentless)
Linux and Unix servers on-premises
AWS and Azure – with Certero for Cloud
Android and iOS – with Certero for Mobile
More than Microsoft: Full Vendor Coverage
Certero for Enterprise SAM will help you find and identify applications and databases from all major software vendors. Our
Software Recognition Database
ensures you don't have any blind spots and that all inventoried software is normalized for easier processing.
test
+ Software Recognition Checklist:
Global Software Recognition Library supports apps from more than 29,000 software publishers
Recognition library updated daily with immediate availability to all customers
SKU / Part number recognition for the major vendors to increase accuracy and speed when entering entitlement
Tracking of the Release and End of Support dates for the major software vendors
More than Inventory: License Management & Optimization
Certero automates the key tasks to save you time and ensure the integrity and accuracy of your data; from uploading license agreements and vendor entitlements through to the dynamic calculation of your Effective License Position, to ensure audit compliance for all major software publishers.
Certero will dynamically track maintenance and automate the traditionally complex licensing scenarios both in the datacenter and across your client devices. The dedicated solutions for Microsoft, Adobe, IBM, Oracle and SAP take the automation to the next level by dynamically applying vendor specific licensing rules to create an accurate compliance position.
test
+ License Management Checklist:
'One Click' import of licence entitlement data
Supports upgrade and downgrade rights
Tracking for all the major licensing metrics from processor cores to users
Creates 'dynamic' ELPs to ensure you are always looking at the current compliance position"
More than Licensing: Access Control & Policy Enforcement
Go beyond the traditional black and white listing for software by creating and enforcing granular access control policies to prevent potential security and compliance risks. Certero for Enterprise SAM helps you to optimize and control licensing across Microsoft Remote Desktop Services (RDS) and Citrix environments by creating rules to govern access so that only permitted users and/or devices are permitted access.
test
+ Access Control Checklist
Grants application access based on attributes such as user, location, device name, IP address, firewall settings and more
Enforces access at the device level to comply with device-based licensing models
Application Usage tracking to provide evidence of control, satisfying vendors such as Microsoft & others
More than the best SAM platform: Integrated service options
One advantage of working with Certero is that you benefit from much more than just some of the world's most advanced SAM technologies. We'll also help you realize the full potential of your SAM programs with services designed to complement your existing in-house team or fill gaps in your SAM skills.
Beyond Software Asset Management – The Certero Unified Platform
Financial management of software, hardware & cloud subscriptions
IT Asset Lifecycle and Hardware Asset Management
Integration with CMDB & ITSM solutions
Optimized Joiner Mover Leaver processes
Self-Service AppCenter
Integrated Mobile Device Management
Gartner Peer Insights Customers Choice Reviews
"Great solution, even better service!"
"Certero have been a pleasure to work with. We really tested their solution and found it to be fast, intuitive and user-friendly. But more importantly, we tested Certero capabilities as a service provider. We challenged them to think outside the box and find solutions to suit particular requirements. Certero proved themselves to be big enough to deal with our demands, yet flexible enough to respond quickly to meet unique requirements."

"Straightforward to use would recommend this as a SAM solution"
"Excellent vendor to work with, very responsive to our needs with a depth of understanding and an ability to explain clearly. They have also taken on board suggestions from us that have improved the product for us whilst sticking to their overall planned updates. The product is reliable, straightforward to use and very flexible. The latest iteration now integrates a number of other useful solutions under the same interface, password self service, power management and an MDM making the solution very comprehensive and with a single interface making this easy and straightforward to work with."

"Powerful, yet easy to use and deploy asset management platform"
"Overall, I would describe Certero as 'very easy: very easy initial setup and config, very easy to use, very easy to get assistance from the vendor on any aspect of the product'. Although we don't use Certero for deployment, for that we have MS SCCM, but I'm sure that would be easy also. We use it for asset management, as an aid to procurement and SAM – all things Certero does with ease."

"A true SAM partner – powerful solution, easy to implement and with long-term customized value"
"Certero consultants almost instantly were able to capture our vision for SAM in our initial conversations during selection, and stood out from the rest of the vendors in our selection process by tailoring their approach to SAM to our organization. Implementation of the product was seamless and took a few days to implement the initial phase of the solution with effectiveness. We were able to realize value from the product quickly, while also having significant further opportunity for maturity and growth."

"Second to none dependable expertise you can always rely on"
"Apart from the excellent product from Certero, we have found dealing with Certero consultants very positive and welcome addition to our enterprise SAM lifecycle. Their deep knowledge and industry experience puts them second to none. We are now exploring Cloud Asset Management in partnership with Certero."

Discover the Power of Certero for Enterprise SAM
*As of 25th July 2019 Certero has an overall rating of 4.9/5 in the SAM Tools Market based on 87 reviews. Gartner Peer Insights reviews constitute the subjective opinions of individual end-users based on their own experiences, and do not represent the views of Gartner or its affiliates. The Gartner Peer Insights Customers' Choice logo is a trademark and service mark of Gartner, Inc., and/or its affiliates, and is used herein with permission. All rights reserved. Gartner Peer Insights Customers' Choice distinctions are determined by the subjective opinions of individual end-user customers based on their own experiences, the number of published reviews on Gartner Peer Insights and overall ratings for a given vendor in the market, as further described 
here
, and are not intended in any way to represent the views of Gartner or its affiliates.