Certero for IBM simplifies complex licensing and usage constraints, ensuring compliance and minimizing cost.
With a unique automated approach, which eliminates over-reliance on time consuming and error-strewn manual process, Certero for IBM overcomes all the technical and management issues, putting you fully in control and providing all the evidence you need to push back against any challenge.
Certero for IBM has a connector for ILMT that can be set up in minutes: job done. Its intelligent, simple to use, powerful user interface with associated wizards, make resolution of the component-to-product-to-bundle challenge a much easier activity
Certero for IBM is one of very few solutions that can actually accommodate entitlement. Passport Advantage information can be imported and then value automatically added, such as calculated start/end dates of maintenance agreements
Certero for IBM has intelligence built-in, enabling dynamic ELPs to be created automatically
Once you have experienced the benefits of Certero for IBM compared to other options, you won't look back.
Clarity on Inventory
If you adopt the IBM virtualization licensing metrics known as PVUs (Processor Value Units), then the associated Ts&Cs state you need to use an IBM tool to collect inventory; normally this is ILMT. Certero for IBM has an out of the box connector that will connect to ILMT, ensuring that you don't violate your Ts&Cs. This data can then be used by the rest of the functions in Certero for IBM, such as component-to-product-to-bundle entitlement management and ELP creation.
Certero for IBM also has its own inventory capability, which you can run alongside ILMT inventory. This will actually help you manage your ILMT deployment, by identifying whether or not it is fully deployed across your landscape: something which is very common and carries significant risk. It will also provide you with the inventory information independently so you can validate against ILMT. Certero for IBM gives you a position of strength from knowledge and puts you back in control. No longer do you have to be at the blind mercy of ILMT.
Clarity on your Entitlement
Without entitlement you can't do software asset management (SAM).
Certero for IBM has the ability to manage entitlement in a highly automated manner. For example, downloading and importing Passport Advantage agreements, working out start and end date of maintenance agreements automatically, ensuring you capture PO and other supplier or procurement information. The result is a fully informed, accurate view of entitlement, which obviously includes your PVU values.
Clarity on your Effective License Position
Certero for IBM has the ability to connect into ILMT, as well as providing an alternative view of inventory (demonstrating if ILMT data is accurate or not). It also has in place the component-to-product-to-bundle reconciliation information, along with the required entitlement information. Thus all the necessary information is available to automatically create the ELP.
You now know where you are, in real-time. Gone are the days where you had to go through lengthy expensive processes just to create a point in time, manually-generated ELP, that may in actual fact be incorrect. We think this is a huge advancement on managing IBM software.
Licensing Model Support
Certero for IBM supports a great number of license models including PVU (Full-Capacity), PVU (Sub-Capacity), Install, Server, Virtual Server, Authorized User, Floating User, UVU, RVU, Client Device and Establishment.
If that is not enough, Certero for IBM will even allow you to define a custom metric.
Reconciliation of Component-to-product-to-bundle
The next great challenge which Certero for IBM helps with is reconciliation of software, primarily component-to-product-to-bundle. We have gone to great lengths to develop an intuitive, easy to use user interface which provides a quick and simple method to perform the reconciliation process.
Virtualization and Sub-capacity Licensing
IBM hardware can be configured in very complex ways. From full physical servers to servers being segmented with virtualization technologies (LPARs), there are also other unique configurations such as shared pools and capped shared pools. All of this makes inventory extremely difficult to collate and present in a meaningful way and has huge implications on software licensing. These are the main 'gotchas'.
Certero for IBM can cope with all virtualization technologies, including IBM's. It has a connector into IBM HMC (Hardware Management Console) and as such has all the information it needs to automate the inventory information required for an ELP to be created.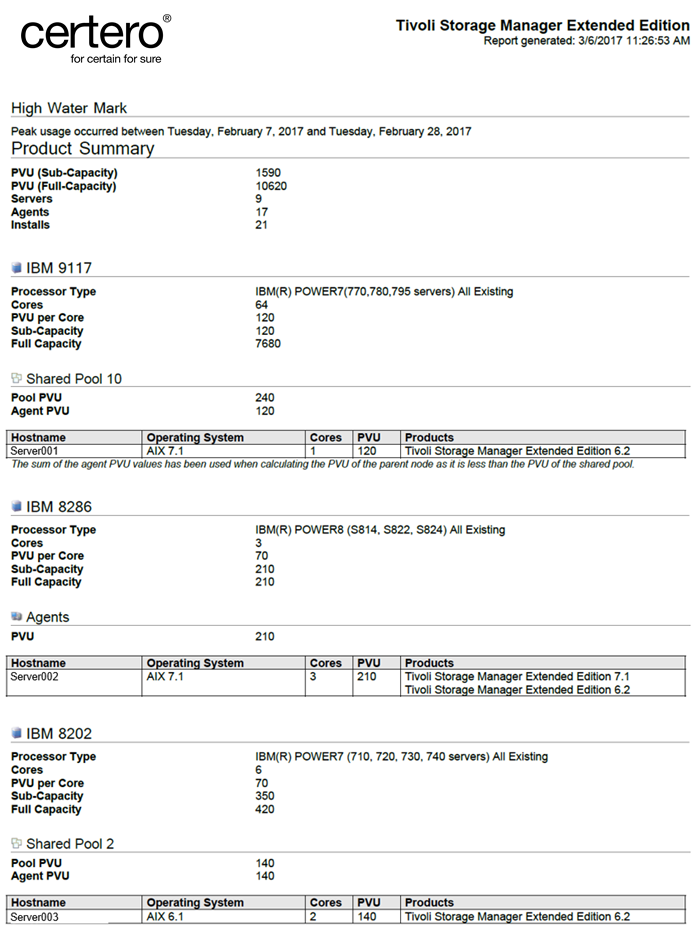 Did you Know?
For their most popular license metric, PVU, IBM's licensing T&Cs (International Passport Advantage Agreement Section 1.14) state that end users are required to utilize ILMT, TAD4D or Bigfix to capture inventory data which is then used for evaluating licensing requirements. However, ILMT is notoriously difficult to manage and maintain from a resource, time and cost perspective. Also ILMT has limitations and certainly doesn't have the necessary functionality of a SAM tool.
But did you know that organizations are able to negotiate with IBM to gain an amendment to allow a more manageable solution to be used instead?
Benefits
Certero for IBM will ensure your organization is optimally positioned to enjoy all the benefits of an advanced SAM program.
Detailed discovery and inventory of IBM software coupled with highly automated optimized license management and compliance
Automated approach eliminates over-reliance on time consuming and error-strewn manual process
Passport Advantage data easily imported and sophisticated automation utilized to streamline the process, reduce error and generate accurate entitlement
Comprehensive product recognition, including upgrade, downgrade, virtual environment and general product usage rights, including bundles
Automated reconciliation of entitlement against inventoried deployment and usage data to create sub-capacity consumption reports
Consideration of product use rights ensure a clear ELP which can be used independently or in conjunction with ILMT to provide a comparable report, thereby supporting verification and quality assurance processes
With Certero in your corner, you'll never lose an argument with IBM again
Certero's highly automated solutions minimize the need for manual intervention, improving accuracy and reducing any reliance on ineffective tools which can't deliver, or expensive licensing consultants
All Certero's solutions are designed to run either independently or together holistically and optimally on the Certero Management Platform. This means you have the benefit of a common database and user experience is consistent throughout the platform. Administrators can reach operational competency quickly and with minimal training overhead, whilst on-going support is simplified and overall costs reduced
Parameter driven BI reporting transforms all your raw data into useful knowledge, allowing you to manage all your software assets across your entire IT estate efficiently, effectively and dynamically
"Certero for IBM has drastically improved our ability to easily and effectively manage our use of IBM software across the entire estate. The straightforward functionality and ease of reporting means the information we need for management and decision making is just a click away. We have complete confidence that we are fully in control, optimizing usage and minimizing cost."
Brent Jarnell
"Certero for IBM is an improvement on ILMT in that the reporting is much better and with the ability to compare it and build scenarios, you get multiple insights into the data."
Daniel Begg
The complexity of IBM licensing is almost legendary. This whitepaper explains the complexities of IBM licensing in detail and looks at how they can be successfully addressed.
Watch the Certero for IBM video and see what it might be able to do for you.
Trademarks: IBM, ILMT, Bigfix, TEM SUA and TADd are trademarks of International Business Machines Corporation, registered in many jurisdictions worldwide.