Certero for Enterprise ITAM
Integrated IT Asset Management solution delivering full discovery & inventory across the technology estate.
From creating and maintaining an inventory baseline to supporting digital transformation goals, Certero for Enterprise ITAM has you covered
Certero for Enterprise ITAM is the easiest, fastest and most resource-efficient way to discover, inventory and manage your IT assets, from mobile to desktop, datacenter to cloud. It's faster to implement and configure, which means you start delivering value to the organization quicker. It's easier to use, so your total cost of ownership is lower. And it's better at capturing and analyzing inventory data on all hardware and software, so you can do more with the insights Certero for Enterprise ITAM has to offer.
ISO 27001 Certified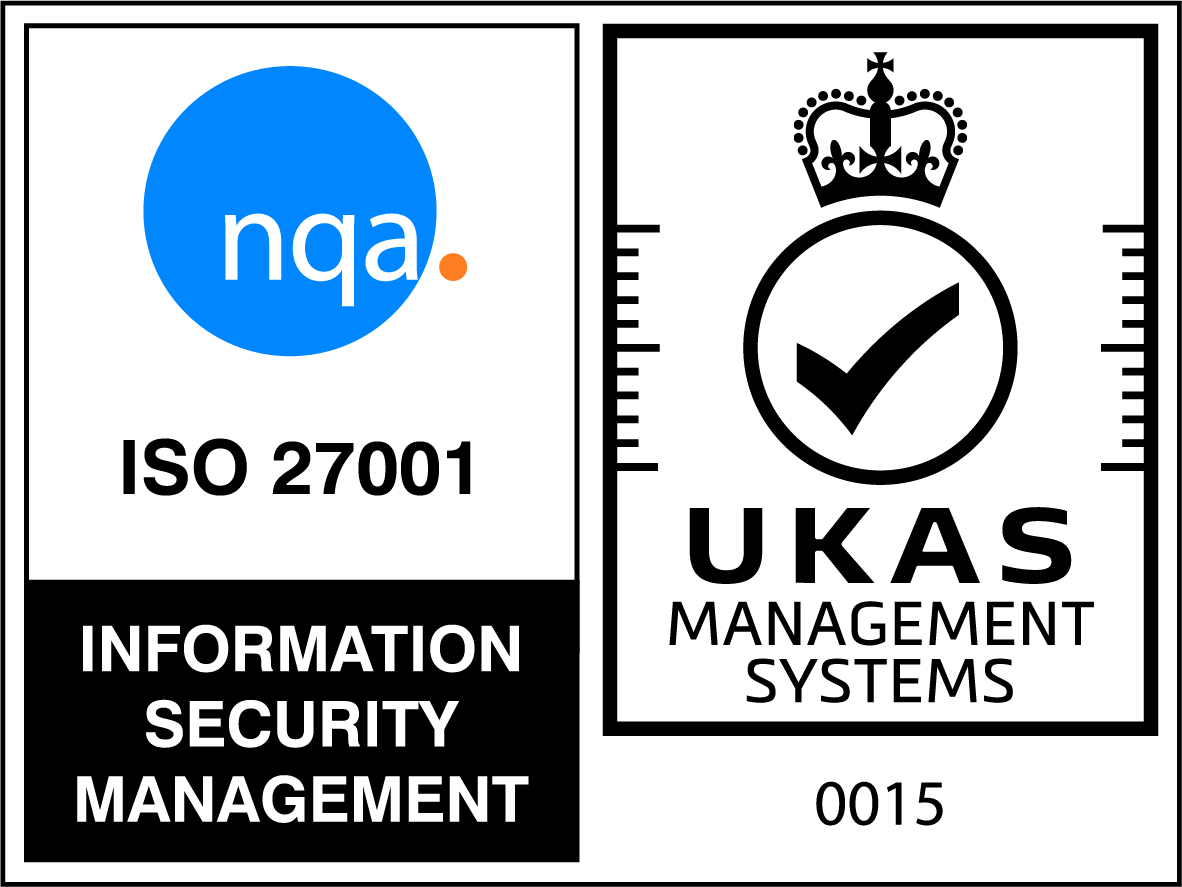 Certero is committed to providing customers with the highest levels of security,  which is why Information Security is embedded as part of our culture. From the board down, our Information Management Processes have helped customers have a safer, more reliable IT hardware, Software, SaaS and Cloud solutions and Services throughout the year.
What makes Certero for Enterprise ITAM right for you?
| | | |
| --- | --- | --- |
| Automatically discover new devices eliminating your IT asset blind spots | | Reduced time and effort deploying and maintaining the solution. |
| Multi-platform integrated inventory for Windows, Mac, Linux, Unix, Mobile | | Provides a single view of IT assets. Reduce time and effort reporting on assets |
| Agent and agentless inventory scanning | | Reduce barriers and blockages to full inventory |
| Monitor application consumption | | Reduce software spend by identifying unused and underutilized applications |
| Integrated patch management | | Enhanced security via the remediation and reporting on Microsoft Operating System and Application vulnerabilities |
| Software distribution | | Remove unused or underutilized products – reducing software spend. Deploy software without the need for direct user engagement – provides efficient cost-effective software deployments |
| Discover printers, routers, switches and more | | True ITAM capabilities beyond computers |
| RESTful API | | The Certero API provides granular level data from any Certero solution in a convenient JSON format, for easy population of asset intelligence into ITSM solutions, CMDB's, Excel, Power BI and many more. |
Ready to address your ITAM challenges?
An IT Asset Management solution built for how you use technology today – and tomorrow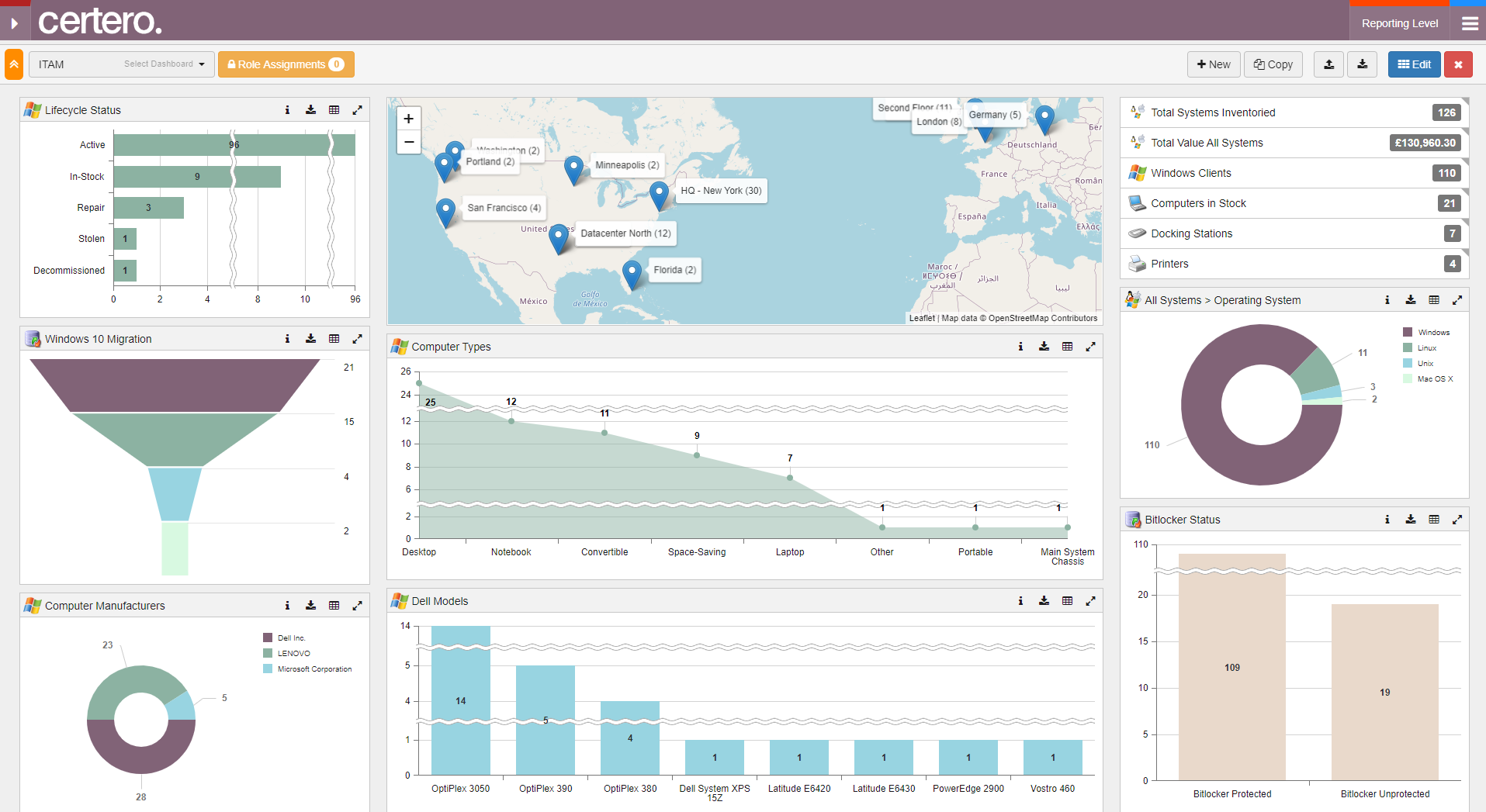 Full hardware asset lifecycle management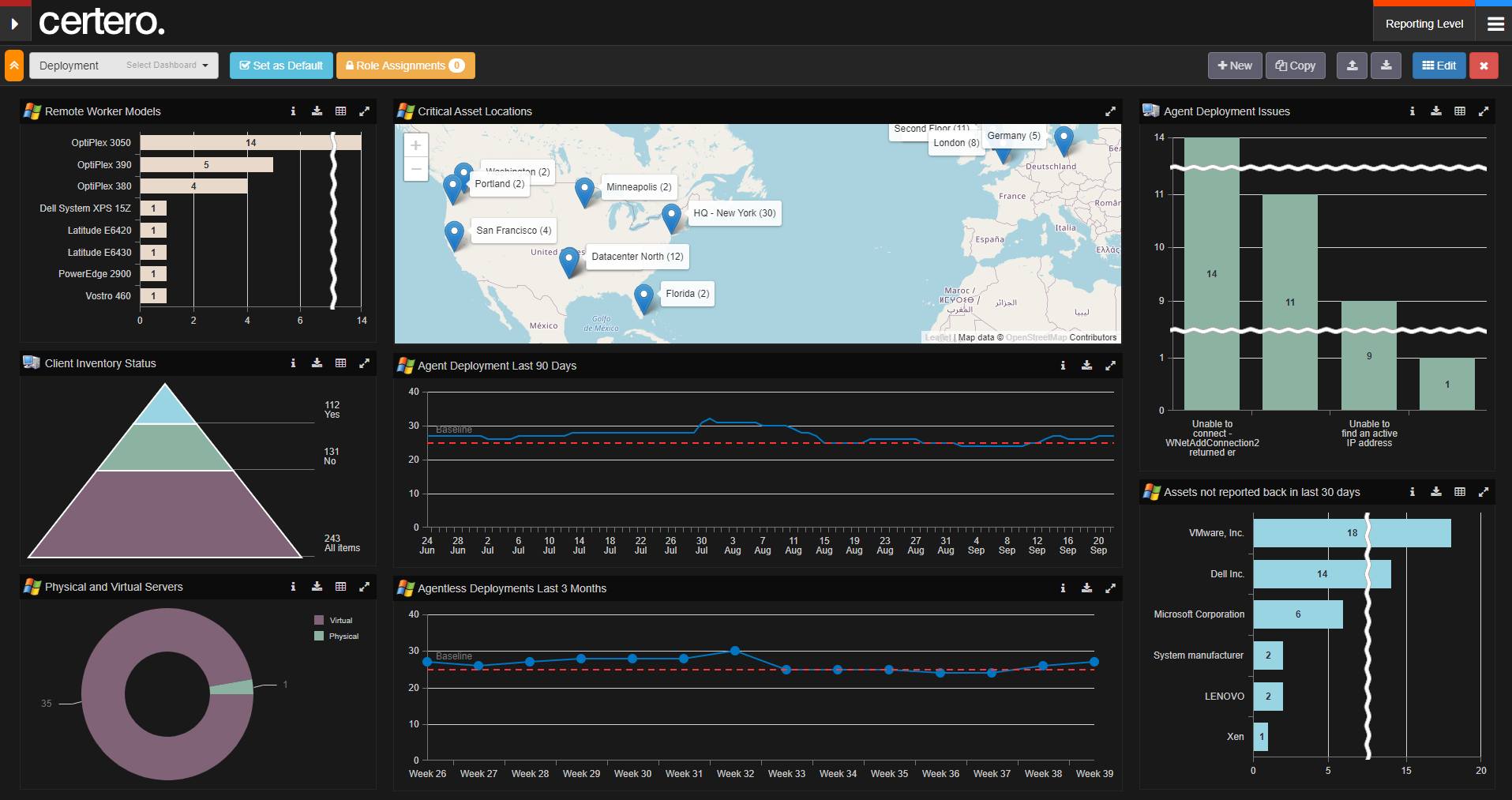 Unrivalled speed and coverage for discovering and inventorying all hardware & software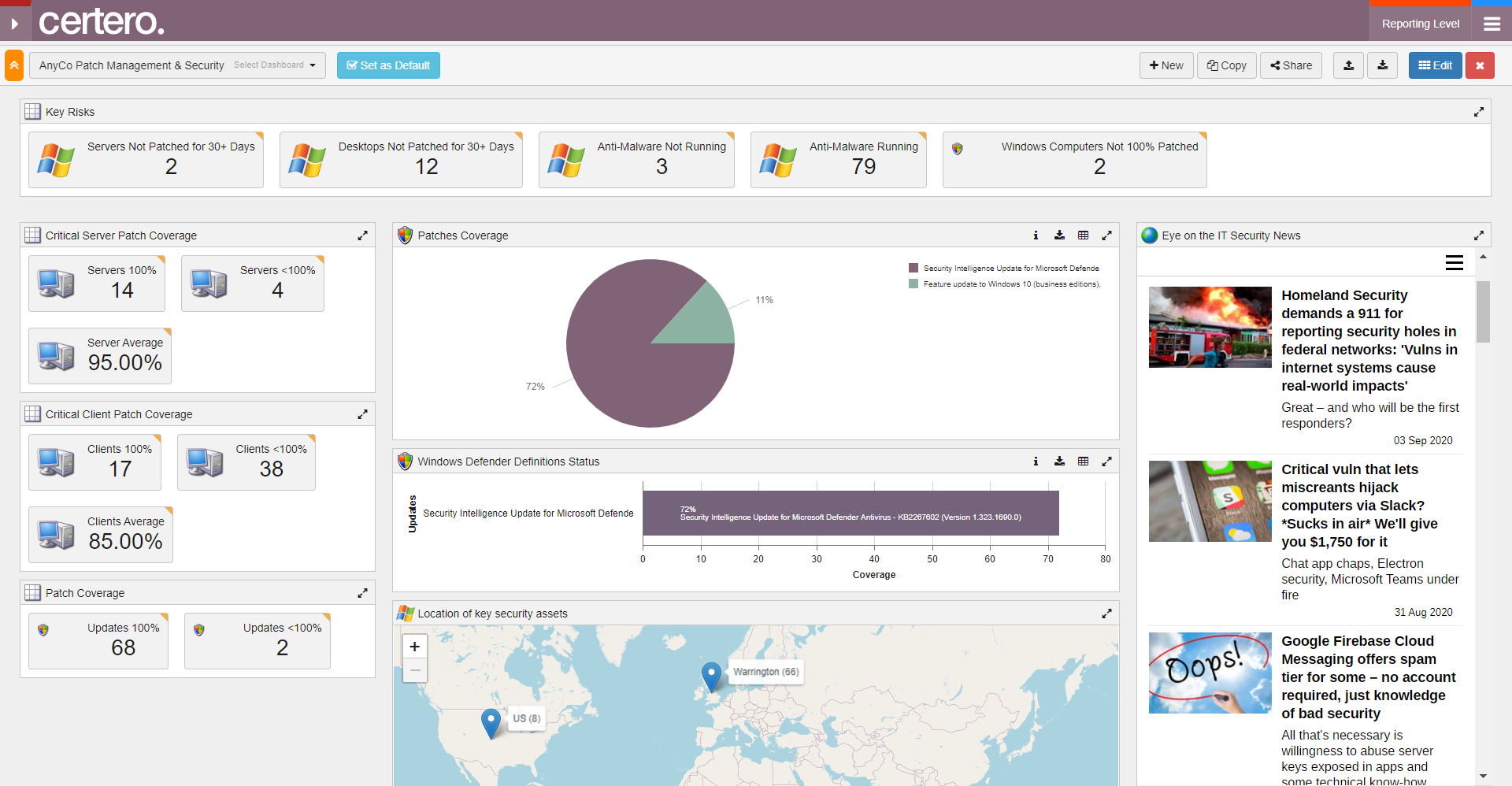 Visibility of security risks in your IT estate
While most ITAM platforms are comprised of legacy technologies and brittle integrations, Certero for Enterprise ITAM is part of the Certero Unified Platform, taking full advantage of hyperscalable SaaS architecture and provisioning to offer a customer experience that's second-to-none.
All Your Hardware & Software Inventory in a Single Place
Certero for Enterprise ITAM discovers and collects inventory data across all your platforms, from Windows desktops and servers to Linux and Unix servers on-premises and in the cloud, as well as Android and iOS mobile devices. What's more, you can also discover and inventory non-PC assets like printers, routers and more.
Not only is all inventory information stored centrally, it can also be managed, viewed and analyzed in a single console. No more screen-hopping or exporting to Excel.
test
+ Asset Inventory Checklist:
Windows Desktop & Server (agent & agentless)
Unix & Linux servers on-premises (agent & agentless)
AWS & Azure (with Certero for Cloud)
Android and iOS (with Certero for Mobile)
Full hardware & software inventory
Automatically discover IP-addressable devices for complete asset inventory
Automatically creates virtual machine, host, guest and cluster relationships
Application Monitoring
Help track technology adoption, meter software usage and make informed decisions around license reharvesting with Certero for Enterprise ITAM's in-built application monitoring.
test
+ App Usage Checklist:
Automatically monitor all deployed applications with no complicated configuration
Immediately identify under-used software or identify use of non-sanctioned apps
Retain a full 12 months of usage data for trending & analysis
Transform raw usage into business intelligence with reporting & dashboards
Built-in Reporting & Analytics
Certero for Enterprise ITAM includes full management reporting and customisable dashboards.  Different users can quickly create role-specific views of data.  All reports and dashboards have full drill-down capabilities.
test
+ ITAM Reporting Checklist:
Full access to both granular data and management dashboards
Create role-specific dashboards for users, stakeholders & executives
Unlimited reporting & dashboards
Build views to support decision-making, forecasting & what-if scenarios
Charts, trends and scheduled email-based reports
Location Maps
Cost based reporting
Report by business unit and/ or location
SaaS, On-Prem or Hybrid Provisioning: Do ITAM Your Way
Certero's Unified Platform is provisioned quickly and painlessly either as a full SaaS solution, wholly on-prem or using a hybrid hosting model, according to your needs.  Our unique provisioning methodology reduces your implementation overheads and accelerates time to value.
test
+ Provisioning Checklist:
Hyperscalable SaaS architecture grows with your needs
Minimal on-premises server requirements
Up and running in as little as 15 minutes!
Patch Management
Minimize the administrative overhead required to keep Microsoft estate secure with integrated patch management.
test
+ Patch Management Checklist
Automate the detection and remediation of vulnerabilities
Automatically schedule patch installations and server reboots
Create different schedules for different environments
Integration with WSUS for easy deployment
Detailed patch audit reports
Software Distribution
Extend the ITAM program to the full application lifecycle with integrated software distribution capabilities that empower you to natively manage installs, removals, configuration changes and more.
test
+ Software Distribution checklist:
Support full asset lifecycle management
Automatic targeting based on inventory criteria
Works standalone or in conjunction with SCCM etc.
Supports out-of-hours installs and upgrades
Remove unused or underutilized software products
Integrated ITAM tools & services packages
If you recognize the advantages of advanced IT Asset Management but don't have the skills or bandwidth to fully realize your goals, our expert services teams can help, with a wide range of project and managed service options tailored to your ITAM needs:
test
+ ITAM Services checklist:
Beyond IT Asset Management – Benefits of the Certero Unified Platform:
As a key part of the Certero Unified Platform, Certero for Enterprise ITAM supports a full range of asset management goals:
CMDB integration & population
Supports financial management, cross-charging & cost recovery
Deep-dive information on all IT assets
Integrates with ITSM solution to minimize resolution times
Gartner Peer Insights Customers Choice Reviews
"So much more than an asset management tool!"
"Outstanding monitoring and reporting abilities that will immensely help with your enterprise maintenance, environment improvement, tracking and project work. Reports that manually take months, produced in minutes. ROI within months. On top of all, great customer service and support. Highly recommended."

"Good software and a nice company to deal with!!"
"We have used Certero for around 10 years to quickly and simply roll software out to our estate and automatically keep track of IT assets. The software is reasonably priced considering the functionality it gives us and I would definitely recommend it over it's competitors."

"Powerful, yet easy to use and deploy asset management platform"
"Overall, I would describe Certero as 'very easy: very easy initial setup and config, very easy to use, very easy to get assistance from the vendor on any aspect of the product'. Although we don't use Certero for deployment, for that we have MS SCCM, but I'm sure that would be easy also. We use it for asset management, as an aid to procurement and SAM – all things Certero does with ease."

"Excellent all round"
"I have dealt with Certero for over seven years. Our organization has grown significantly since then (20,000 devices) and Certero has grown with us. The features added to their Certero for Enterprise ITAM and SAM platform are excellent and the customer service has been exemplary."

"Great all round inventory and discovery solution"
"Great all round inventory and discovery solution that can also be used for SAM and Systems Management. Customisable widgets for data graphs. Very strong technical capabilities. Easy to generate comprehensive and detailed reports. Hardware Asset information is very detailed."

Discover the Power of Certero for Enterprise ITAM