Oracle License Management
Certero's Oracle LMS/GLAS verified technology solutions and licensing services combine to help you manage any Oracle licensing challenge on any scale, anywhere.
A One-Stop-Shop for Clarity and Control
Oracle SAM Solution
Not only do Certero develop and deliver industry-leading IT hardware and Software Asset Management solutions, we also use that technology to deliver direct, independent services in a uniquely efficient and effective way.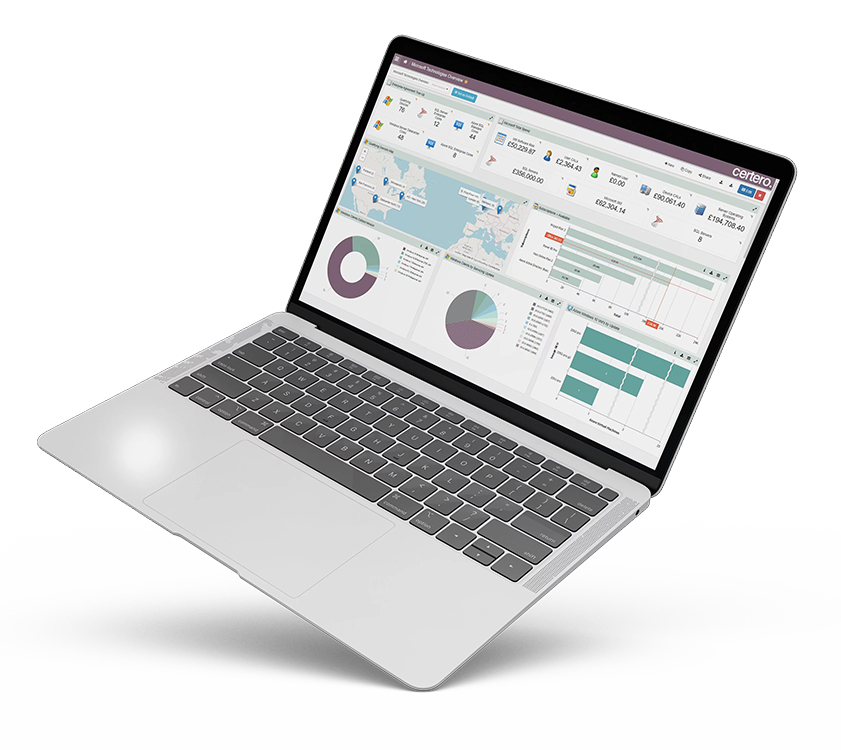 Oracle Technology Led Services 
Certero's 'Technology-Led Services' approach, means using the most advanced automation possible within our own discovery and licensing solutions, to remove the old barriers to information that has always slowed down SAM service delivery. Instead, Certero Oracle licensing consultants always have a single-pane-of-glass, complete view your IT infrastructure and Oracle software instances everywhere. This gives them to access the accurate data they require much quicker and enables experts to be experts – able to focus on high-value risk mitigation and cost optimization.
Technology-Led Services also means that annual or quarterly Effective License Positions (ELPs) are a thing of the past – with Certero technology underpinning a licensing service, data are live and dynamically maintained as your business changes. That means that you can see your license position whenever you wish 24/7 – you have complete, live and clear visibility over your Oracle estate and the output of your SAM services becomes tracking the progress made towards cost-reduction, not just achieving 'visibility'.
Discover Certero SAM Services for Oracle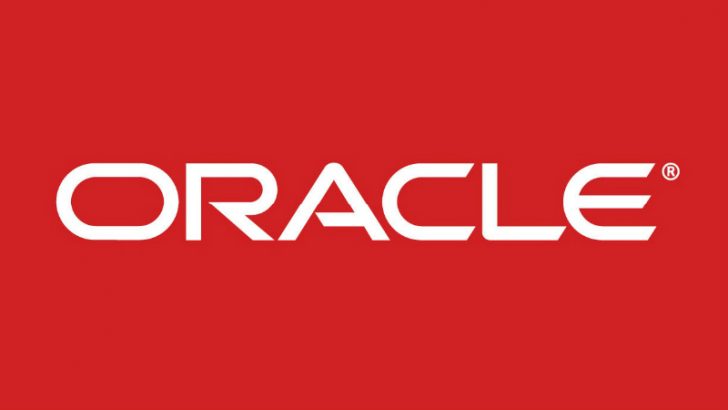 Oracle LMS/GLAS Verified
The
Certero for Oracle
solution is a formally Oracle LMS/GLAS verified third-party tool for Oracle Database, Database Options & Management Packs and Oracle Fusion Middleware. That means that Oracle will accept data from Certero for Oracle, as an alternative to installing Oracle measurement tools in the event of an audit – giving you constant visibility and control.
A Single Pane of Glass Solution, Delivered as SaaS
Certero for Oracle
addresses two major technology governance concerns: it helps you both respond to/defend against and manage Oracle compliance audits and optimize your global Oracle spend across Databases, Middleware and E-Business Suite environments.
Unlike most Oracle license compliance alternatives, Certero for Oracle covers your entire Oracle estate, including software installed on Windows, Linux and Unix devices. It provides coverage of application server Middleware products (WebLogic Server, SOA Suite) and has inbuilt functionality to apply vendor rules and policies automatically.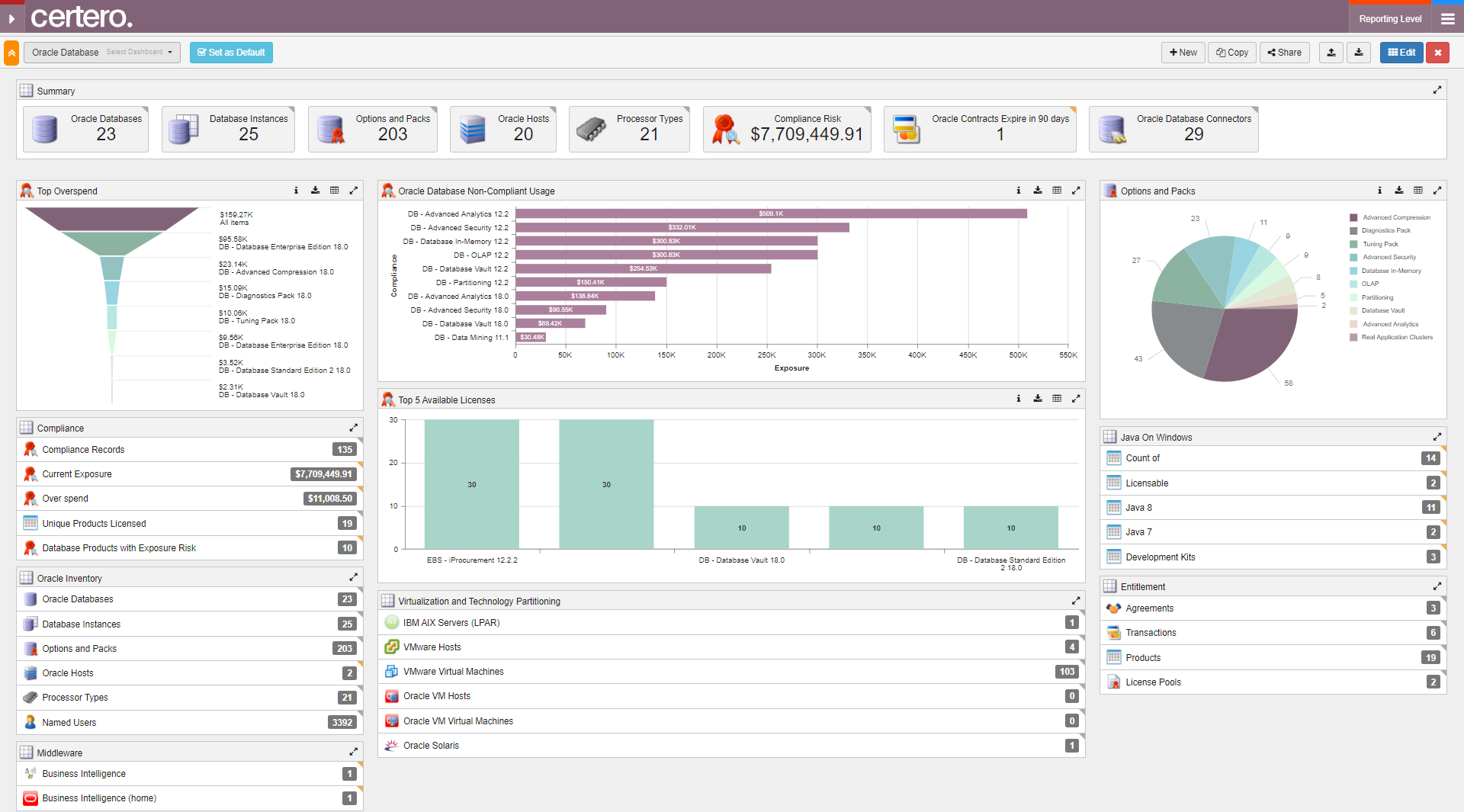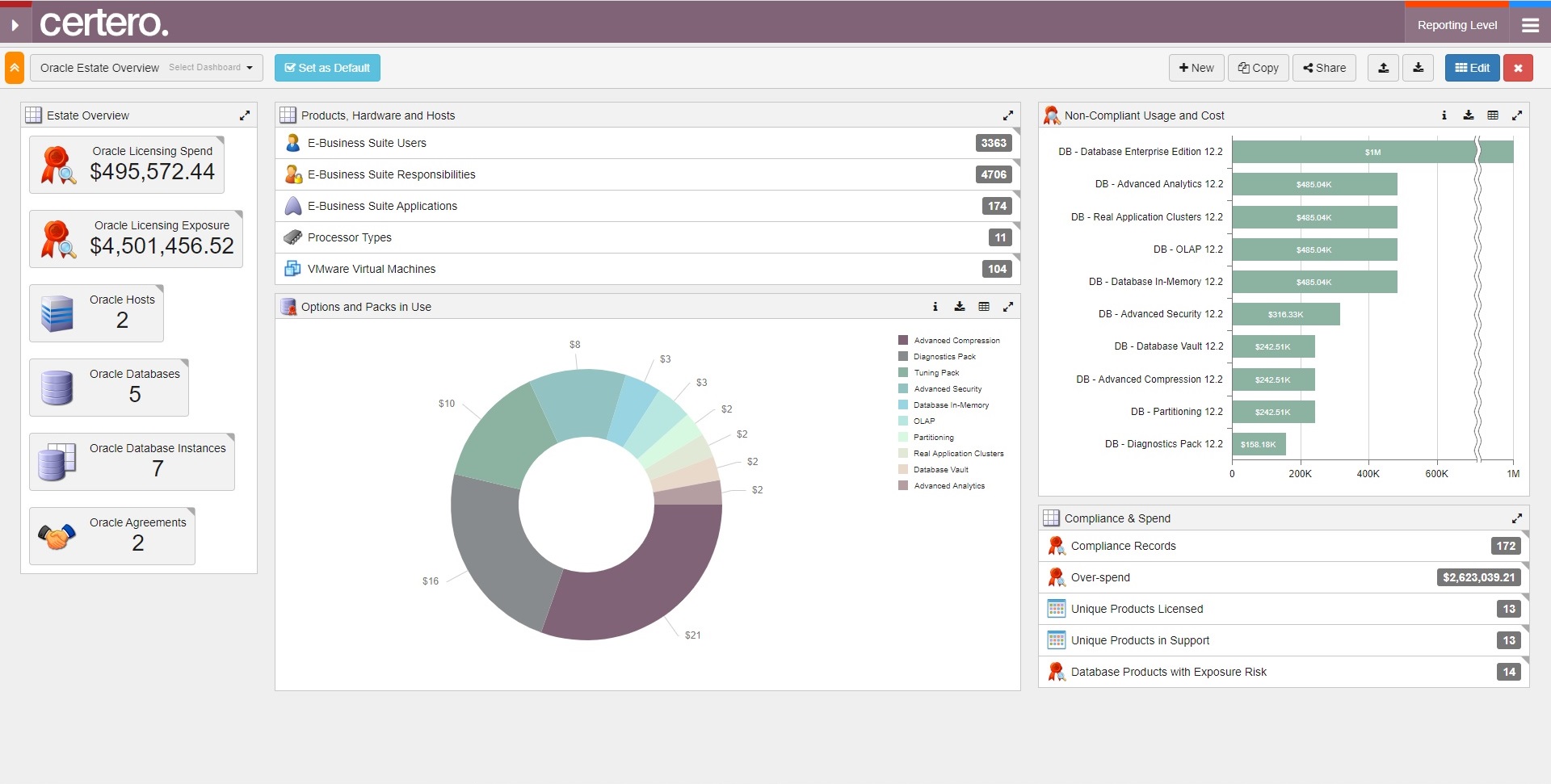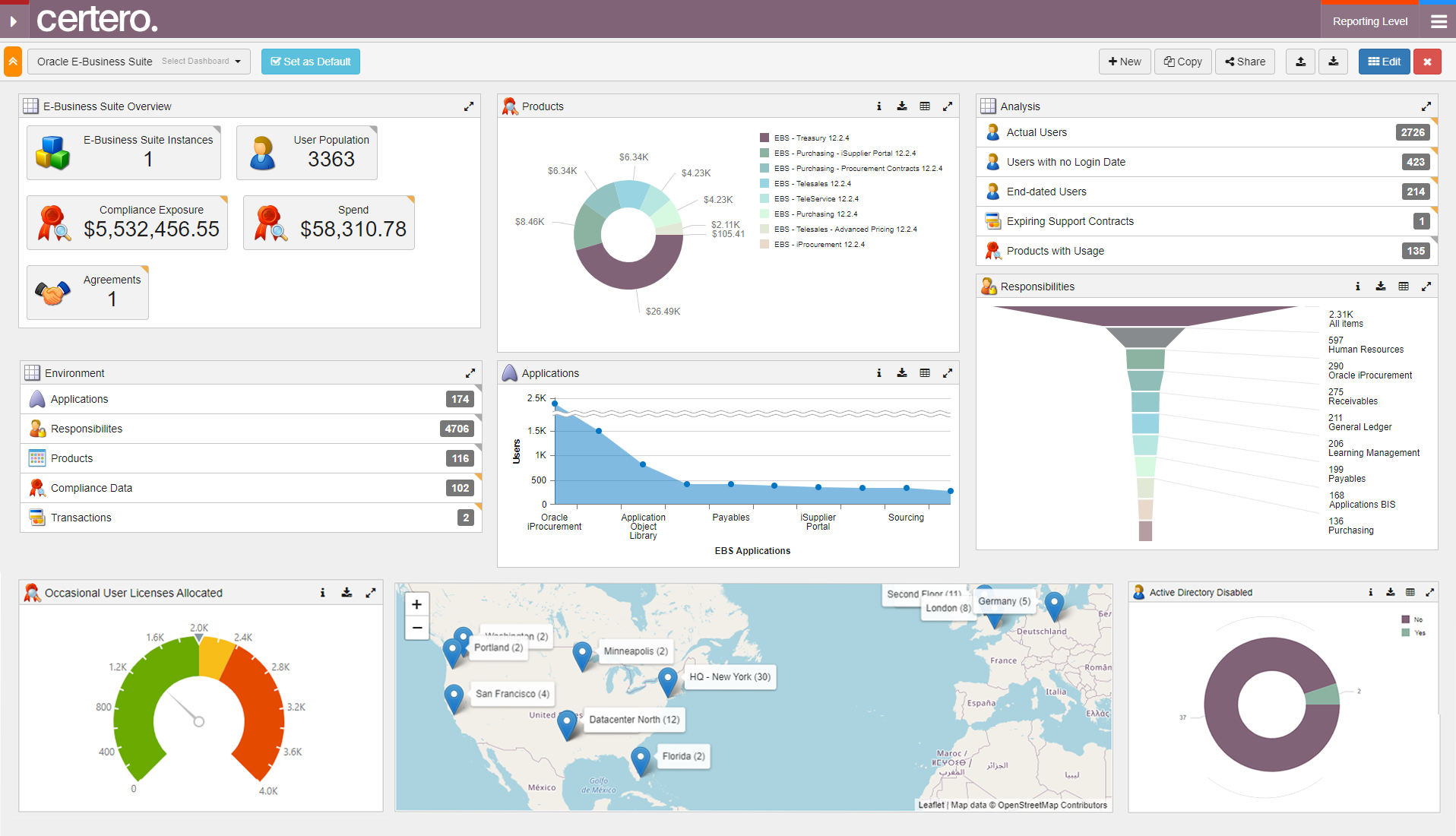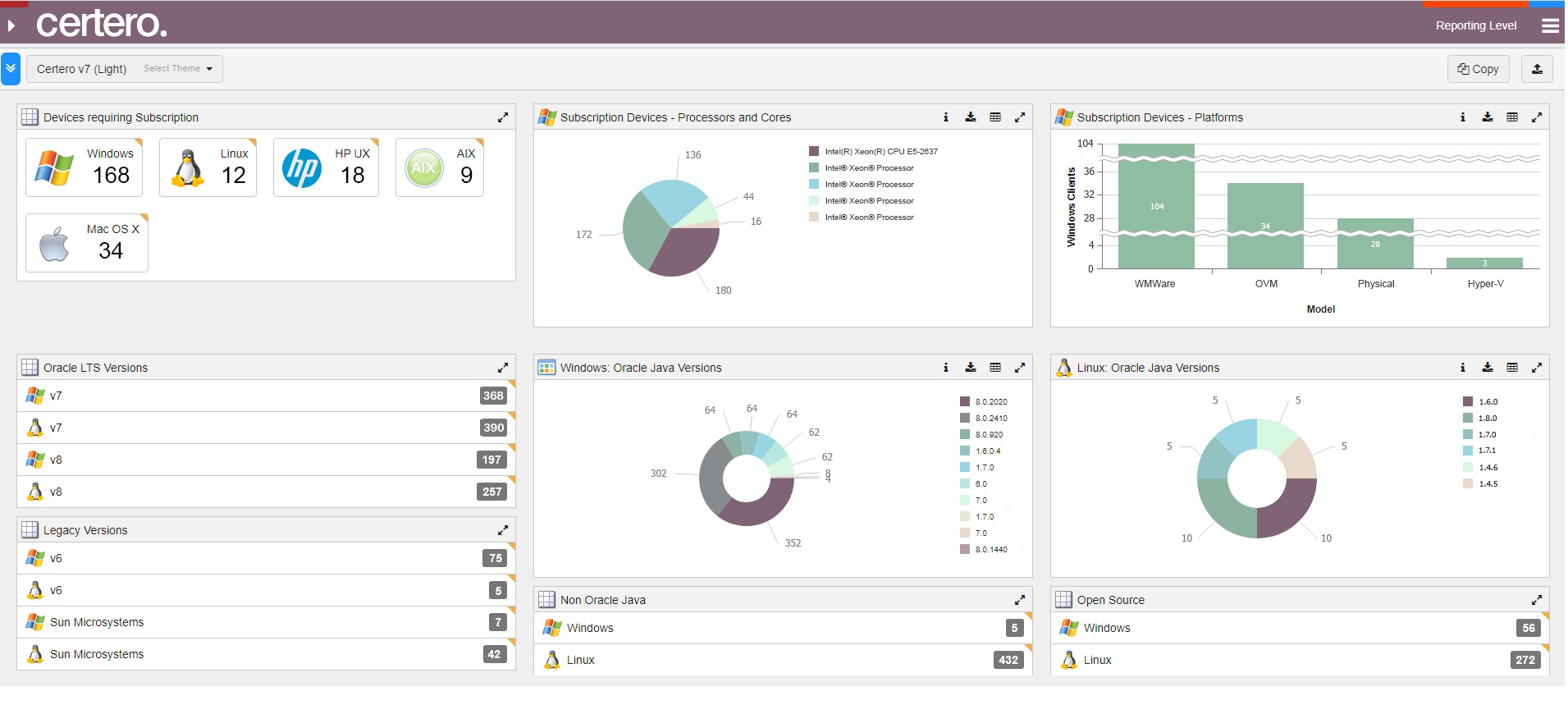 Discover The Power of Certero for Oracle
Specialist Oracle Licensing Expertise On-Demand
Certero offer a flexible range of tactical (one-off) and strategic (sustained) Oracle licensing services, designed to help you navigate any Oracle business challenge:

Tactical - Oracle Audit Defense Service
This service brings the full weight of Certero's Oracle expertise and technology to your assistance – quickly. As soon as you recieve notice of an audit, conact Certero and we'll guide you through the audit process, making sure you have visibility and control, that your best interests are protected, risks mitigated wherever possible and that you're able to navigate through the audit process without any surprises.

Strategic - Oracle SAM Managed Service
Delivered using Certero's Technology-Led Services approach, this is a full-scope licensing and active optimization service, giving you live visibility of your entire Oracle infrastructure, licensing positions and active progress through risk-mitigation and cost-optimization activities. Certero consultants work as an extension to your internal teams, keeping you informed and able to act upon the intelligence unearthed through the SAM service.

Tactical - Oracle ELP & Optimization Service
This services takes you from any level of internal expertise, resource and understanding of your Oracle licensing, to being in a position of total clarity and control. Delivered using the Technology-Led Services approach, Certero will deploy the Certero for Oracle solution and Certero's in-house licensing experts to identify your current and optimized license compliance position with Oracle, leaving you with a detailed Optimization action report and the option to simply sustain the service into a Managed Service if desired.

Tactical - Oracle Contract Analyses & Optimization Service
This service is designed to get you ready to navigate business change, such as understanding licensing implications of mergers / acquisitions, renegotiating new agreements with Oracle or simply making sure that you fully understand the nuances of your licensing agreements – timescales, obligations and the ability to fully maximize the additional value that may be locked within the T&Cs. Because software licensing contracts are so complex, usually very few individuals with a business understand what has been agreed – this service provides expert analysis and clarity for stakeholders.
See what our customers are saying about Certero
"Certero for Oracle was extremely easy and quick to deploy. ELPs can be created in real-time and the easy to use reports mean that management information is readily accessible" 
Brent Jarnell
IT Asset Manager, Products and Technology, Bank of New Zealand

"The product provides an in-depth deep dive of our licencing data to give the organisation a truly effective licencing position report."
Knowledge Specialist, 
Healthcare

Ready to address your Oracle challenges?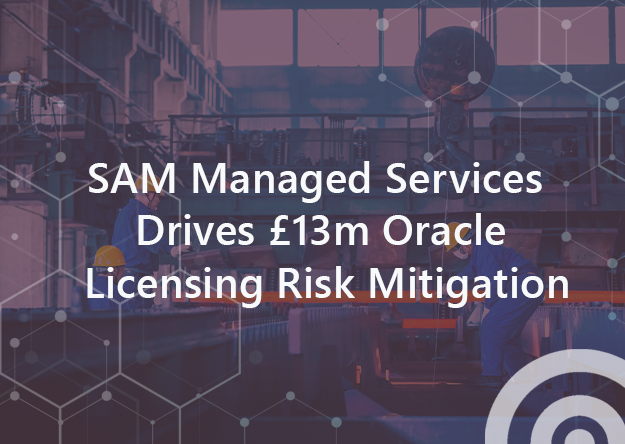 Certero Case Study: Oracle SAM Services
Why Certero?
You can cover major vendor risks without needing to maintain internal expertise.
Expand understanding of both your exposure to risk and cost-avoidance potential.
Our service allows your internal team to focus on other priorities, without losing sight of any risks or potential opportunities.
Your ELP dashboard is based on current data, rather than old data snapshots taken months ago, keeping you accurately informed.
Your internal SAM function will be able to provide invaluable, accurate information to additional business functions, from finance to operations and security.
Technology-Led Services are designed to fit closer to your needs as they progress. After the initial service delivery, you can simply purchase our product(s), add-on additional services, or upgrade to one of our SAM Managed Services without the need to start over – the solution is already installed and configured to your organization.
A single, trusted and highly secure partner – Certero's global operations are certified to the internationally recognized ISO27001 standard for Information Security Management for mutual security and peace of mind.
Certero's proven partnership approach means working as an extension to your teams, for which trust, professionalism and clear communication, expectations and delivery are paramount.
You'll be joining the happiest customers in the industry. Real-world customer reviews, independently verified by Gartner's Peer Insights, rate experiences with Certero higher than any other major SAM vendor – and across every review category.
Discover The Power of Certero for Oracle