ITAM, SAM and CAM Can Make or Break Your Digital Transformation Strategy by Either Inhibiting or Enabling Your Change Program.
The modern age has given us an abundance of technological solutions to tackle the challenges of everyday life, which offer us greater convenience and faster access to the things we want and need. The ways in which these new devices and apps have improved our lives is extraordinary, and have engineered higher levels of expectation in both our personal and professional lives. Meeting these growing expectations is critical to remain competitive and one of the greatest challenges your organization is likely to face, because the rate of technological advancement is accelerating faster than organizations can change. To successfully meet these expectations, you have to change how your organization interacts with your customers and in most cases, this requires an overhaul of your business model.
Enter Digital Transformation
Digital Transformation is expensive and risky, but so often necessary to achieve or maintain competitive advantage. Digital Transformation touches all parts of your enterprise and, in many cases, requires fundamental changes to people, processes and functions. Once these new processes and functions have been mapped, IT steps in to implement digitization and automation projects to drive Digital Transformation off the planning table and into reality.
">enabling the Digital Transformation strategy through fast and efficient development and implementation of new technologies, whilst retiring the old. Beating your competitors to market is vitally important, but managing such a complex change program is not easy and any inefficiencies can slow down the entire transformation process, forfeiting any initiative to competitors who are able to move faster. To rapidly drive Digital Transformation, you need to be able to govern and manage the change program quickly and efficiently through IT Hardware (ITAM), Software (SAM) and Cloud Asset Management (CAM). However, old legacy tools act as 'Inhibitors' of transformation strategies by forcing users to perform endless manual processes and data entry tasks, which increases the risk of human error and produces poor quality outputs, slower and at higher cost.
To increase quality, speed and efficiency, you have no choice but to transform your approach to ITAM, SAM and CAM from an 'Inhibitor' to an 'Enabler' of Digital Transformation.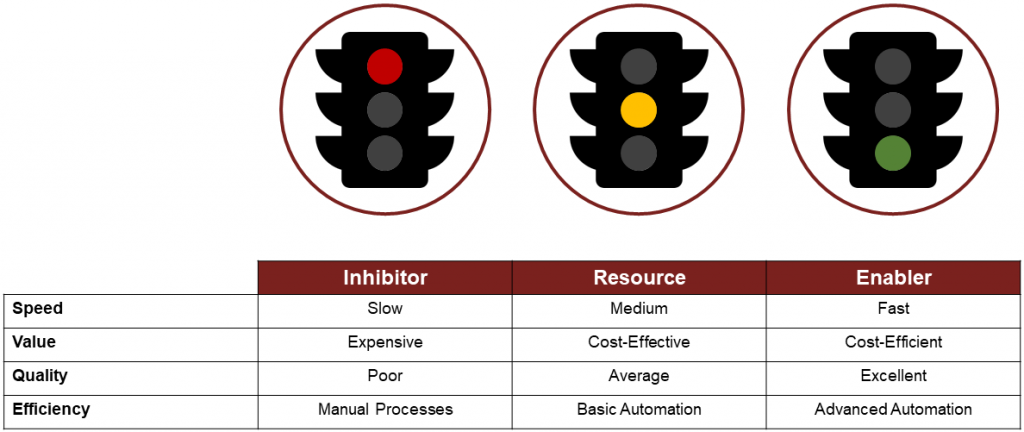 Inhibitors vs Enablers
The difference between older legacy tools (Inhibitors) and next generation solutions (Enablers) is easily illustrated in the comparison table below. As you can see, there really is no comparison. Old legacy tools simply lack the features, functions and capabilities you need to rapidly manage a Digital Transformation program.
| | | |
| --- | --- | --- |
|   | Inhibitors | Enablers |
| Advanced Automation | No | Yes |
| Accurate and Complete Data | No | Yes |
| Real-Time Inventory | No | Yes |
| Single Source of Normalized Data | No | Yes |
| Single Pane of Glass Visibility of All Assets | No | Yes |
| Covers All Vendors | No | Yes |
| Covers All Devices (Mobile to Mainframe to Cloud) | No | Yes |
| Visibility of SaaS, PaaS and IaaS | No | Yes |
| Advanced Analytical Functions Built-In | No | Yes |
| Customizable Reporting | No | Yes |
Accelerating Digital Transformation
Digital Transformation requires fast and efficient management of technological change around new business models, processes and functions. Managing this change requires complete visibility and control over the hardware, software and cloud assets within your IT ecosystem. However, to accelerate Digital Transformation, this information must be accurate and available in real-time.
Organizations are increasingly viewing IT Hardware, Software and Cloud Asset Management as a critical Enabler of Digital Transformation – one that has the power to support acceleration. However, incumbent tools used to manage ITAM, SAM and CAM processes and functions are too fragmented and rely too heavily on manual processes and data entry tasks.
What you need is to digitize and automate the processes and functions around ITAM, SAM and CAM in order to rapidly deliver the high-quality outputs needed to support the acceleration of Digital Transformation. The only way to achieve this is to implement advanced and modern ITAM, SAM and CAM solutions that can help you quickly and easily achieve this change. By utilizing next generation solutions to govern your technological change program, you can deliver high-quality outputs faster and at lower cost, enabling you to beat your competitors to market by accelerating your Digital Transformation.
Follow us on Linkedin for more SAM
updates
Read more like this from
Certero
Want to accelerate your Digital Transformation?