ITSM & CMDB Integrations
Certero's advanced discovery & inventory capabilities are ideal for populating the
CMDB & providing detailed IT asset information to any kind of IT Service Desk 
Integrate your ITSM tool with ITAM and SAM functionality from Certero
A fundamental requirement of an effective CMDB or ITSM solution is the ability to populate it with comprehensive IT asset information from across the network.  Yet the majority of CMDB implementations fail and service desk operatives are often operating blind when it comes to the assets being used by staff. 
Certero makes populating the CMDB with a wide range of Configuration Items (hardware and software assets) and providing help desk staff with access to full information on users' IT equipment and usage a reality.    
Certero brings many benefits to your ITSM system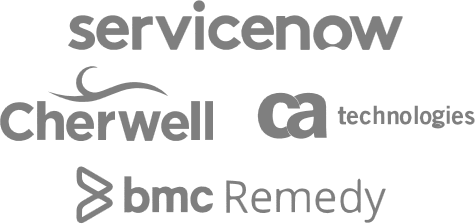 Accelerate problem resolution times 
Improve end user experience
Improve service desk staff productivity
Reduce the cost of service delivery
The most efficient & effective way to populate the service desk with inventory
Multi-platform inventory & discovery
From windows PCs and laptops to Unix/Linux servers, android phones to IP telephones, printers and switches, Certero finds all types of devices on the network.
Agent & Agent-less scanning
Speed up problem resolution and avoid change control challenges by using agent-less scanning. Deploy agents directly without the need for third-party distribution software.
Software normalization
Ensure all software captured in the CDMB or ITSM application is normalized for easy recognition and management.
RESTful API
Using the powerful OData protocol, the Certero API provides granular level data from any Certero solution in a convenient JSON format, for easier population of ITSM solutions, CMDB's, Excel, Power BI and many more.
Beyond ITSM: creating an integrated ITSM/ITAM/SAM solution
In addition to the most comprehensive IT asset discovery and inventory capabilities, the Certero Unified Platform offers advanced ITAM and SAM functionalities, which can dramatically increase your organization's technology governance capabilities and improve the ability of your service desk staff to deliver value to the organization.  Certero's wider capabilities include: 
Hardware Lifecycle Management
 

– from procurement to disposal, track hardware asset status, configuration, location, usage and more. 
Software Asset Management – manage and optimize licensing for not only desktop vendors but expensive enterprise software applications
Self-Service
 – from password reset to populating the enterprise app-store, help users self-serve their basic IT needs 
As part of the Unified Platform, Certero offers a number of products that can enhance your ITSM and associated programs:
Why your ITSM inventory tool is letting you down
Most discovery and inventory tools that ship as standard with ITSM tools just aren't up to the job, with limited discovery capabilities, platform coverage, software usage metering, restrictive support of software publishers and ineffective software recognition and normalization:  
 

Discover new devices 
Windows 
Non-Windows 
Network Devices 
Software Recognition 
Support for Enterprise Software 
Hardware Lifecycle Management 
Software License Management 
ITSM inventory 

✘

✔

✘

✘

?

 

?

 

?

 

?

 

Certero  

✔

✔

✔

✔

✔

✔

✔ 

✔
To truly make your ITSM solution the center of your IT operations, you need a more effective inventory solution, the ability to manage the entire lifecycle of hardware assets and the ability to manage software licensing.  All of which you get with Certero.  
Discover how Certero solutions can help you meet your ITSM challenges
Speak with an expert today