Certero for Mobile
Certero for Mobile goes beyond standard MDM to deliver full management and security for your mobile workforce, from physical devices to the applications that run on them.
Certero for Mobile is a highly automated MDM solution with intuitive administration settings and powerful security features for managing today's mobile workforce.
Certero for Mobile's administration panel makes enrollment, configuration, integration, control and application management quick and easy and with minimal impact or disruption for end users. Comprehensive security features ensure valuable assets are protected and access to (or loss of) sensitive data is minimized.
Certero for Mobile is also fully integrated into Certero's Unified Platform, which means it can work holistically with all Certero ITAM and SAM solutions to provide complete end-to-end visibility of your devices and applications, all via a single, normalized data source.
ISO 27001 Certified
Certero is committed to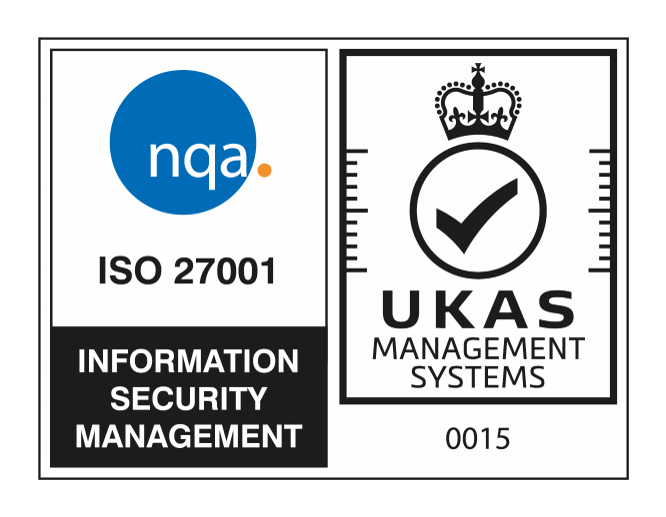 providing customers with the highest levels of security,  which is why Information Security is embedded as part of our culture. From the board down, our Information Management Processes have helped customers have a safer, more reliable IT hardware, Software, SaaS and Cloud solutions and Services throughout the year.
What makes Certero for Mobile different?
| | | |
| --- | --- | --- |
| Comprehensive ITAM data | | Get accurate inventory of enrolled mobile devices |
| Improved governance | | Provides visibility and control over applications |
| Powerful security | | Secure, easy-to-use solution |
| iOS and Android operating systems | | Covers the major mobile device operating systems |
| Password enforcement | | Enforce secure password policies |
| Custom administration | | Easily customize device configurations |
Want to discover the power of Certero for Mobile?
An MDM solution with everything you need today – and tomorrow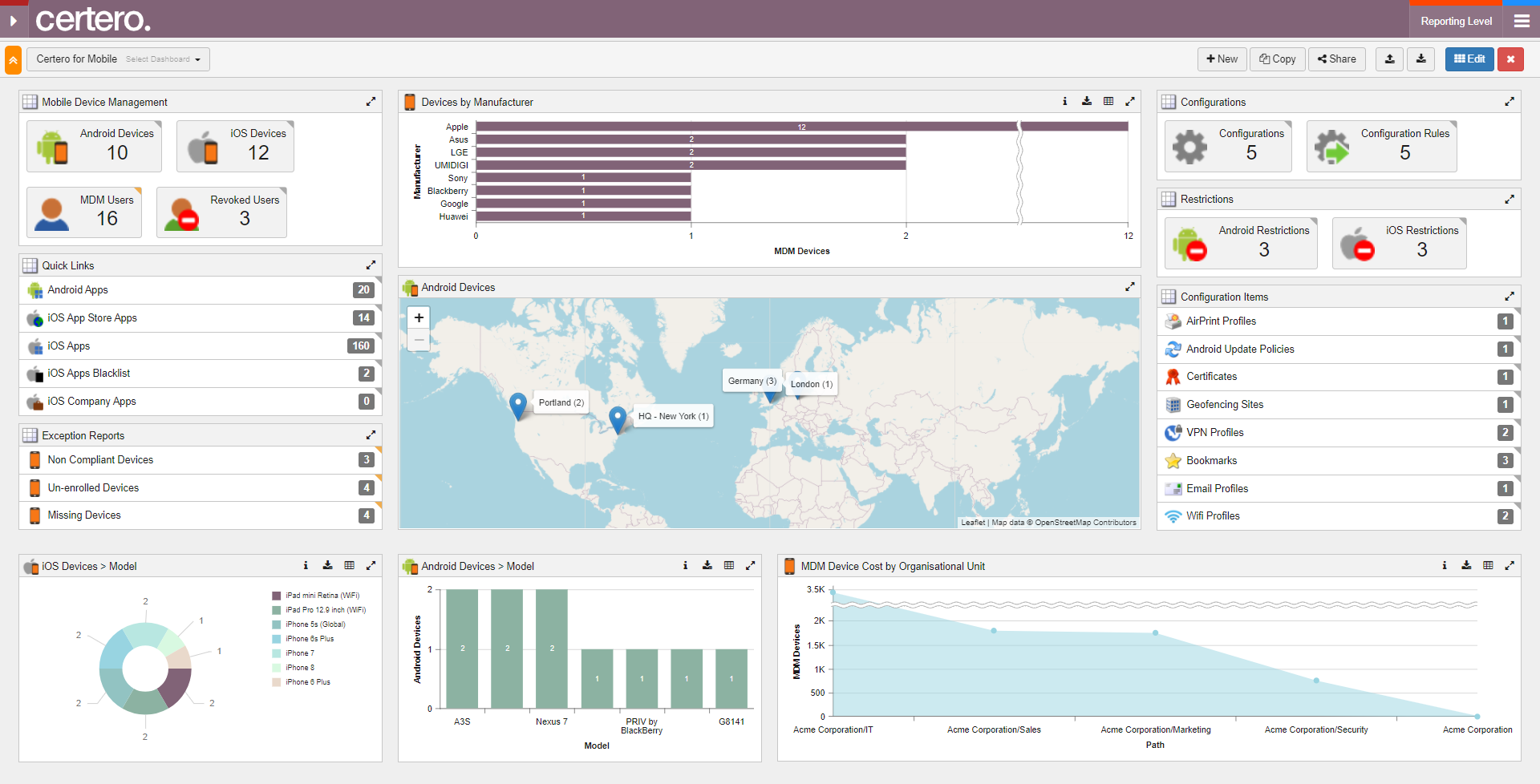 Comprehensive Device Inventory
All enrolled devices present a comprehensive inventory back to Certero for Mobile, enabling administrators to have full visibility of all the mobile devices across the estate.
test
+ Type of Information Gathered:
Manufacturer
Model
Assigned User
Platform (iOS, Android)
Version
Storage (including available space)
Phone Number
Mobile Network Provider
SIM Serial Number
Applications (Name, Version etc.)
Easy and Flexible Device Enrollment
Our mobile device management software simplifies the enrollment process, providing a fast and intuitive solution that requires very little user intervention.
test
+ How to Enroll User Devices:
There are several ways to enroll user devices with Certero for Mobile:
Apple DEP (device enrollment program) – zero-touch configuration for IT across Apple devices
Android for Enterprise (aka Android for Work) – Take full control of your Android devices
Bulk enrollment – using QR codes, Administrators can quickly enroll many devices by simply scanning an on screen QR code with the device
Certero for Mobile App – individual users can download the App and self-enroll by following the intuitive enrollment wizard that is built into the app
Customized Device Configuration and Administration
Our mobile device management software facilitates easy application of configurations. Each configuration includes a number of definitions regarding the options and features that are managed through Certero for Mobile's device management capabilities.
test
+ Definitions and Building Blocks:
The following definitions or building blocks are created within Certero for Mobile:
Wi-Fi
VPN
Secure password policies
Device restrictions
Compliance settings
Kiosk Mode
AirPrint printers
Company apps
Apps from public app stores
Blacklisting apps from your devices
Android Update Policies
Email Configuration
Geofencing sites and Alerts
Each of these definitions is created as re-usable building blocks, streamlining the process of creating multiple configurations as the same building blocks can be used multiple times. The other benefit of this approach is that any changes to the building blocks only need to be made in a single location; for example, if the WiFi passwords change for a specific location, the administrator only needs to edit the definition in a single place and it will automatically update all of the associated configurations.
Configurations are applied to users and or devices based on a set of criteria that is defined within Certero for Mobile, this enables the automatic assignment of configurations to users and or devices; streamlining the ongoing management of mobile devices.
Powerful Security Features
Certero for Mobile features advanced security throughout, covering all the bases. Corporate data is kept safe and separate from the user's own private data in a BYOD scenario.
test
+ Security Features:
Remote wipe or disablement of lost or stolen devices
Geo-fencing – enforce restrictions on which locations your devices should be located at and alert you if any devices breach these restrictions
The ability to detect and disable or wipe jail broken or rooted devices
Enforcing strong corporate password policies
Android Enterprise
The Android Enterprise capability enables organizations to separate business applications, supporting employees as they use the same Android device for both personal and work purposes.
test
+ Capabilities:
The ability to separate business apps from personal apps
Simple provisioning of corporate-owned devices
Access to business apps on Google Play
In-built security through encryption for devices, data and apps
Apple VPP
If you need to distribute paid apps on iOS you can use the Apple Volume Purchasing Program (VPP). By simply logging in to the VPP portal and downloading the token for your account and adding it into our mobile device management software, organizations are able to gain full visibility of their VPP licenses and their utilization.
test
+ Learn More about Apple VPP:
Multiple VPP accounts are supported, so simply assign users to the account you require and Certero for Mobile will take care of the rest. If you have used VPP previously, our mobile device management software simplifies the experience of inviting and registering users.
If a user has access to an app that requires a VPP license, the Certero for Mobile app will display a banner asking them to register with VPP; once they have registered, they will be able to download the apps they need.
All VPP licenses are automatically reclaimed from users; when they are either removed from the system (for example when they leave the company) or when their last device is un-enrolled. This allows for the reassignment of licenses to other users.
Enterprise BYOD
Our mobile device management software has been designed to support both personal devices and corporately owned devices to ensure you can easily incorporate a BYOD (Bring Your Own Device) policy into your overall IT infrastructure. The configurations applied to devices can be defined based on ownership, so that organizations can easily maintain separate policies for each type of device.
Corporate and Public App Stores
Application management within our mobile device management software provides organizations with a simple and easy to use mechanism to publish applications to their users.
test
+ Learn More about App Stores:
The publishing of applications is controlled on a per user basis; administrators are able to define policies within our mobile device management software to define exactly which applications are made available to end users. Applications can also be pre-configured with company specific settings to simplify the installation process for users.
Discover the power of Certero for Mobile