Major Healthcare Organization Identifies £185k Annual Cost Saving with Certero

The Challenge
Like many healthcare organizations, the customer is a huge user of desktop computers and even post-pandemic, has a substantial network of over 10,000 PCs. These are machines that will always need to remain on-site are used to help deliver critical clinical and administrative services to the community.
Being a clinical environment, there is complex mix of 'critical' and none-critical machines; PC's that may need to be constantly in use, machines that follow a typical 'office hours' pattern and machines that may need to be accessed at any time by multiple users, 24/7, 365 days per year.
This complexity had proven too much for energy saving measures to be attempted at scale, without detailed intelligence. The risk of impacting critical services was simply too high and therefore prohibitive.
However, with desktop IT equipment being one of the largest consumers of electricity behind heating and lighting, the organization knew energy wastage was occurring and were keen to work with Certero to investigate and get some solid data to quantify the scale of the issue and what kind of cost and CO2 savings could be achieved.
Company Profile
Sector: Healthcare
ROI: 3.5 months
Product: PowerStudio
Devices: 10,000+
Savings: £900k+ over 5-Years 
The Solution
Certero's PowerStudio is a multi-award winning, enterprise-level PC Power Management solution. Designed specifically to provide the insight and intelligence needed to safely implement practical, automated power-saving policies within large, complex environments.
The customer opted to take up Certero's no-obligation proof-of-concept to shed some light on exactly what was happening across their network of desktop PCs over a controlled 4-week period.
This provided them with a good understanding of user activity over a typical operation period including weekends, accurately recording when PCs were powered on and in use, when they were powered on and are not in use (idle time), when they were in low-power state and when the machines were switched off.
This activity also captured insights into user behavior, such as idle periods during operational hours and how consistent staff were at switching off machines at weekends or when prompted.
With the native ability to discover and deploy itself PowerStudio rapidly deployed across the large IT estate.
PowerStudio is above all designed to be none-disruptive, so by default acts in an entirely passive 'audit mode' state. Simply collecting information on energy consumption without performing any power-saving actions.
The organization's various energy tariffs were input into PowerStudio, so that accurate cost and Carbon conversion factors could be reported.
A 28-day audit window was then captured, identifying when all machines were used, idle, when monitors were powered off, and when machines were powered off.
Testing Power-Saving Policies & Maintenance Windows
Automated power-saving policies were tested on a subset of machines, proving that PowerStudio could intelligently recognize if a machine was in use and defer a scheduled power-saving action. Multiple policies could be implemented to capture savings across different user groups as appropriate to their evident behavior and working patterns, both within and outside of operating hours.
Lists of 'critical' clinical machines were ringfenced to make sure that no policies were applied to machines that may need to be accessed quickly for patient care.
PowerStudio could also save users work if left open, prior to powering down and machine and could also be used to automatically power-up machines ready for users in the mornings. This feature also helped to limit downtime as updates and patches could be delivered out-of-hours, helping the organization meet regulatory standards for Cyber Security.
Certero's consultancy team continued to work with the customer to help fine-tune power-saving policies as the customer opted to invest in the solution and smoothly convert the PoC test into a live implementation.
Reporting
Another great benefit of using a purpose-built, enterprise-level PC Power Management solution over the native energy-saving features within Windows, is PowerStudio's reporting capabilities. Reports are your 'eyes and ears' to understand exactly what is happening across the entire PC estate and PowerStudio provides unparalleled depth and detail to understand when and where energy is used or wasted, what types of policies are best for different types of users and of course – exactly how much money and CO2 is being saved.
These features were used by Certero during the PoC phase to identify ROI and continue to record evidence of the efficacy of the solution, enabling stakeholders to clearly report back the cost and Carbon reduction benefits to the business.
In Summary
Cost savings were identified by the PoC and extrapolated up to represent the full scope of 10,500 machines. In a PoC it is Certero's practice to base indicative savings and ROI insight conservatively, using the easiest achievable savings only – the non-critical, unused machines left powered-on outside of operational hours.
Therefore, the savings identified were: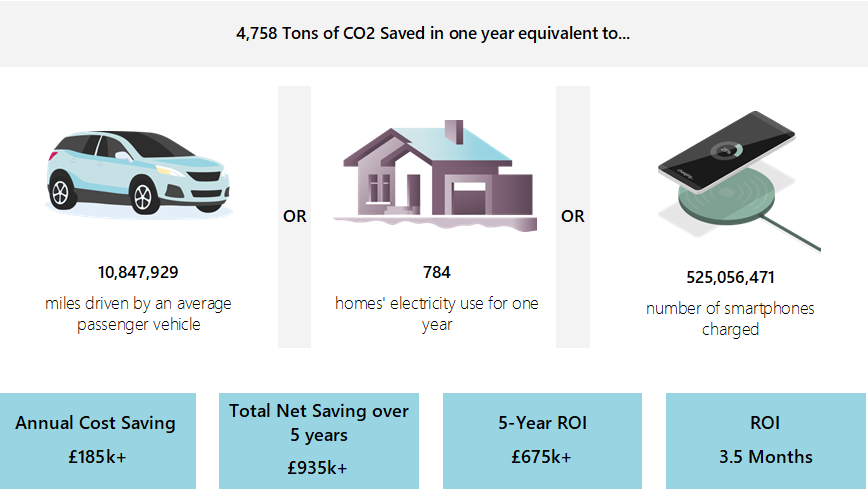 Ready to Speak to the Team that Makes Our Customers So Happy
?