Certero for SaaS
Everything you need to be able to See, Manage and Eliminate Over-Spending with your SaaS Subscriptions
The Difference between 'SaaS' & 'Cloud'
Though 'SaaS' is often referred to as 'Cloud', it's important to differentiate the two as they require managing in different ways. For clarity, Certero's Cloud Asset Management solution Vitado, can manage 'Cloud' IaaS / PaaS such as AWS & Azure. Certero for SaaS is designed to manage the ever-increasing list of SaaS subscriptions that if left unchecked, can easily become wasted investments. Both solutions are on the Certero platform, helping to further unify the management of valuable IT assets everywhere.
ISO 27001 Certified
Certero is committed to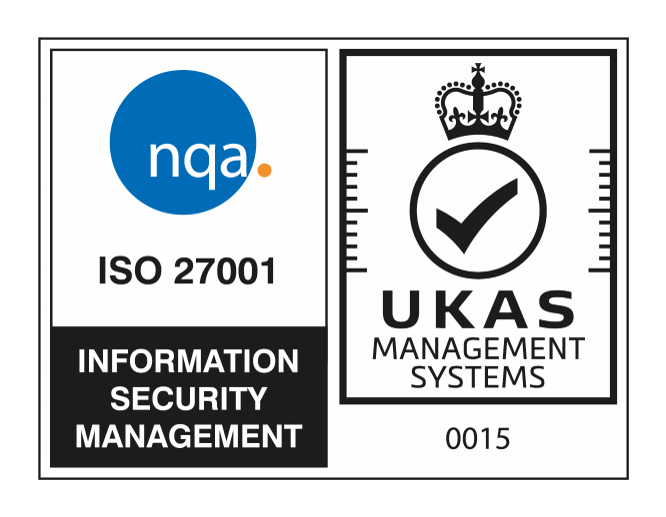 providing customers with the highest levels of security,  which is why Information Security is embedded as part of our culture. From the board down, our Information Management Processes have helped customers have a safer, more reliable IT hardware, Software, SaaS and Cloud solutions and Services throughout the year.
Stopping SaaS Over-Spending 
It's no wonder that SaaS licensing is the fastest growing market in Cloud IT. No longer do vendors need to evoke audit clauses or sell the latest versions to ensure revenues – now expensive subscriptions automatically renew. And those users may or may not be active, or may be consuming a license far costlier than the functionality they actually require.
The challenge now, is one of avoiding routinely over-spending on subscriptions that deliver no value to the business, further compounded by the risk of business units potentially acting autonomously and signing-up to SaaS products without the knowledge and governance of IT… Leading to potential data and information security risks as well as proliferating unmanaged expenditure.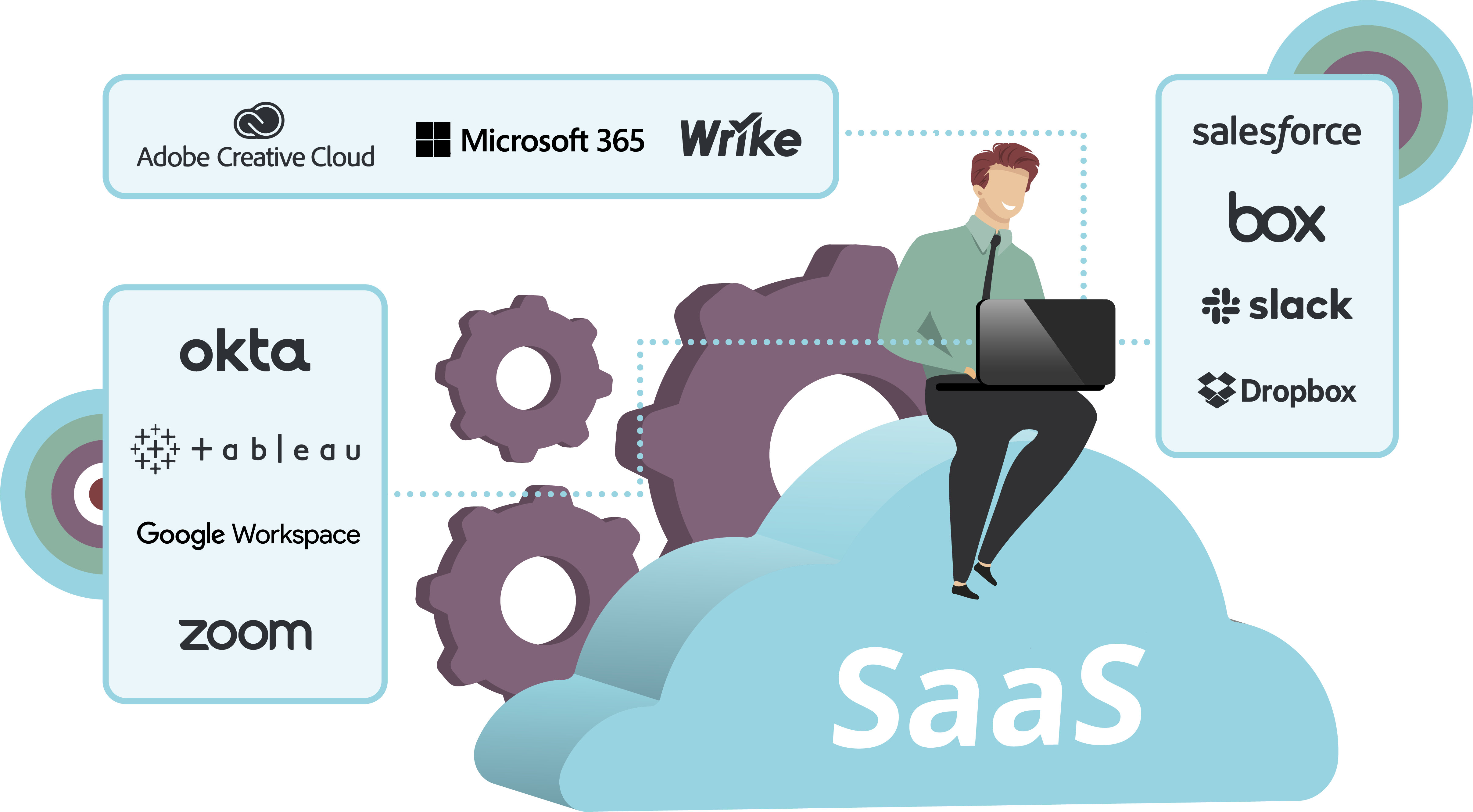 The Four Main SaaS Management Challenges
Certero for SaaS is a series of thirteen stand-alone modules that can be used individually or in any combination, to manage the four main business challenges surrounding SaaS & Cloud:
Cloud Sprawl – Uncontrolled proliferation of an organization's cloud instances, services or providers.
Shadow IT – Uncontrolled Cloud resources and SaaS subscriptions that exist without organizational approval.
Bill Shock – The financial impact of unexpected changing costs.
Toxic Consumption – When required resources are purchased but then not managed efficiently.
Future-Proofed SaaS Solutions
The best way to regain control of your environment is through a SaaS license management solution and with so many SaaS vendors coming to market, it's important to consider that your chosen platform needs to have the ability to evolve and keep pace with your business demand.
Certero is a unified, single-platform ITAM / SAM / SaaS & Cloud Asset Management solution, which means everything you need to manage IT assets holistically is all in one place. A core principal of Certero's design is ensuring that the architecture of the product is completely free of old, legacy or acquired technology, in order to be able to develop and bring new solutions to market faster.
Certero is therefore able to demonstrate a commitment to further innovation and growth and already offers a broad scope of SaaS solutions ready to go and focused on where the most substantial savings can be made.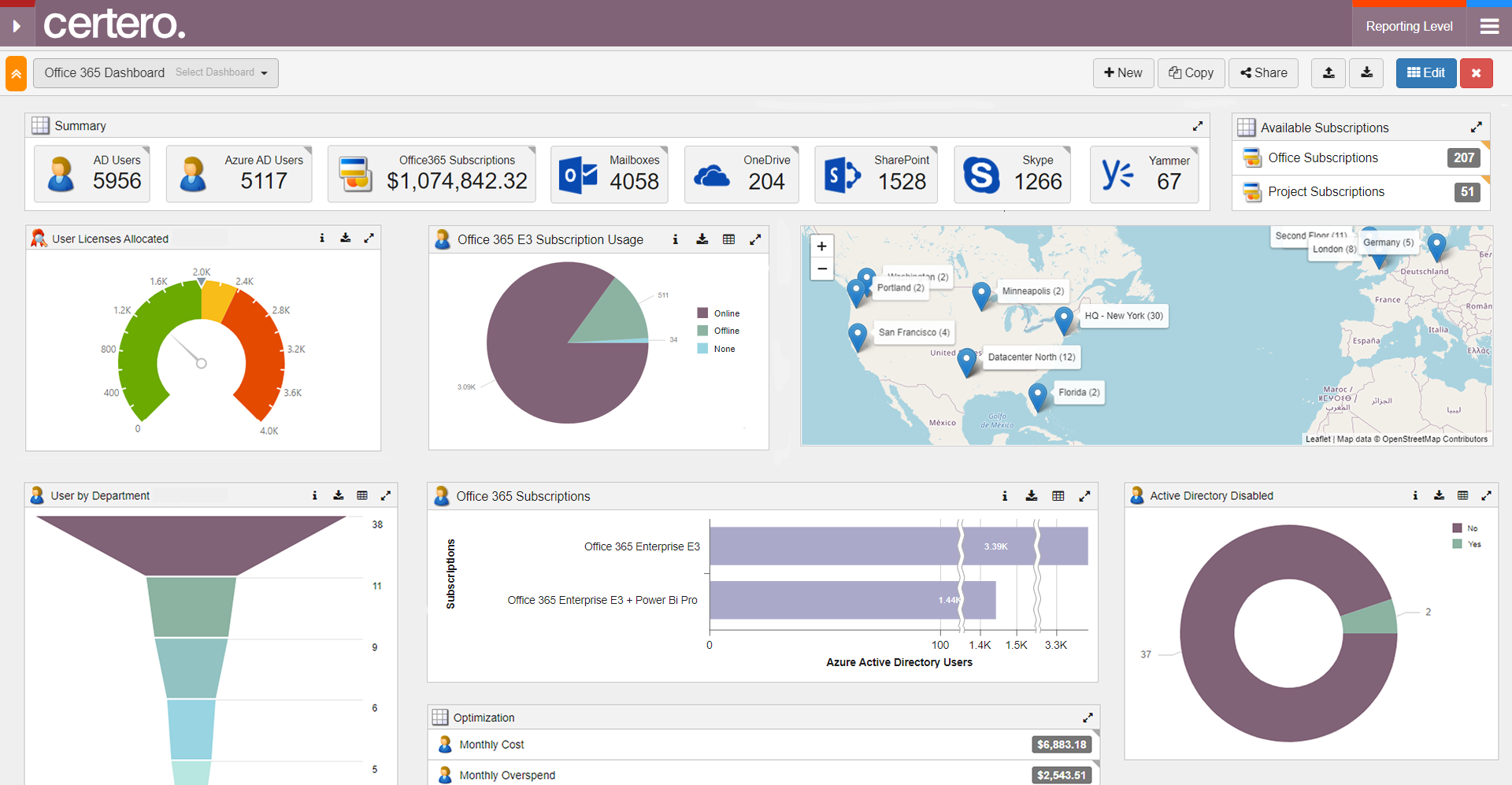 Visibility of your Office 365 estate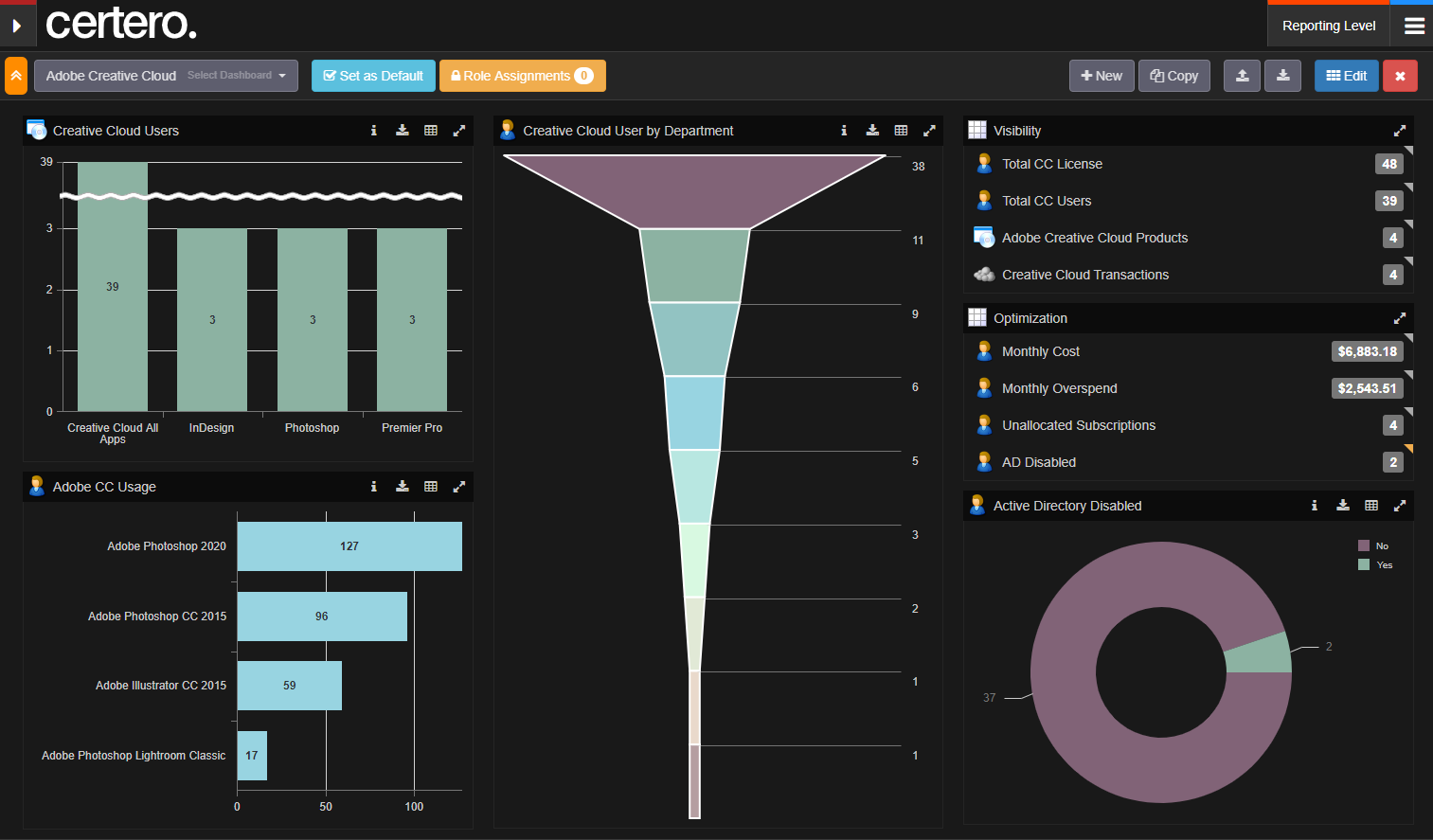 Visibility of your Adobe Creative Cloud estate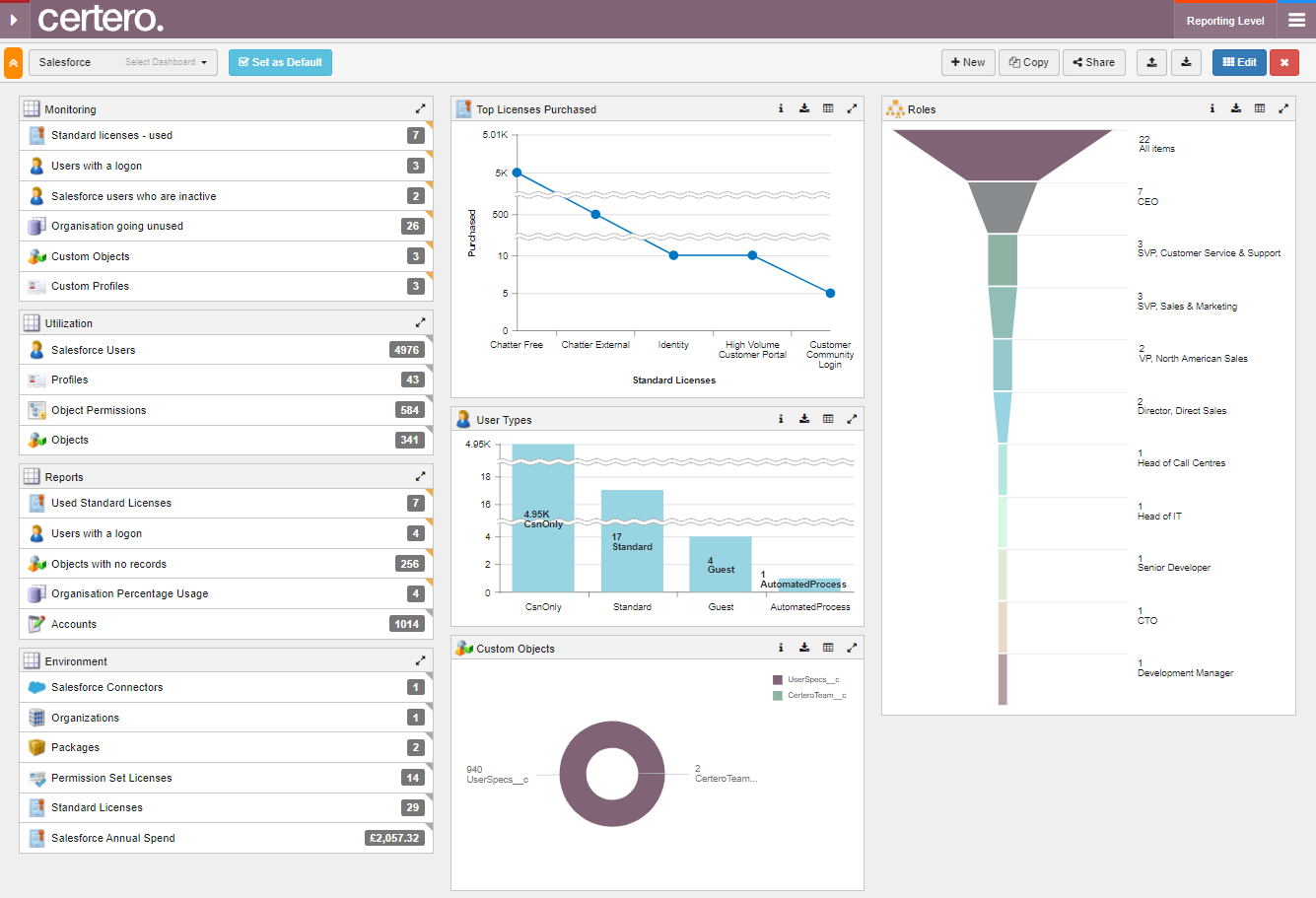 Visibility of your Salesforce estate
Multi-SaaS Control in One Unified Solution 
Certero for SaaS delivers everything an enterprise needs to manage, right-size and avoid over-paying for unused SaaS subscriptions:

Visibility 
A single consolidated view of your SaaS applications across multiple vendors limiting 'cloud sprawl'
A clear view of which users are consuming what SaaS subscriptions
A centralized source for all SaaS renewals
Visibility of all user roles and assigned licenses
Ensure business security with visibility of who has access to which applications
Cost Management
Inform and support contract consolidation
Optimize subscriptions based on usage and right size licenses reducing wastage
Support Application Rationalization
Report and alert on unsanctioned SaaS spend
Usage
License type and usage data and associated costs
Identification of all users with inactive subscriptions
Identification of redundant applications
Improved efficiency through license rightsizing
Reporting
Certero reporting allows you to cut and dice your SaaS data in infinite ways and create personalized user 'dashboard' views for common tasks
Trend data over time to see spend increases and anticipate bill shock
Set alerts to stay one step ahead of renewals and unsanctioned spend
Create automated reports to highlight inactive users which can be removed
Group spend by department for efficient cross-charging
Certero Platform: Holistic Management of IT Assets
By bringing SaaS management and optimization on to the Certero Unified Platform, businesses can again reduce the noise and inefficiency of otherwise having to run multiple ITAM / SAM / CAM solutions alongside each other. The architecture of Certero has been uniquely designed and developed from scratch to be a unified solution, so does not rely on any legacy or acquired technology under the covers to provide any functionality on the unified platform. Certero is genuinely new, purpose-built and performs as you'd expect a single platform to perform, providing a unique opportunity for businesses to free themselves from the limitations and 'Technical Debt' of persevering with historic solutions.
Extending Certero's mature, logical asset management UI and 'business asset' methodology to gain full visibility and control of SaaS, adds to the 'single pane of glass' power of the solution and the strength of being able to easily attain the holistic understanding of IT capability, risk and cost that leaders need.
Discover the Power of Certero for SaaS