What makes Certero different
We don't believe in claiming to be something we're not. We will not do mediocre, average, indifferent, or outdated. We are different and will do it differently.
Unique single integrated platform with a common UI/UX
Certero believe in engineering-out complexity wherever possible and this is particularly evident when it comes to using Certero's solutions. The old approach of having to learn, understand a navigate your way around multiple disparate IT Hardware, Software, SaaS and Cloud Asset Management solutions to manage different types of assets, is clearly not an efficient use of time and head-space.
Whether you're a manager looking to gain insights and answers or a power-user using Certero to perform tasks on a daily basis, the simplicity of having a single, modern User Interface across all Certero solutions eliminates the headache of having to maintain knowledge of multiple systems by default.
The knock-on effect of the single UI is that the 'skills bottlenecks', common with legacy solutions, can also be eliminated. Instead of relying on a number of expensively-trained individual 'product specialists', Certero's common UI / UX across all products means that a broader team of users can draw value from the solutions directly and efficiently allowing them to get on with the tasks in hand.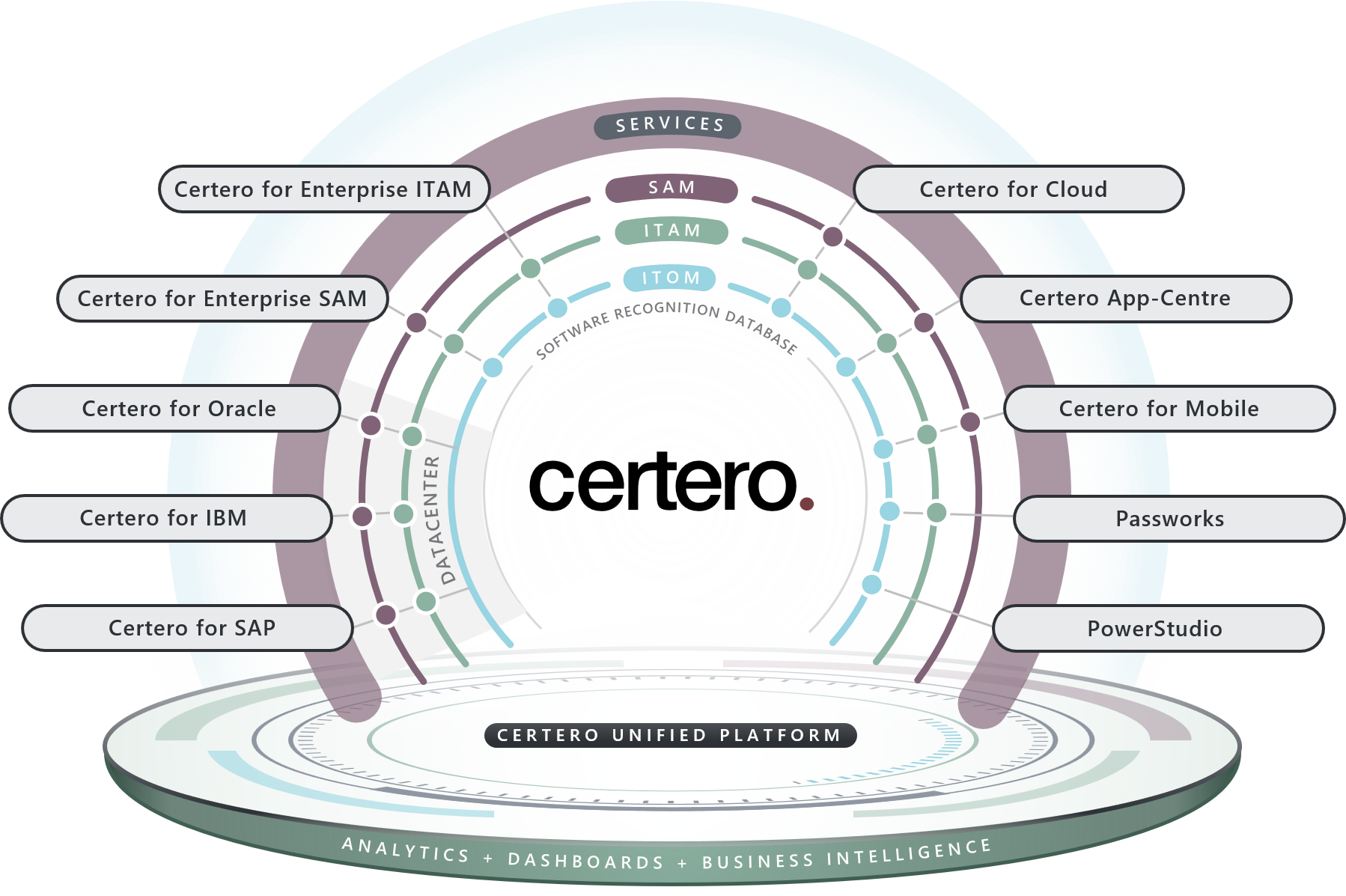 This in turn helps to maximize the potential and productivity of the most precious assets to businesses; people.
As the scope and demands on IT increase, every Certero solution adopted is therefore another strategic step away from the headaches of old technology and inefficiency.
Removes the significant overhead of traditional multi-vendor admin & management
You invest in technology driven management solutions for a purpose – to control, secure and leverage maximum value from the business' IT Hardware, Software, SaaS and Cloud assets. However, with each investment comes with an overhead for each additional solution vendor that you need to manage. This includes hosting and maintaining multiple products, managing many different mis-aligned commercials that should be co-termed, managing license agreements and relationships with multiple vendors, the list goes on – this is a very significant but critical 'must do' costly overhead in itself, albeit, not a welcomed one. It just makes sense to simply remove complexity where possible.
In addition, using multiple vendors tends to mean that integrations are required between solutions and when things go wrong, it can often be too challenging to get the issues resolved when no one vendor carries accountability for the entire solution working. It's always your problem, sounds familiar?
From a practical usage stand point, multiple solutions also means that information needs to be extracted from different tools and manually compiled, cleansed, normalized and interpreted outside of these old tools, there is no 'single source of the truth'. Again causing, unnecessary complexity, quality issues, additional risk, costly overheads, the list goes on.
Managing these legacy tools is therefore a significant task in itself and takes administrators away from what they should be doing; utilizing these technologies to deliver tangible value to the business. This is typical of what Certero refer to as 'SAM 2010'… the best that was available at the time. But, times have changed and many businesses are realizing that not only is there a now viable alternative to the 'Frankenstack' they're living with, but also that it's nowhere near as costly and difficult to manage.
When is the right time to 'move on' and digitally transform your IT functions where possible?  It should make sense to take action sooner rather than later. With an upgrade to Certero,  you can stop wading through the swamp of legacy you're currently maintaining, especially when you have a cost base currently being used to fund legacy that could be used to fund a modern solution that can transform how you do it today.
Only with Certero's architectural advantage and having the full portfolio of IT asset management solutions, each leading their own respective fields in their own right, has it become truly viable to invest in the future of IT.
Our customers come first, passionate about providing unsurpassed support
Certero's Hyper-Scalable business model has always been about delivering outcomes; it's not enough to just provide a great technology solution. The purpose has always been to do everything possible to ensure that customers are supported on their journey and gain tangible value from their investments and achieve their goals.
This philosophy resonates throughout the structure of the business and is why Certero has always had an in-house, independent Services division to support customers if they need any additional resources or trusted expertise to successfully navigate any aspects of ITAM, SAM, Cloud & SaaS Asset Management challenges.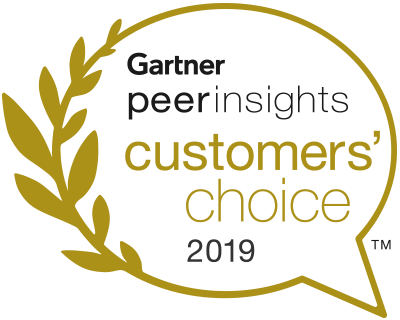 Certero delivering services in harmony with the technology is not only extremely efficient, but means that Certero are singularly accountable for delivering the project outcomes, no inter-partner politics, no fuss, just quantifiable results.
For Certero technology customers, providing world-class technical support is also at the core of Certero's customer-centric approach. Certero invest heavily in people, so that whenever you engage with anyone from sales through to consultancy, Project Management or Technical Support, it's evident that you're dealing with a knowledgeable professional, who you can rely on to resolve whatever task is at hand. This is because of the close-knit communication of the internal teams within Certero and having everything including development, in-house. Externally it simply feels seamless, requests are listened to, understood and communicated and addressed efficiently.
As testament to this, for years Certero has maintained the enviable position as the highest-rated major SAM Solutions provider on Gartner's 'Peer Insights' – the unbiased, real-world reviews by actual users of the technology, and to quote a long-standing Certero customer: 'With Certero, it's just a better experience'.
All products can be delivered as SaaS without ANY loss of functionality
When it comes to traditional ITAM and SAM solutions, SaaS deployment for many has been a disappointing and misleading experience.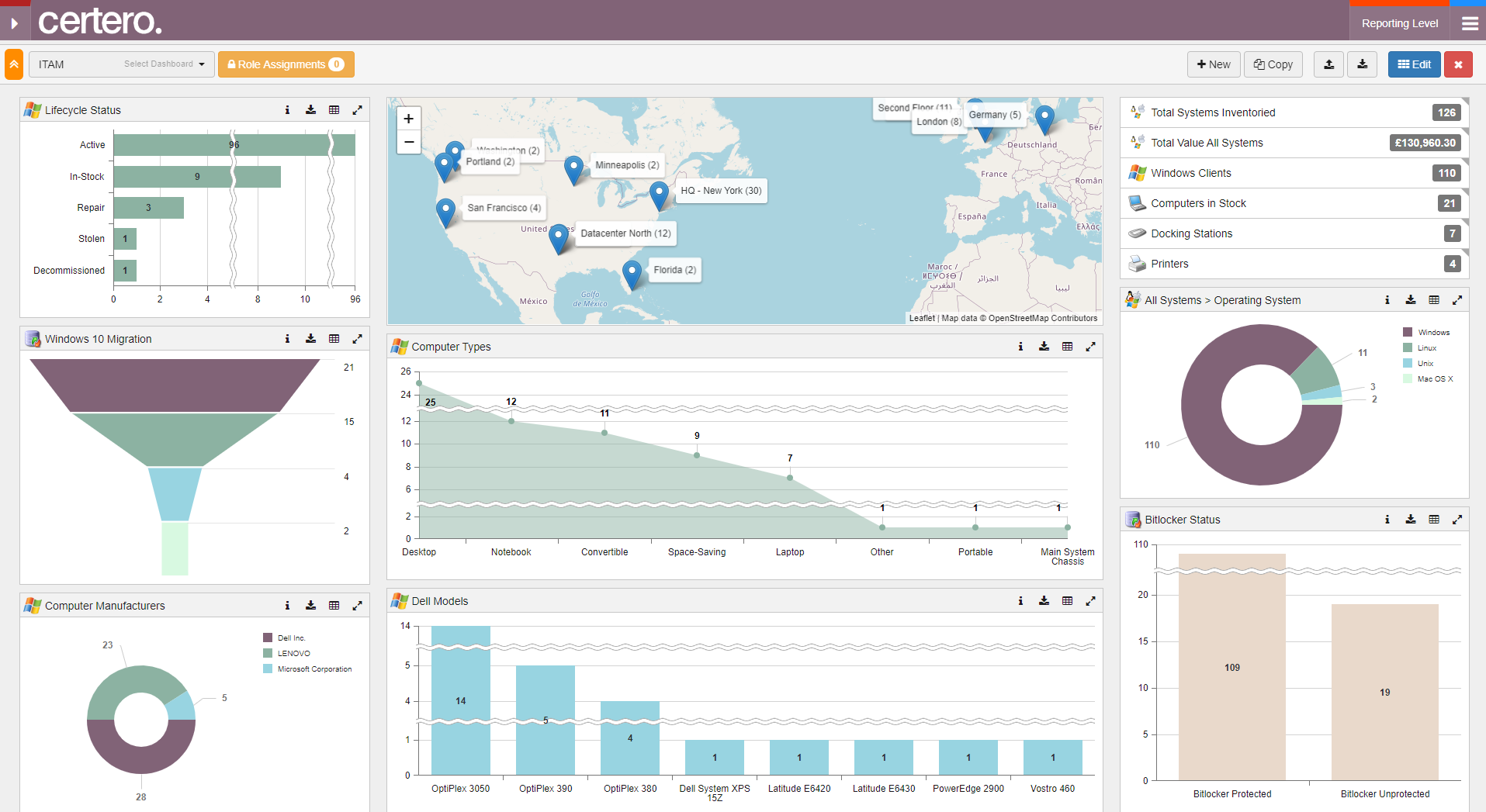 Is a SaaS reporting dashboard portal in the cloud really a 'SaaS' solution?
If a SAM hosted solution is missing ITAM capability and more importantly missing key ITAM data, is it really a solution at all?
Is having to use tools on-premises to compliment gaps with the SaaS solution really a SaaS solution, is it really acceptable?
Is your SaaS solution really a hosted solution constrained to being 'stuck' on an old version or unable to adopt new functions due to the architectural constraints, so you are unable to upgrade unless everyone else on your shared hosted environment does as well?
These are all fundamental 'architectural legacy' problems that most major ITAM and SAM solutions suffer from today. What was deemed good 10 years ago is no longer deemed good enough today, expectations have moved on, but have the tools that have been adopted over that time really moved on? Is the acquisition of disparate tools really the right answer or has it become their only option due to architectural legacy?
There is one exception and that is Certero, we think [and do] IT differently, creating legacy free solutions to overcome todays evolving IT technology challenges.
Despite Certero's broad range of products, it is the only unified ITAM, SAM, SaaS and Cloud Asset Management solution on the market today that was purpose-developed to provide the same functionality and richness of data, whether it's delivered as a Certero SaaS offering or deployed on-premises, a private cloud or utilizing the public cloud.
With Certero's unique 'Architectural Advantage' there's no need to compromise if you wish to pursue a cloud-first strategy.
One single master data source, no disparate data silos, no missing data
Experienced IT Asset Management professionals, especially SAM Managers, are all too familiar with the challenges around obtaining, cleansing and understanding the fundamental data at the foundation of all IT Asset Management processes. In the Digital Age, data is the most important asset to a business and being able to understand and make use of that data by turning it into knowledge to make confident correctly informed decisions is key.
Historically, there was no single unified solution that provided all the information required for total IT Asset Management. Independent research by Gartner found that it would be common for a SAM Manager to spend ~70% of their time simply compiling data from different sources, just to get a clear view of deployed software, inventory and usage. The quality and accuracy of this view could also be questionable at best.
This is not only time consuming but is open to human error and misses further opportunity to automate complex processes that will deliver real value to the business, such as optimizing value from upgrade/ downgrade rights within volume license agreements. This challenge increases exponentially when processes cross different platforms such as data center, Linux, zLinux, iMac, Unix, mobile, virtualization technologies etc.
A distinct, fundamental benefit of Certero is that this challenge simply disappears due to having a single, consolidated data source by default, providing big data capability out-of-the-box, for all IT Assets. Certero's products have the ability to perform asset management across all platforms, all major virtualization technologies and more recently Cloud and SaaS, improving on data quality and removal of blind spots and data gaps.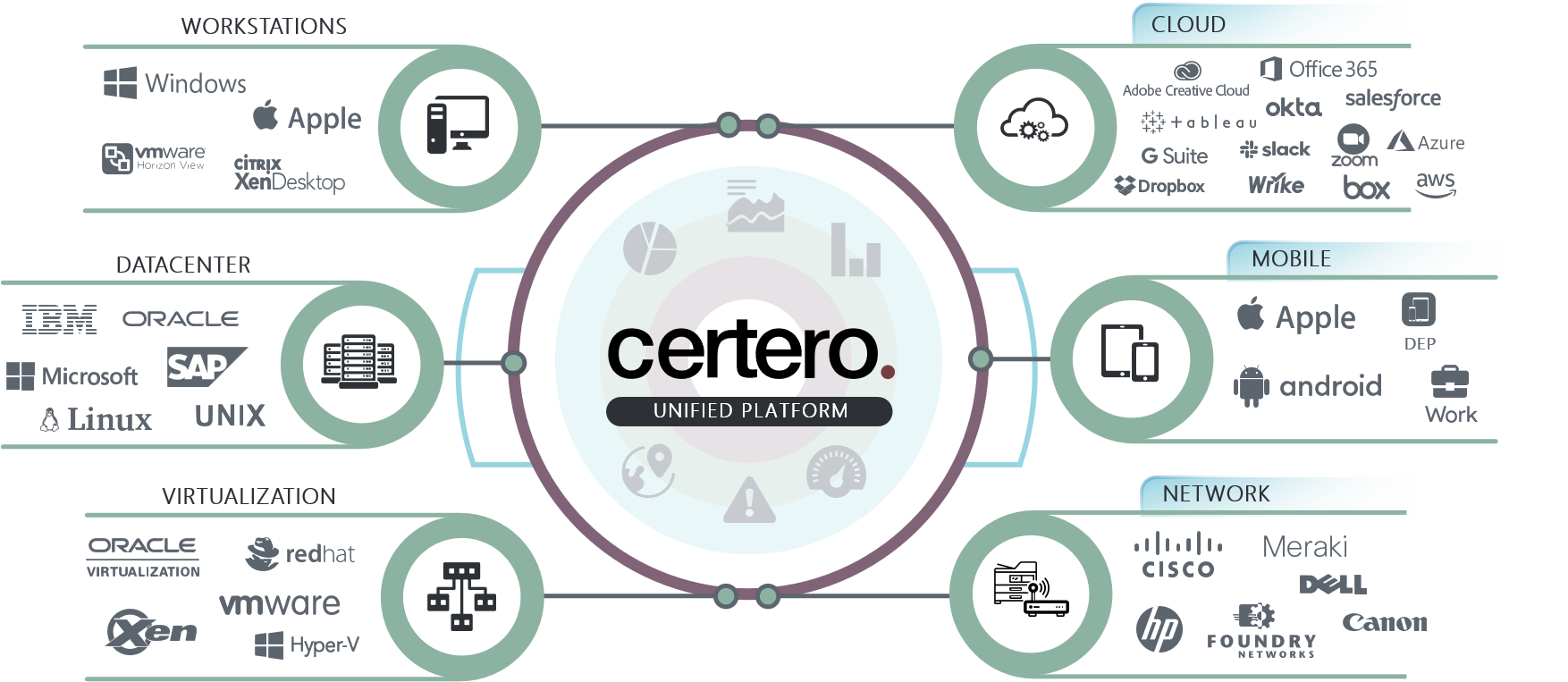 For an IT Asset manager this means that the formerly laborious and complex data collection task has not only gone, but has been replaced with a 'live' and sustained view of the IT estate and a powerful UI to be able to transform data into meaningful, live Business Intelligence. As the estate changes reporting is dynamically updated meaning you are always informed. Waiting for offline processing to complete every morning before you can begin work now becomes a distant memory.
Gone are the days of needing to perform tactical projects to obtain an up to date ELP or answer to any other question), that is out of date as soon as it is delivered. With Certero once the ELP or answer is delivered then 'continuous' answers are maintained, no need to repeatably continue the expensive and inflexible, time consuming 'tactical' project approach. This might have been acceptable in 2010, but today, you need the information and knowledge all the time.
This positions Certero as the ideal 'Single Source of the Truth' for not just IT Hardware, Software Asset Management, but any IT management process that requires information about the IT hardware, software, SaaS or Cloud estate.
Your data is immensely valuable, Certero delivers it to you with meaning.
Products covering from Mobile to Mainframe to Cloud and Services to fill ANY gap you might have
With Certero, it has never been easier to simply 'turn-on' the product functionality or services you require to meet ever-evolving IT asset management needs.
As businesses work through critical Business Transformation programs, IT also needs to respond with unprecedented agility accommodating to business demand and not be preventing the business from gaining new competitive advantages. This can potentially lead to gaps and risks where IT are not able to maintain governance or control if they cannot easily scale-up their solutions and processes.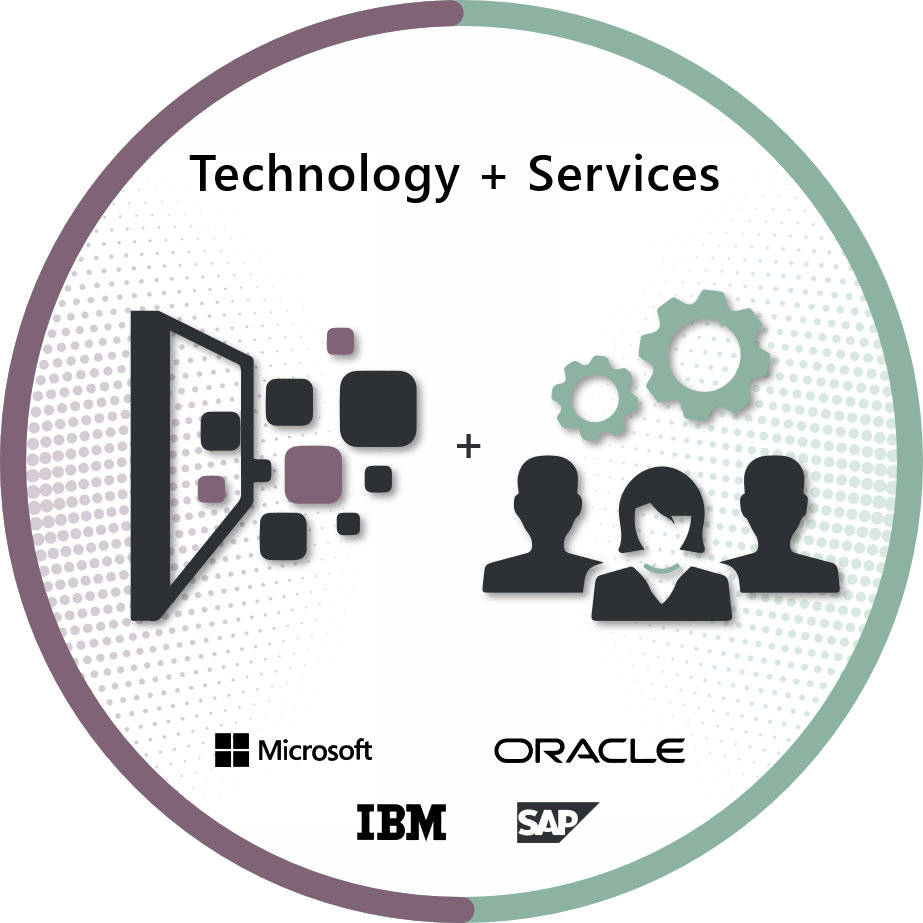 This agility is a fundamental pillar of how Certero has been conceived and developed to deliver and provide the hyper-scalability that IT needs to support the business.
Whichever Certero solutions are required, the appropriate product can be activated, simply and instantly. The is no need to procure new hardware resources, configurations, security etc. that would usually go with such provisioning. This means, no gaps and no hassle if business needs change:
IT Hardware Asset Management
IT Software Asset Management
Cloud & SaaS Asset Management
Mobile Device Management
Data Center License Optimization
Self-Service and Operations Management
But what about the human elements, the skills and resources? Certero Services can help there too.If you ever need a little extra help, be it 'tactical' assistance to achieve a pressing goal or if you'd like a more 'contiguous' service then Certero can help. Certero are the partner that can truly fulfill your needs without compromise or fuss.
This is ingrained within Certero as delivering a 'total solution' isn't simply great technology, it is about understanding where you are today, what you'd like to achieve and how we can support you from 'point A' to point 'B'.
It doesn't matter what your SAM maturity is
It doesn't matter what your technology infrastructure looks like
It doesn't matter what vendor you want to look at
It doesn't matter what internal resources are available
Certero are the partner that can fulfill all of your needs.
Discover the Power of Certero