With Oracle E-Business Suite (EBS) 12.1 moving to "sustaining" support in January 2022, are you considering a migration to EBS 12.2 in order to keep pace with security patches and updates?
Oracle EBS 12.1 Support Timelines
Oracle E-Business Suite (EBS) 12.1 has been in Premier Support since May 2009 but from January 1, 2022 it has moved to Sustaining Support.

Customers that are planning to upgrade to EBS 12.2 but have not been able to complete the transition prior to 1st January 2022 may also be able to use Oracle Market Driven Support (MDS) to bridge the support gap for a limited amount of time.
What does 'sustaining' support mean?
Within sustaining support you can request assistance for EBS 12.1 issues and download existing patches but new critical patch updates, security alerts and fixes will no longer be available.
Planning for an Oracle EBS migration
Migrating from one product release to another can be time and resource-intensive and often leads to questions along the way, such as "how many licenses do we actually have?" and "are we using all of them?" or that perennial favourite "how can I find out what other departments use/pay for?".
EBS has been around for a long time now which means early adopters are firmly entrenched in this technology and could be reluctant to change to a completely different vendor product; which leaves migration to a later version the only real long-term option.  Certero has seen many customers with a lengthy history of EBS usage that shows historical decision making and a long trail of EBS application licenses, some of which have ceased to be useful, whilst others were under-licensed simply through misunderstanding user activity.
Total visibility of your EBS estate
The traditional way to analyze on-premise EBS was through something called an "Active User Report", this file output had to be exported, demystified and translated into a list of users that mapped to responsibilities and to application licensing.  A long process and fraught with the potential for error.
Certero's E-Business Suite product removes that vagueness by extracting data directly from the supporting database which provides the user > responsibility > application linkage automatically.  Certero applies a lot of the E-Business Suite rules "out of the box" too, for example, end-dated users are removed from compliance and system-generated items are auto excluded as well. All of this is important as it gives you instant visibility of what applications you have (and those you should have purchased a license for) and which user has access to them.
Let us explain…so let's take "Purchasing" as an example of an E-Business Suite license, this will currently cost you around £3k per user list price.  Certero's dashboard tells us we have 267 users assigned to the application "purchasing" – so that's roughly £801k list price.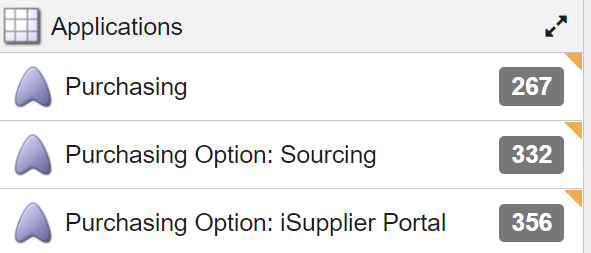 We can click on Purchasing and see how many users as well as how many responsibilities are associated with this.

Click on the users and we can see who they are, when they were created and when they last logged on.  We could syphon out users who haven't logged on for a while for license re-harvesting opportunities, we could also check to make sure users which have left the company have been end-dated so that their access to EBS is denied.

Alternatively, we could click on responsibilities to see the list of 136 and, crucially, be able to tell which are the ones with the highest user count.  So we could choose to cherry-pick the higher values to check if all of those users actually need that responsibility which is contributing to our £801k cost.

The bigger picture: Customizable dashboards
Everything in Certero for E-Business Suite can be filtered and searched, so it's hugely powerful to have all of that information at your fingertips and to be able to report on it in a way that suits you. Once your inventory is up and running, you can build your dashboards in a way that reports the data you want to see, below is just one example of this functionality.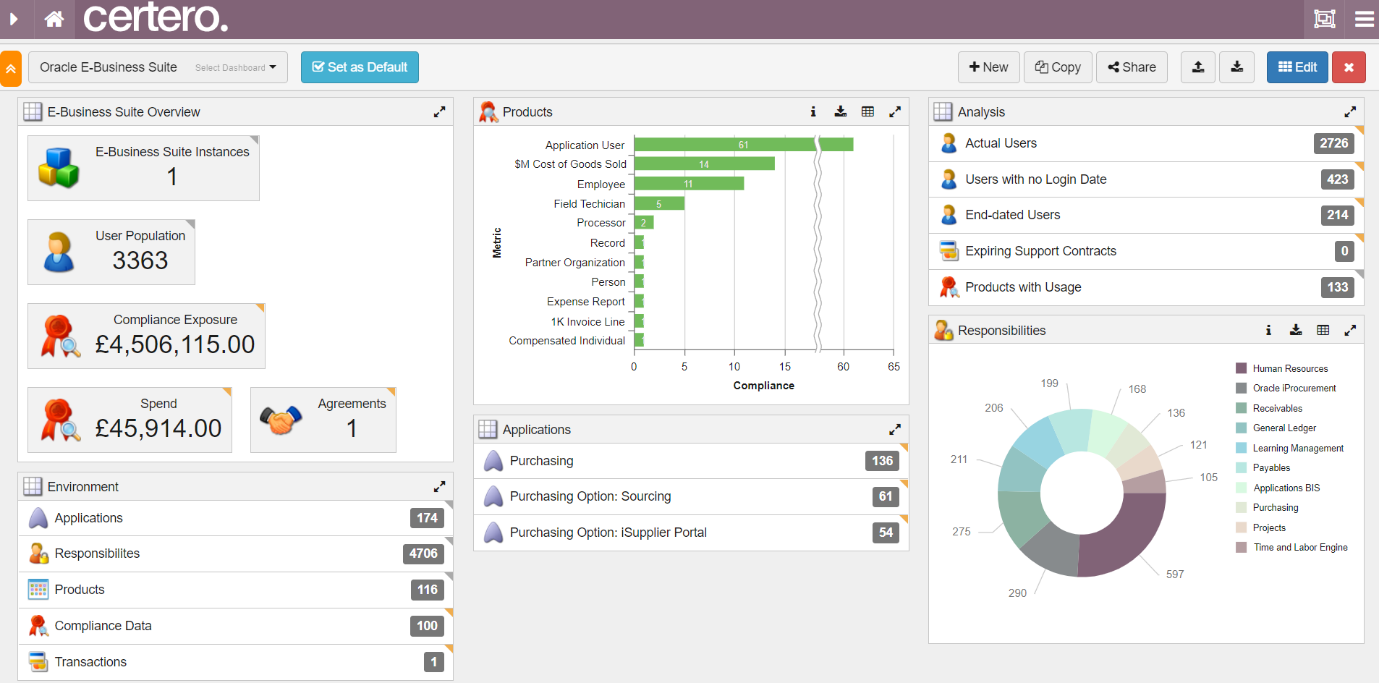 So, if you're looking to move to Oracle EBS 12.2 due to the end of premier support for EBA 12.1 we recommend that you:
Step 1 – Get full visibility of your Oracle EBS estate, it's best to use an automated solution such as Certero for Oracle.
Step 2 – Import purchasing information to give you accurate costs.
Step 3 – Collect usage and user information to ensure you can highlight poor user utilization and wastage.
Step 4 – Create dashboards for stakeholders and easy reporting on your EBS estate.
How Certero can help?
If you are looking for a solution that can help you manage your Oracle estate then our industry-leading solution, Certero for Oracle can help. The solution gives you all of the information you need to make informed decisions from visibility to usage, purchases to reporting. Looking for more than a technology? If you need a helping hand from our oracle licensing experts we have a range of technology-led services designed to assist with any challenge.
Follow us on Linkedin for more Cloud
updates
Read more like this from
Certero
Ready to learn how Certero can securely support your business' transformation?
Speak to our experts today!