AssetStudio for Enterprise SAM, the most comprehensive, advanced SAM solution available. Proven time and again to deliver outstanding results for any organization, anywhere.
A single end-to-end solution to manage hardware and Windows, Mac, Linux and Unix operating system software and applications
Built from the ground up as a single solution with a common data feed, UI, database and reporting
Highly automated, removes the complexity of other solutions
Simplifies your ITAM, SAM and Licensing Optimization tasks
So what are the key features of AssetStudio for Enterprise SAM which make it stand out as the industry's leading solution?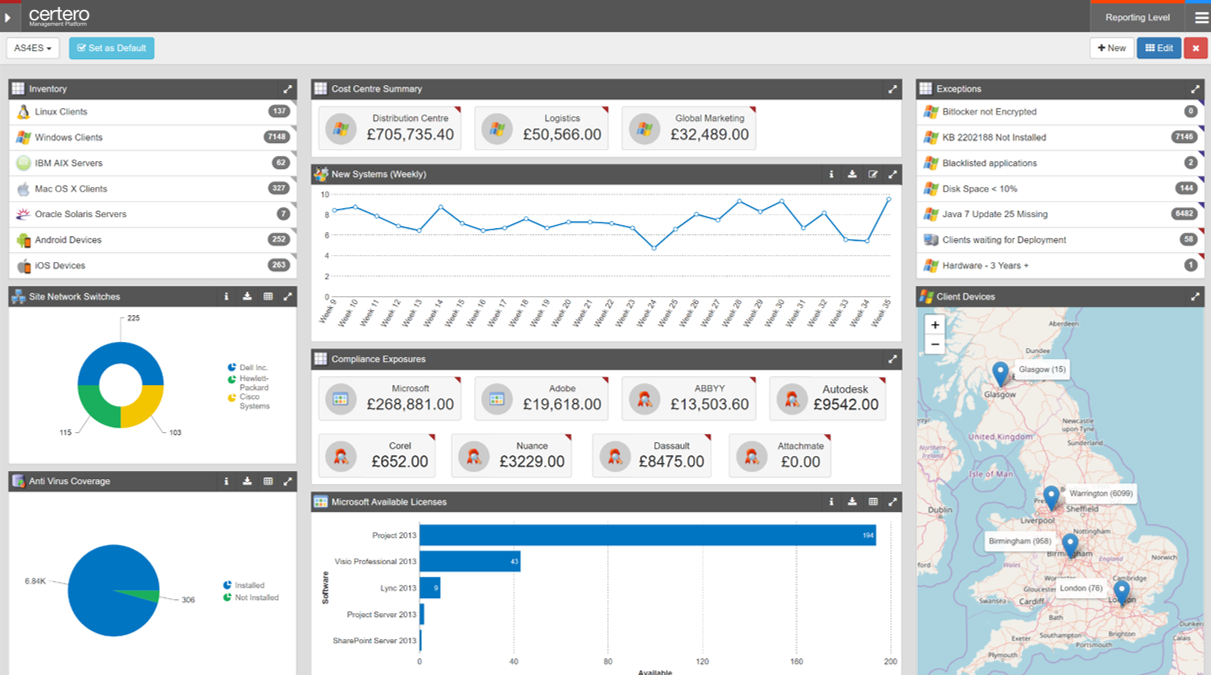 Discovery & Inventory
Easily find and record all the information you need, across the entirety of even the most complicated IT estate.
An advanced highly automated SAM solution simply isn't possible without the most accurate, highly granular inventory data. AssetStudio for Enterprise SAM covers all the necessary elements:
Discovery & inventory all managed directly within the solution
Deploys out of

the

box
No reliance on 3rd party tools
Fully flexible, utilizing agentless, agent or a combination of both depending on the particular requirement
Works across all platforms: Windows, Mac OSX, Unix, Linux, Android, iOS, and even mainframe (e.g. zLinux)
Fully captures how and where software is installed or utilized covering virtualization, thin client, CPUs, cores, clusters etc
Establishes the broadest and most granular level of data possible
Be fully prepared in the event of future licensing program changes
Supporting Broader IT Management
AssetStudio for Enterprise SAM extends beyond SAM to support broader IT management requirements
Multiple methods used to gather hardware data as accurately as possible
Highest level of granularity, even including printer ink levels
Even learns the network structure if it isn't known
Finger tip access to information
Minimizes time and cost associated with IMACs (installs, moves, adds and changes) projects
Optimization of Service Desk and end-user support resources
Connectors
Class-leading connectors are included as part of AssetStudio for Enterprise SAM
Enables continued use of an incumbent inventory tool

Extract data directly from multiple inventory sources into one combined view

Covers a growing number of third-party inventory solutions, including: Microsoft SMS & SCCM, Altiris, LANDesk, FrontRange and more

New connectors can be built quickly on-demand for any existing inventory solution

Detailed and comprehensive inventory information such as operating systems, server roles, data groups, chassis, processors, physical and logical disks, printers, monitors, routers, switches, drive mappings and more is compiled into a consolidated view in just a few clicks

Supports collection of data from all major virtualization technologies such as: HP, Microsoft Hyper-V, VMware ESX, Citrix XenServer, IBM, Linux, Unix and Oracle
Application Monitoring
An effective monitoring tool to identify instances of non-use and provide you with the information you need for decisive action.
AssetStudio for Enterprise SAM has it covered straight out of the box.
No need to specify which applications you want to monitor
Everything is captured as standard without any configuration
Ensures you have access to all the information you could possibly need, whatever the eventuality
AssetStudio for Enterprise SAM captures a clear aggregated view of what actually has and hasn't been used on a daily basis as opposed to the flawed approach of capturing how many times an application has been accessed
AssetStudio for Enterprise SAM is able to capture a full year of data. Unlike monitoring solutions available within other SAM tools, which only capture ninety days
Hence any seasonal variations can be identified and acted on as necessary
Collected data is transformed into meaningful business intelligence
Ensures operational decisions (for example around de-installations or re-harvesting) are based on sound information rather than interpretation
Reporting & Business Intelligence
Dynamic data, limitless reporting, instant intelligence at your finger tips.
AssetStudio for Enterprise SAM includes a comprehensive parameter-driven, business intelligence and reporting engine:
Cut and dice a vast array of highly granular, dynamic data
Limitless report generation possibilities
Removes need for costly or time-consuming development if a certain report format isn't available
Facilitates improved planning, management and control, and helps optimize delivery of business critical services
Flexible Deployment
Cloud, on-premises or Hybrid
AssetStudio for Enterprise SAM comes with a range of flexible deployment options, covering on-prem, cloud, hybrid or appliance, ensuring alignment with your existing infrastructure strategy, thereby minimizing disruption and optimizing investment.
Patch Management
The patching capabilities enable you to scan computers for required software updates, report on the findings and automate the download and onward distribution of required updates for software through a simple user interface. It can assist organizations in meeting security needs by automating the detection and remediation of security vulnerabilities in Windows Operating Systems and associated applications.
Access Control and Policy Enforcement
AssetStudio for Enterprise SAM includes a must-have feature for organizations that use Microsoft RDS/TS/VDI or Citrix environments.
Facilitates rules that can be used to place both device and user restrictions on the software users are able to launch, thereby aiding compliance and minimizing cost.
Enforces access at the device level to comply with device-based licensing metrics.
Provide the required evidence of control to satisfy vendors such as Microsoft.
One of only two solutions that can enforce compliance for device-based licensing models.
AssetStudio for Enterprise SAM gives you the capability to establish 'white' and 'blacklists' to define which applications can and can't be accessed and by whom, thereby ensuring policies can be enforced and adhered to.
Enforcement of corporate governance and licensing rules
Application access can be defined against factors such as user, location, device name, IP address, firewall settings etc
Provides complete control over what can be accessed, from where, and when

Distribution
Highly automated, quick and efficient deployment or removal of applications, supporting policy-based SAM.
The ability to remotely manage application installs, removals, configuration changes etc. is a key element of automated SAM. AssetStudio for Enterprise SAM offers:
Fully automated distribution.
Supports policy-based SAM
Detailed inventory allows computers to be targeted based on pre-defined criteria
Logging at both client and delivery job level provides simple progress and error checking
Fully integrates with any major third-party distribution tools, including SCCM (thereby protecting any existing investments)
Capability to reboot and shutdown computers on your network, to allow for the remote installation of packages outside of business hours
Enhances basic Wake-on-LAN functionality by enabling the dynamic and static grouping of assets, allowing for the simplified targeting of systems
Simple-to-use interface means all areas of the IT Department can use and draw value from the tool
Helps reduce the need for desk-side visits and guarantees the consistency of installed applications to increase first-time fix rate, saving valuable time and resources
Licensing Optimization
Stay compliant and ensure you're only paying for what you use
We strive to automate the activity of a SAM expert, thereby placing control in the hands of the customer. Certero SAM solutions are highly automated, consistent, accurate and repeatable.
AssetStudio for Enterprise SAM includes three licensing modules:
The Microsoft and Adobe modules include:
Built-in intelligence covering the latest licensing programs which are maintained automatically through the Software Recognition Service.
Enables delivery of accurately generated ELPs.
Facilitates licensing optimization, via highly automated intelligence.
Minimizes manual intervention.
Removes need for costly licensing expertise.
Generic module enables:
Licensing optimization for any vendor
All major common licensing metrics are built into the solution
Ability to add in associated usage rights and metrics for the vendor in question and apply them through the tool for subsequent management and optimization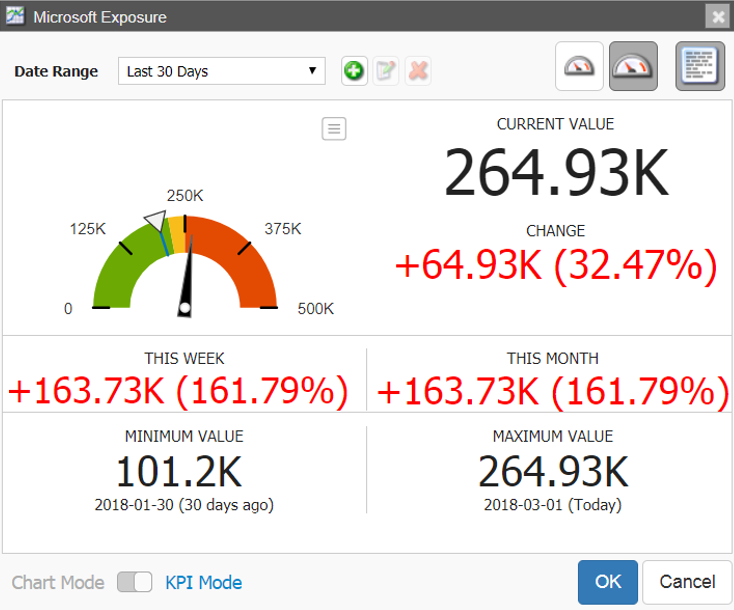 Asset Ownership & Lifecycle Management
Track asset ownership to manually or automatically associate hardware and software assets to their owners.
When viewing a user entry, see all the asset ownership attributed to them, such as PCs and the software they use. The Financial Management & Cost Control features ensure that all the associated costs are there as well.
Use in conjunction with organizational unit & location based reporting capability to understand asset ownership by region or business function
Incorporate into your Asset Lifecycle processes to view those non-operational assets
Financial Management & Cost Controls
Keep on top of overall hardware and software asset ownership costs,  assisting with any cost recovery and cross charging requirements.
Create rules to automatically set known costs for common items based on a range of available criteria. Alternatively, you can elect to manually define costs for any exceptional items. Enables:
Improved visibility of the true cost of asset of ownership
Automation of your internal cost charging or recovery policies
Support for Finance and Commercial business functions and provides detail behind the high level numbers
Reporting on organizational unit, location or many other criteria
Benefits
AssetStudio for Enterprise SAM will ensure your organization is optimally positioned to enjoy all the benefits of an advanced SAM program.
Control Costs
Mitigate under licensing
Prevention of software over-deployment
Maximize opportunities for license re-harvesting
Minimize TCO (total Cost of Ownership)
Better negotiating position & improved purchasing arrangements
Reduced hardware refresh costs
Minimize Security Risk
Identify malware and unauthorized applications
Manage and control application access and usage
Enhance Compliance
Minimize the impact of unplanned vendor audits
Limit impact on resource and operations
Limit legal and financial exposure
Keep your reputation intact
Management & Productivity Improvements
Support transformation programs
Better quality decision-making and planning
Improve end-to-end processes
Enhance user experience
Ideal Standard International
See how one of our customers implemented AssetStudio for Enterprise SAM to overcome their Software Asset Management challenges across their international IT estate.
"In our view, Certero has a really strong solution … and provides a brilliant alternative to the big players in the SAM tool market.
AssetStudio for Enterprise SAM provides users with a customizable, tailored experience for its customers, something only a few high-end tools currently do. It also provides excellent reports that seem to be easy to create and manipulate."
David Foxen
Want to know more?
Book a demo with one of our experts to see how AssetStudio for Enterprise SAM can overcome your SAM challenges.