Acquaintia
Dynamic data, limitless reporting and instant intelligence for all Certero products, from a single source of data
Acquaintia is a feature rich, integrated reporting solution, providing powerful and customizable reports in seconds.
From a complete, single source of data, any question can be asked in the Certero Management Platform and the solution displays the answer in easy to understand reports, charts, graphs and widgets, without requiring export.
These powerful features mean you can now identify trends through charts and graphs and, save to a dedicated dashboard. As soon as you login to any Certero product you can quickly access the real-time information and trend reports that you need immediately, through a single pane of glass view with one UI and one UX.
With so much powerful information at your fingertips, IT and other departments such as Procurement and Finance can use Acquaintia to generate Business Intelligence and drive increased efficiencies throughout your organization.
All of this is possible due to Acquaintia's deep integration within the Certero Management Platform, which works holistically and optimally with all Certero products, providing a single pane of glass for all your IT hardware and software assets across all your platforms, from mobile to mainframe to cloud, and all your vendors such as SAP, Oracle, IBM, Microsoft and many more.
Personalized Dashboards
Personalized dashboards provide users with a clear and concise view of all the information that is important to them and their job function. Create and quickly move between multiple dashboards, with the ability to present the data you need, where, when and how you need it.
Create Daily Operational Dashboards for the common areas of interest, often referenced to check all is well across your estate.
Create Project Based Dashboards for use when undertaking short term activities to focus on assets within a specific scope.
Easily switch between dashboards in just a couple of clicks.
Chart Types
There are many widgets available that can be added to dashboards, offering the capability to drill-down and access the detail behind them, for example:
Query Lists allow simple or complex queries to be run and the results summarized and presented right there on your dashboard, such as those all-important numbers for Microsoft True-ups.
Location Maps utilize the powerful location assignment features of the Certero Management Platform to present assets geographically and help visualize where they are around the globe. Zoom and pan to focus on areas of interest.
Embedded Resource allows you to reference the documents you need to frequently access, such as hardware and software asset management policies and procedures.
External Websites offers an efficient way to show contents of intranet and/or internet sites of special interest.
All of the charts present a real time view of the data and, where possible, include the ability for users to drill down and view the underlying data. The following chart types are available:
Trend Report
KPI Report
Bar Chart
Pie Chart
Line Chart
Column Chart
Area Chart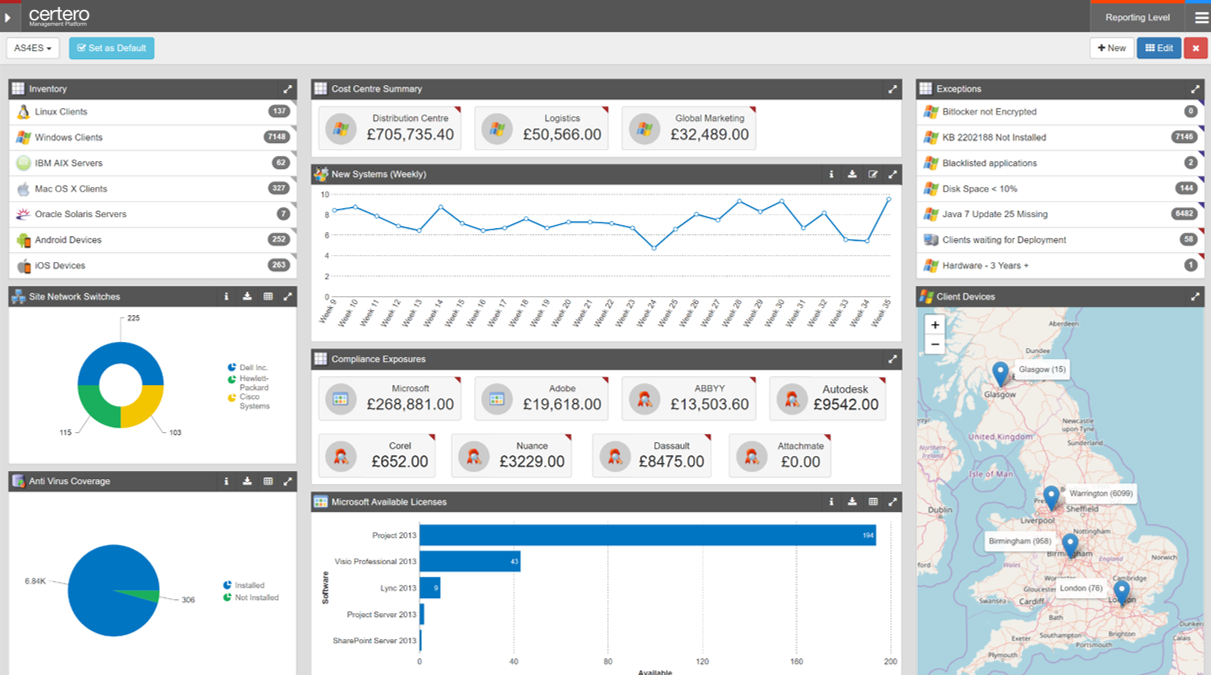 KPI Reports
KPI reports can be created against any data sets within the Certero Management Platform, providing a real time view of the current level of service against the pre-defined target. The KPI reports are presented as a speed dial with customizable warning levels that are presented as Red, Amber or Green.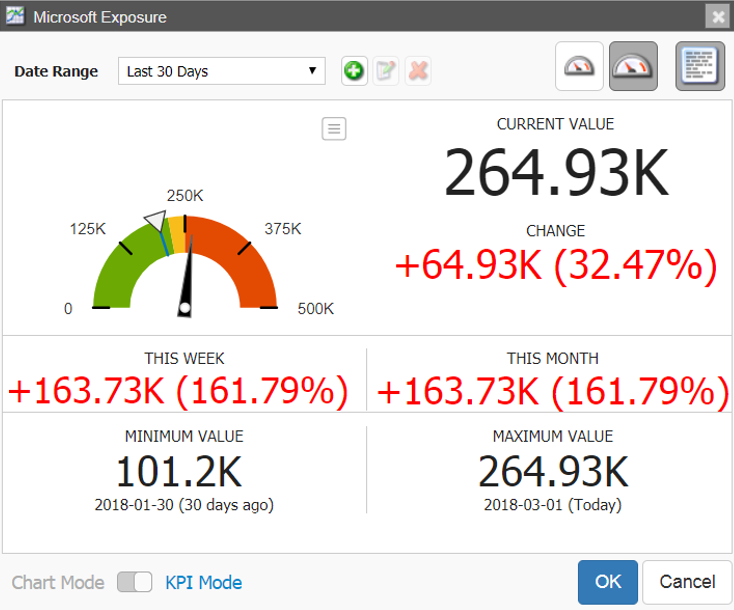 Filtering
Extensive filtering and sorting capabilities allow users to quickly and easily locate the information that is of specific importance. All of the filters can be saved so any commonly used queries are always easily accessible.
Below is a list of the most commonly used filter criteria available through Acquaintia:
Text begins with
Text ends with
Text contains
Text does not contain
Greater than and Less than (Date and Numeric Fields)
Within next 'X' days (Date fields)
Relative date filtering (e.g. older than 7 days, less than 30 days old)
Collaboration
All of the charts, filters and reports that are created within the Certero Management Platform are easily shared with colleagues to ensure everyone is using a unified set of reports and share any additional items they have captured.
Financial Reporting
Financial reporting is available for all products integrated into the Certero Management Platform and can be visualized using the standard reporting functionality of Acquaintia. All of this can be further enhanced with Trend and KPI reports, which include an "aggregate" function.
These aggregate functions include:
Count
Sum
Average
Maximum
Minimum
Trend Reports
Trend Reports automatically track a user defined set of data to help identify patterns and fluctuations on a daily, weekly and monthly basis. An advantage of the flexibility of Acquaintia reporting is that trend reports can be created against any data set, enabling organizations to select and report on the metrics that are important to them.
Below are a few examples of trend reports:
New systems added in the last 7 days
Archived systems in the last 7 days
Daily count of self service password resets
Unused Adobe Creative Cloud subscriptions
User Defined Fields
All of the user defined fields and assets that have been created within the platform are included within Acquaintia reporting to ensure that users are able to monitor and track all of the information that is important to them.
IT Asset Management Reports
Report on hardware and software assets by specific criteria
Identify assets for upgrade and retirement – Windows 7/8/10 migrations
Dynamic group reports and software deployment activities
Identify top hardware and software vendors, coverage of ITAM solution and financial exposures
Trend reports and graphs to show progress over time
Software Licensing Optimization Reports
Report on over license, surplus, financial value of 'waste' and more
Report on license shortfalls, financial value of 'compliance risk' by vendor, product or version and more
'Real-time' compliance reports by complete business or individual lines of business and departments
Usage reports that identify candidates for software removal, known as 're-harvesting'
Financial impact of cost avoidance through 're-harvesting'
Trend reports and graphs to show progress over time
Organizational Units
Create as many as organizational units (OUs) as required, to as many levels as you need. Take advantage of rules capabilities to automatically associate objects (such as computers or users) with specific OUs, or set OUs on-demand for individual or multiple assets. When viewing information, simply select those of interest and the views will dynamically update to show details of only the selected OUs.
Report on assets by business function or department
As your business changes, simply move assets from one OU to another manually or via rules
Locations
Reporting capability also includes the ability to associate IT hardware and software assets with geographic locations. These can be as general or specific as you need, with the definition of precise geographic positions. Location-based rules also allow for automated associated of assets with a particular location, along with manual assignment. All this is in addition to the powerful ad-hoc query and reporting capabilities, which can be used in conjunction with the Location Maps dashboard widgets to see where things are around the globe.
Visualize where assets reside geographically on maps
Support location-based activities such as site moves and changes
Benefits
Certero's Acquaintia solution delivers a wide range of business benefits:
Our single source of data, which works straight out-of-the-box, helps you overcome the constant struggle of trying to find the data needed for effective management and decision making.
Finger-tip access to the dynamic information and customizable reporting you need to improve control, manage risk and deliver cost savings.
Simple user interface reduces costly and time-consuming training, minimizes disruption and enhances end-user satisfaction.
Easily cut and dice data across multiple products, platforms and vendors in any way.
Unlimited reporting, providing you with the ability to generate any report needed. Relieves the time delays, cost and frustration of having to employ development resource if the report you want is not available.