ONE

[software-as-a-service]

solution that unifies IT Hardware, Software, SaaS and Cloud Asset Management
ONE

[software-as-a-service]

solution that unifies IT Hardware, Software, SaaS and Cloud Asset Management
ITAM has already evolved… probably further than you think
Unifying HAM, SAM, Datacenter, Mobile, SaaS & Cloud onto a single platform solution is not a new concept – IT leaders have been wishing for a comprehensive single solution for many years.
It's interesting to hear the rhetoric from the SAM vendor community now around reimagining 'ONE' solution being the new answer – it's a philosophy and solution that Certero not only recognized but actually already brought to market… back in 2016.
So, with Certero innovation again being at least 5 years ahead of this curve, it's important to recognize what a unified technology intelligence platform truly is…
The opportunity for real change is with Certero
The 'reimagining' an ITAM solution for tomorrow's needs is quite frankly, the easy part. The creating that solution, is much harder. It takes a great commitment to innovation, yet this is precisely what Certero have done.
Certero's unified platform is not just a portal or new UI over the top of all the old legacy ITAM tools.  Instead, it's 100% developed from scratch by Certero. This means real change – every solution is genuinely new and created to simply work holistically together as one unified 'single platform' with a broad scope, covering: HAM, SAM, SaaS, Cloud, Mobile, Datacenter IBM, Oracle, SAP, Self-Service Password Reset, AppStore and more. An ideal 'single source of the truth' that can easily integrate with your Service Management CMDB.
This fundamental architecture ensures that the back-end also performs as you would want from a single platform: one consolidated, enriched data source for total IT asset management reporting. Providing powerful insight, real-time BI for good Decision making and automation. Certero performs.
This 'Architectural Advantage' is how everything is just easier with Certero; with the fastest implementations, greater scope & flexibility to choose options, class-leading support and adaptive roadmap; all as reported by the market's happiest customers on Gartner's Peer Insights. Certero have been awarded Gartner's 'Customers Choice' distinction 3 years in a row.
Those who know Certero, know. And for those who don't, we apologize; our Customer-First approach means we've invested more in providing great support than in marketing. But now that you know…
ONE Single Data Source [Complete NOT Partial]
Partial Data Source – Lost or Missing Data
Is only having a small subset of an Inventory data on an asset credible in a 'Single Data Source' Claim? Obviously not, but this is common practice.
If the vendors solution is focused on SAM then full Inventory data for HAM is likely to be unavailable to the user, either because it has been discarded as it is not perceived as valuable or more likely because the solution cannot process all of the Inventory data due to a lack of functionality and restrictive architecture. Regardless of reason, the result is Partial data which is problematic for critical decision making.
A 'Single Data Source' is ONLY of value when it is enriched with Complete data, otherwise what is the point of a 'Single Data Source' if it has no value.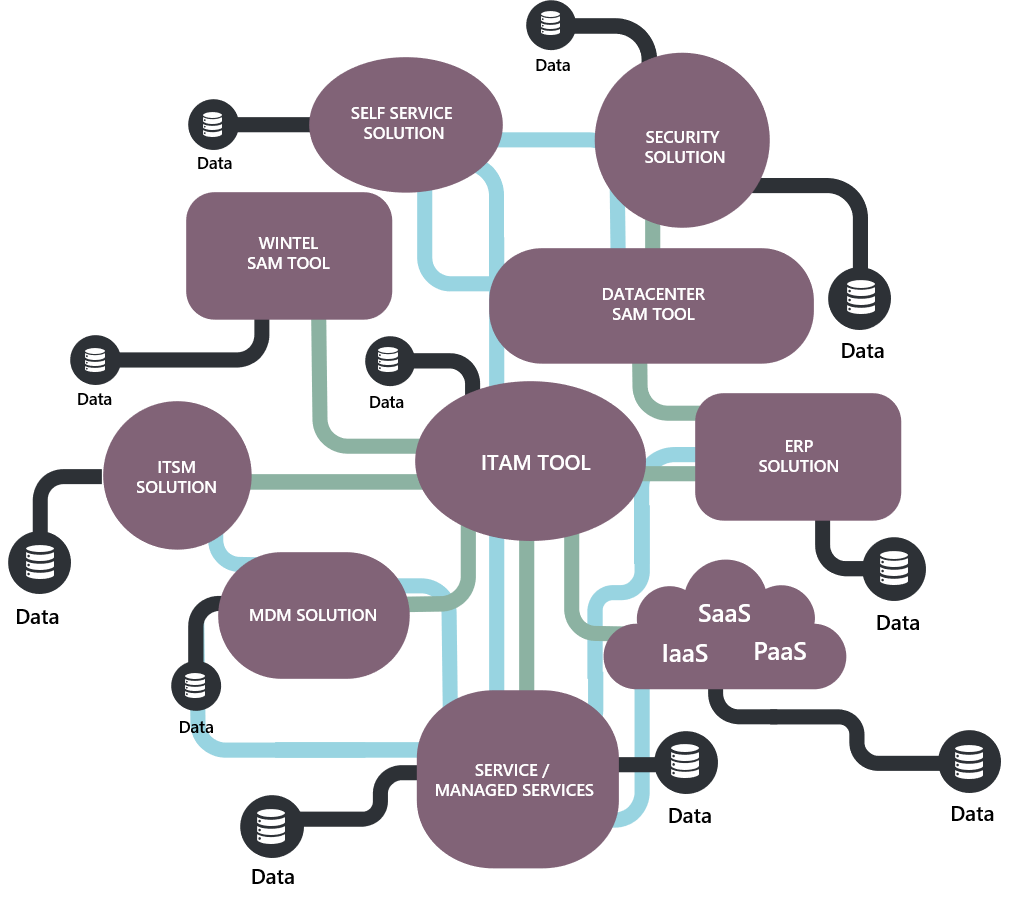 ONE Single Pane of Glass [Full Functionality NOT Partial]
Partial Functionality = A Lost Advantage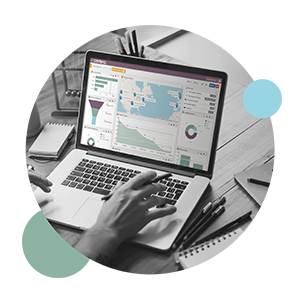 A 'Single Pane of Glass' solution insinuates that a full-scope of features are conveniently brought together and managed uniformly through a single, modern solution UI. Yet, this also is often not the case. If the scope of the platform just doesn't go far enough; if it covers some but not all of your IT assets or environments, then the benefit of having a 'Single Platform' solution evaporates, as other solutions would inevitably be required alongside.
Equally, a 'Single Pane of Glass' approach that has multiple disparate products bolted together will obviously NOT have a 'Single UI/UX'. You may be able to logon once but then you are navigating around disparate products with different UI/UX. Is that really a 'Single Pane of Glass' for 2021 and beyond?
Examples of this are when SAM solutions are limited to managing Windows machines, or have failed to deliver on optimization features for SaaS & Cloud, or leave you without a solution for critical Datacentre vendors…
Delivering on managing the Full-Scope of your IT estate is key for a true 'Single Platform' to deliver on the advantages of full, enriched and consolidated data… 'Single Platforms' on the other hand, would simply be an oxymoron.
ONE Single Platform [Complete NOT Partial]
A Few Products integrated with limited functionality – Not a true Enterprise Platform
Another overused claim, is ONE single Platform. It is worth really checking out just what the platform actually does and what the capability really is as this is an important claim.
It is an immense achievement to truly create an enterprise platform that can run a significant number of stand-a-lone products holistically and optimally together as ONE single solution without diluting in a major way the actual capabilities and functionality of those stand-a-lone products. 
Stand-a-lone is a key point here, many tools on the market claim to have a platform but suffer from products dependencies, forcing organizations to purchase tools which they simply don't need, driving up cost and resources. If you need a solution to manage your Oracle licenses but must purchase a Wintel tool to get this functionality are you truly working with an enterprise ready platform or simply a tool with optional add-ons.
Organizations want to use 'best of breed' products, not average products, but if the result of trying to integration to create a 'single platform' results in loss of functionality, data etc, then what is the point. The Platform must be able to run 'best of breed' leading products holistically and optimally together without any loss of anything, the result should be the opposite, the products running together should be exponentially stronger not weaker.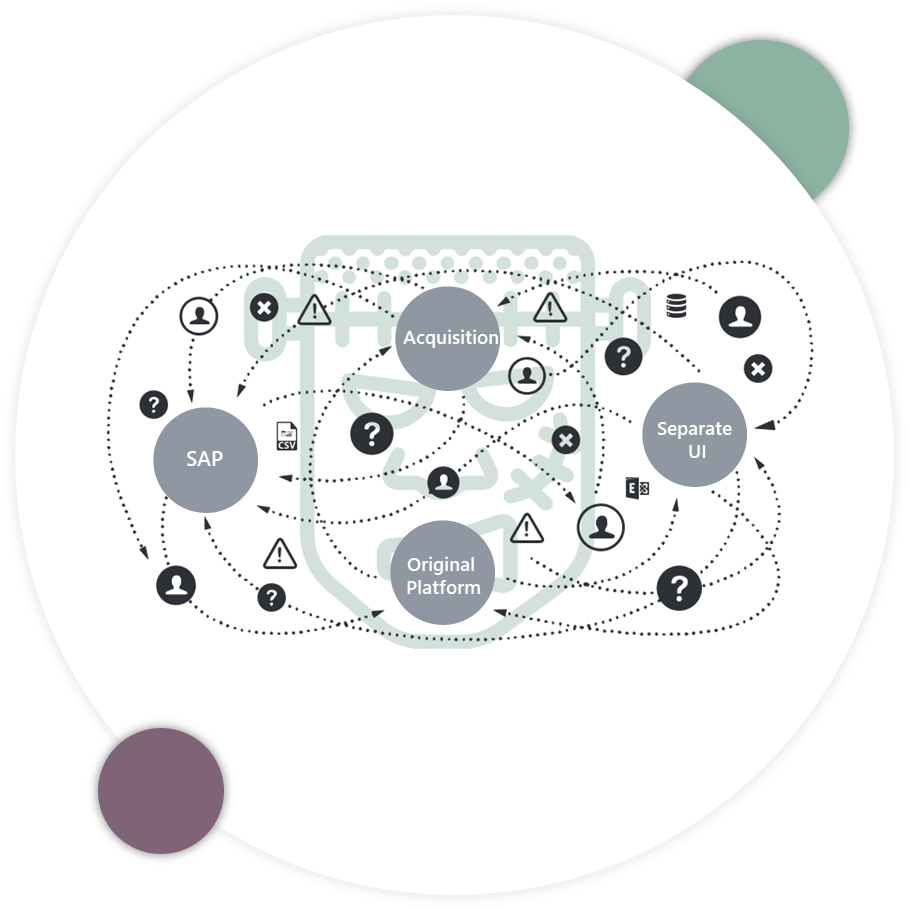 In other words, weaker means 'compromise', this is the actual consequence, usually in loss of valuable, enriched data, capability, functionality, UI/UX conflicts, non-uniformity, to name a few.
Just think of the challenge, to take disparate products that were designed in isolation, developed in isolation, by different organizations, different development platforms/languages, at different times, sometimes even decades apart, disparate data sources, schema, architecture, databases, disparate UI/UX, little if any common navigation, disparate knowledge and skills on respective subject matters of the products, the list goes on. Simply put, without starting out with the vision to create a true platform, it is just too difficult, costly, time consuming to even attempt, leaving a 'frankenstack' integration approach as the only viable option, albeit a poor one that gets harder to keep credible over time making any investment in it only short lived.
This is the simple reason why the claims made need to be checked out. 
Mobile to Mainframe to Cloud 
[True Enterprise Scope NOT Partial]
Small Scope – Not True Enterprise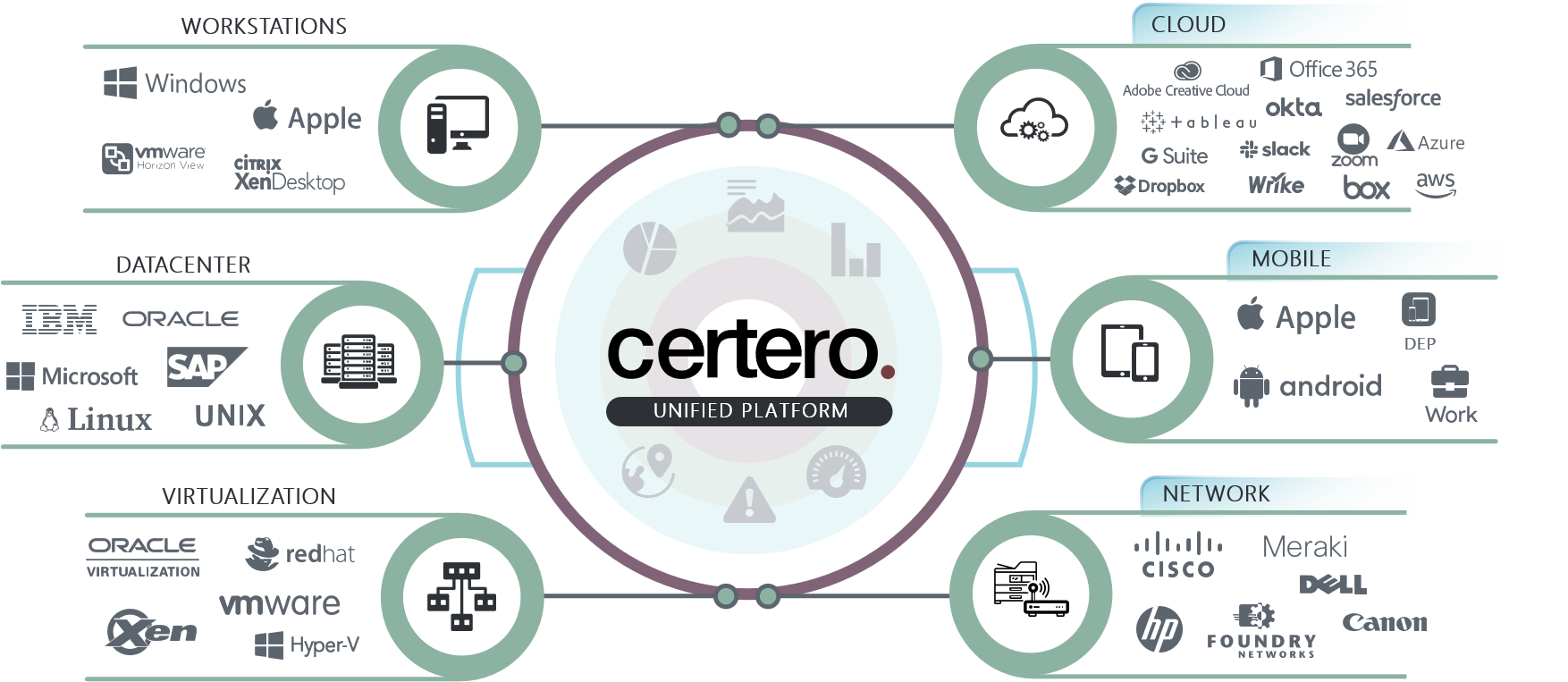 If the scope of the platform or vendor is small, i.e. just a SAM solution for Windows, or just a SAM solution for a single Datacentre vendor, or just an MDM solution etc. then fundamental limitations are built-in to these toolsets at a conception level. Even when these tools are acquired by vendors and combined, presented and sold as a 'Single Platform', they still often behave as if siloed – providing only the insights and data required for one specific function within each solution.
These are NOT a true 'Single Platform, Data Source, Pane of Glass' solutions; not what enterprises need to gain a holistic view and control; Not what the market is demanding to reduce complexity, drive automation and deliver the deep insights needed to Digitally Transform IT.
Get Informed: It's Time to Think [AND DO] IT Differently
Certero can help you kickstart the changes that will make the greatest differences to how you manage and optimize IT. So speak to Certero today to find out what Certero can do for you.
More information and example user cases can be found at www.certero.com  LinkedIn: Follow #Certero
ONE solution was conceived and created to be the answer business have been asking for, and it's available now. Find out more about Certero Version 7.