Certero for Cloud
Extend your IT asset management to give visibility, governance, reporting and control to
IaaS and PaaS environments covering Azure and AWS
Manage Cloud-provisioned business assets with maturity & integrity. 
Certero for Cloud brings the much-needed, uncompromising levels of integrity and innovation you'd expect from a Certero solution, to the management of your cloud investments.
It's about managing business IT assets no matter what or where they are, which means ensuring fundamental visibility, creating an informed understanding of utilization and giving you the control that you need to optimize the growing expense of these new resources across multiple Cloud vendors, all in one solution.
Addressing the Cloud Challenges
ISO 27001 Certified
Certero is committed to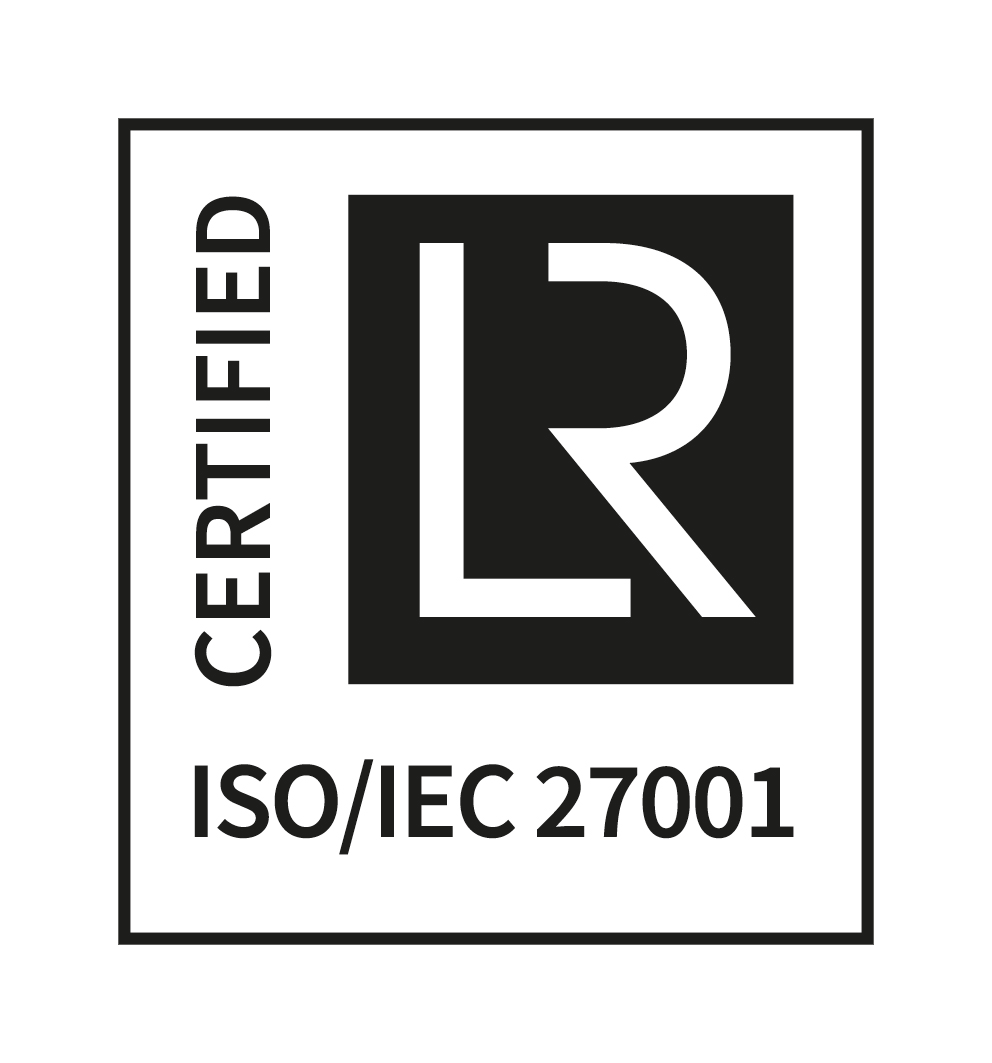 providing customers with the highest levels of security,  which is why Information Security is embedded as part of our culture. From the board down, our Information Management Processes have helped customers have a safer, more reliable IT hardware, Software, SaaS and Cloud solutions and Services throughout the year.
AWS & Azure are premium resources, easy to adopt and easy to lose control of. The business challenges and risks can be summarized as:
Bill Shock – when an organization's 'costs' unexpectedly change or increase, indicating a lack of governance to be able to plan and foresee costs.
Toxic Consumption – when required resources are purchased but then 'not managed' and the value of the investment is not optimized. It's all too easy to allow assets to go stale, without full understanding of what the business purpose is behind the provisioned resource.
Cloud Sprawl – the uncontrolled proliferation of an organization's cloud instances, services or providers. As with all IT investments, you need to make sure you're getting the best deal and are actively optimizing assets you have before investing further.
Multi-Cloud Control in One Unified Solution
Discovery & Inventory
Discovery & Inventory is at the core of Certero for Cloud. Being able to fundamentally 'see' all Cloud resources used by the business, provides the birds-eye view to understand how and why cloud assets are utilized and be able to measure growth and remain fully-informed at a strategic, financial and operational level. The intuitive 'filter builder' allows you to create complex search queries to delve in to your immense cloud data. Allowing you to quickly and easily answer any question you may have on your cloud estate.  Being Certero, this visibility extends across AWS & Azure IaaS & PaaS and is a live-data view; accurate and up-to-date whenever you view it.
+ Certero for Cloud gives you single-pane of glass visibility.
What resources are you using?
Who was the last person to use a particular device?
What is the monthly cost of a particular device?
Which cost-center does a device belong to?
What are the relationships between resources?
Who has made changes to a resource?
How is this device configured?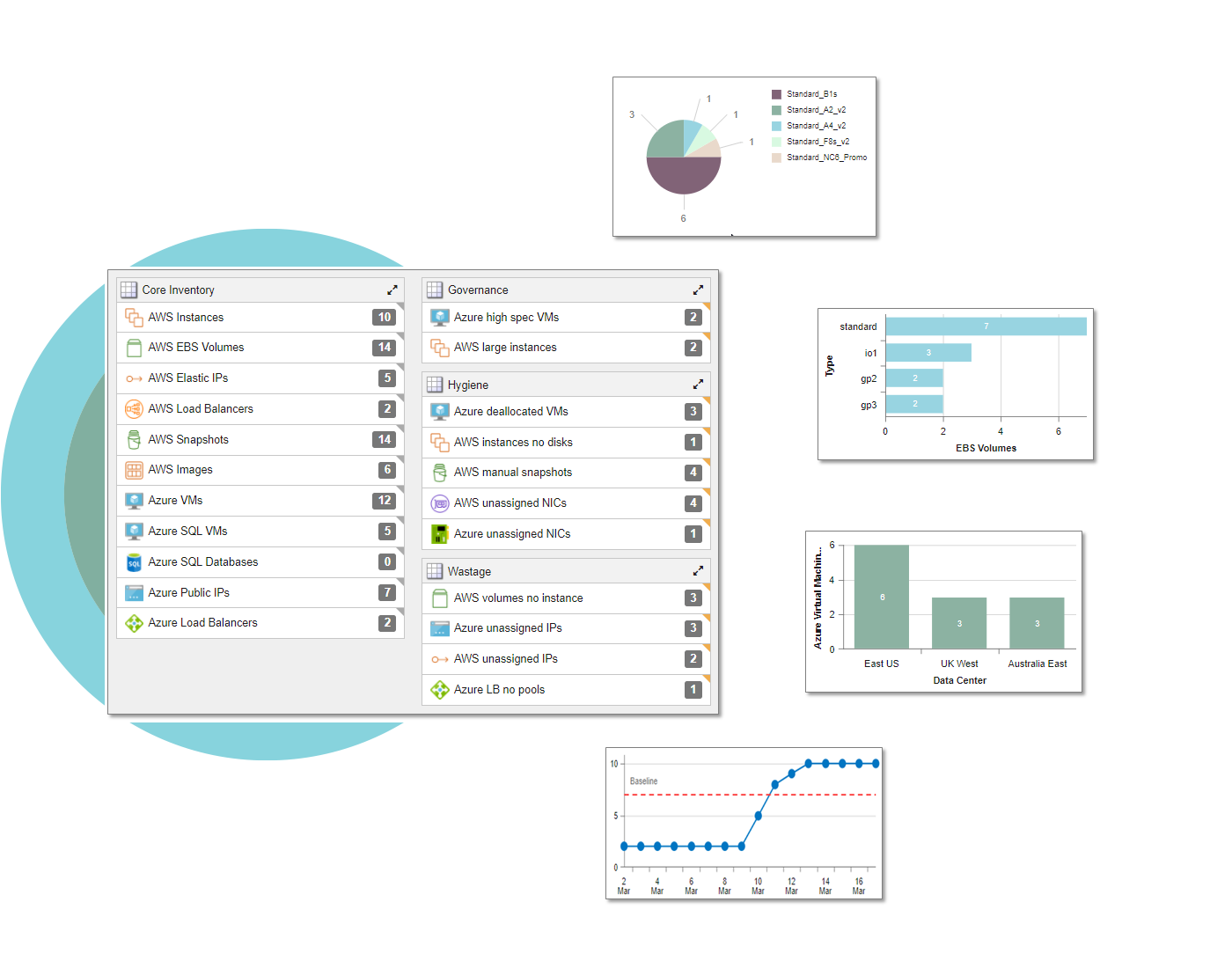 Governance
Once you have visibility, Certero for Cloud ensures that everything is properly considered, examined, and managed in-line with business goals. Helping to regulate and control the use of cloud services by defining process, standards and policies that need to be followed in planning, on-boarding, operating and managing cloud services. Eliminating surprises and supporting good Cloud hygiene, Certero for Cloud provides centralized management and accountability for your business's entire utilization of Cloud resources. Certero for Cloud's intuitive 'policy builder' allows you to create custom policies within the solution identifying and reporting on the health of your Cloud estate and whether governance policies are being followed.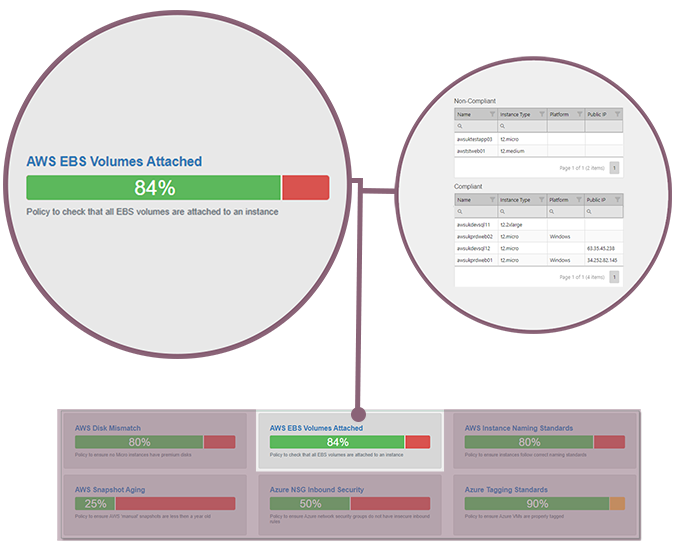 + Certero for Cloud can pro-actively highlight gaps and concerns that would limit governance
Non-Compliant Instance Naming Standards
Non-Compliant Tagging Standards
Non-Compliant Aging Snapshots
Disk Mismatches
Non-Compliant NSG Inbound Security
Utilization
Once you have visibility and governance over your Cloud estate you need to ensure that you're spending money on resources that are being fully utilized.  Certero for Cloud helps you to select and assign the right resources to a workload or application. Through the 'filter builder' you can quickly and easily identify under utilized resources, identify who the owner is and highlight the associated costs. When workload performance, compliance, and cost are correctly and continually balanced against the best-fit infrastructure in real time, efficiency is achieved. The Certero solution analyses usage metrics and allows you to create the optimal cloud environment.
+ Certero for Cloud's Cloud Metrix Explorer allows you to see current and historic resource usage.
Percentage of CPU used
Percentage of Data Disk iOPS consumed
CPU Credits remaining
CPU Credits Consumed
Data Disk Max Burst Bandwidth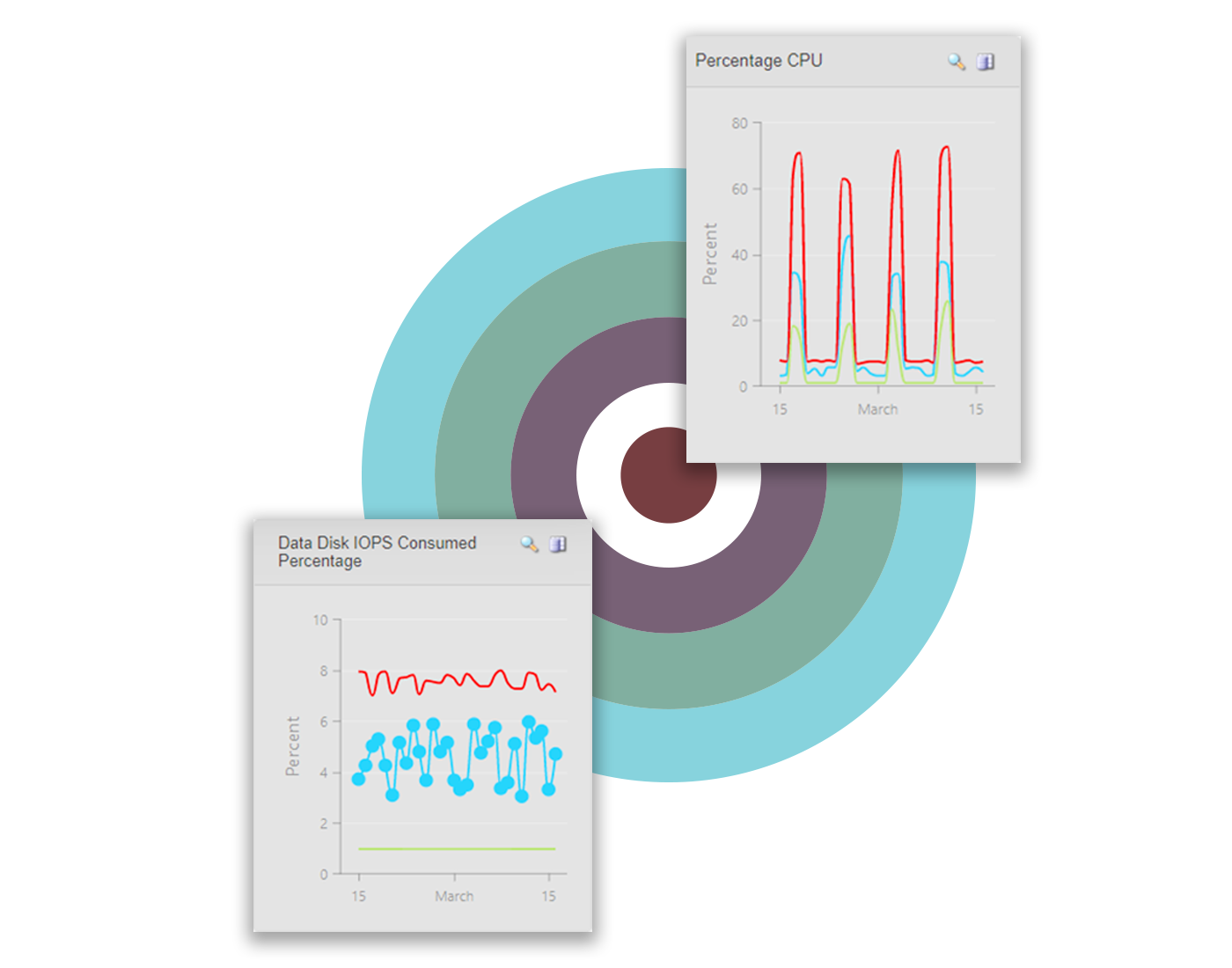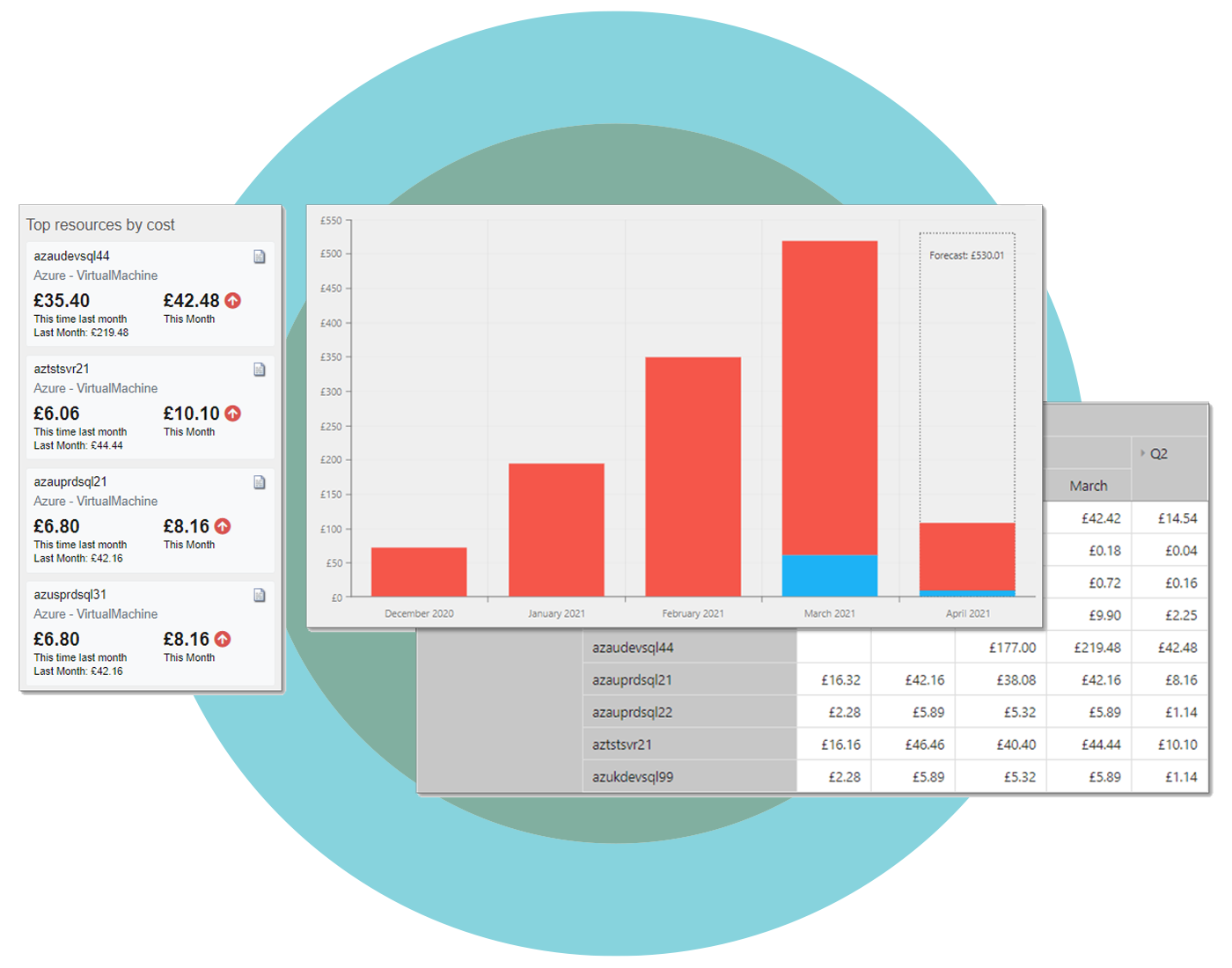 Cost Management
One of the growing challenges for IT and financial operations, Certero for Cloud helps you to understand and report on the costs, growth, consumption, purpose and identified wastage across Cloud assets by individual business units. Supporting cross-charging and reducing the overheads to identify and produce reoccurring reports, the solution helps to create a financial ownership structure to Cloud assets and be able to readily inform the business and actively optimize assets to reduce costs.
Full Scope, Fully Featured, Fully Certero
As part of the Certero Unified Platform, switching-on Cloud & SaaS asset management couldn't be easier:
Certero for Cloud: addresses the unique challenges of IaaS & PaaS environments like AWS and Azure
Certero for SaaS: covers the control and cost-optimization of SaaS applications.
Certero for Enterprise ITAM & SAM: for managing on-premise IT hardware & software (and with Certero for Cloud, Bring Your Own License (BYOL).
Together with additional options for Datacenter and Mobile, Certero is your enterprise-ready, unified IT intelligence platform to transform the way you view, report and manage IT.
Discover the Power of Certero for Cloud